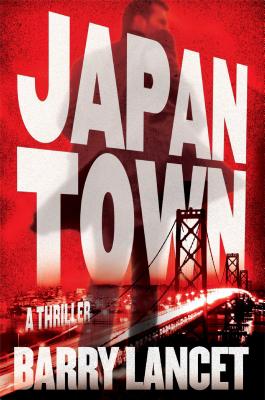 Japantown
A Thriller (A Jim Brodie Thriller #1)
Hardcover

* Individual store prices may vary.
Other Editions of This Title:
Digital Audiobook (12/16/2013)
Paperback (7/22/2014)
Description
"Best of Debut of the Year" —Suspense Magazine
WINNER of the Barry Award for Best Debut Novel
Optioned for TV by J.J. Abrams & Warner Bros.

In this "sophisticated international thriller" (The New York Times Book Review), an American antiques-dealer-turned-reluctant-private-eye must use his knowledge of Japanese culture to unravel a major murder in San Francisco—before he and his daughter become targets themselves.

San Francisco antiques dealer Jim Brodie receives a call one night from a friend at the SFPD: an entire family has been senselessly gunned down in the Japantown neighborhood of the bustling city. As an American born and raised in Japan and part-owner of his father's Tokyo private investigation firm, Brodie has advised the local police in the past, but the near-perfect murders in Japantown are like nothing he's ever encountered.

With his array of Asian contacts and fluency in Japanese, Brodie follows leads gathered from a shadow powerbroker, a renegade Japanese detective, and the elusive tycoon at the center of the Japantown murders along a trail that takes him from the crime scene in California to terrorized citizens and informants in Japan. Step by step, he unravels a web of intrigue stretching back centuries and unearths a deadly secret that threatens not only his life but also the lives of his entire circle of family and friends. "Readers will want to see more of the talented Jim Brodie, with his expertise in Japanese culture, history, and martial arts" (Publishers Weekly, starred review).
Praise For Japantown: A Thriller (A Jim Brodie Thriller #1)…
"One of the Best Thrillers of 2013."
— Suspense Magazine

"[A] sophisticated international thriller . . . Having lived and worked in Japan for more than 25 years, Lancet brings an impressive breadth of knowledge to the historical aspects of the mystery and a sharp sense of immediacy to its action."
— The New York Times Book Review

"Is the 21st century ready for multinational ninja MBAs who hack computer networks instead of flinging poisoned darts, and who surgically take out business rivals instead of whacking feudal lords? More important, does Jim Brodie have the brains and fortitude to save his young daughter and himself from these cold-blooded modern-day predators? Read Japantown and you'll find out."
— Mark Schreiber, Japan Times

"Lancet, an American who has lived and worked in Japan for decades . . . commands a much stronger knowledge of the culture than his predecessors and . . . provide[s] a deep and easy familiarity with the dilemmas that his protagonist faces trying to bridge the gap between two vastly different cultures. . . . Strong writing and deep passion for the material carry the story and characters far enough to hold the interest of any reader who enjoys this sort of story."
— Pittsburgh Post-Gazette

"One of the hottest debut authors of 2013 . . . [a] taut international thriller that races from San Francisco to Lancet's adopted hometown of Tokyo. . . . J.J. Abrams of 'Lost' fame recently bought the TV rights to the book."
— Suspense Magazine

"Lancet successfully places a PI in an international thriller plot in his highly entertaining debut . . . Readers will want to see more of the talented Jim Brodie, with his expertise in Japanese culture, history, and martial arts."

— Publishers Weekly (starred review)

"The first book in what will likely be a long and successful series."
— San Francisco Magazine

"The debut novel by a 25-year resident of Japan is a zippy page-turner set in San Francisco's Japantown, Tokyo and a remote Japanese village."
— SFExaminer.com

"Engrossing . . . Japantown is full of action and surprises . . . an extremely impressive debut that is almost sure to be short-listed for any number of awards next year. Pick it up now to see what all the excitement will be about."
— Bookreporter.com

"A fine thriller filled with satisfying mystery, solid characterization and high drama."
— California Bookwatch

"In 1992 the Japanese bubble economy burst, but not before spawning Michael Crichton's archetypal thriller Rising Sun, which looms large in the background of Japantown, author Barry Lancet's first work of fiction. Lancet's fluency in the Japanese language, extensive knowledge of, and empathy with, the culture from which it is inseparable, and gift for creating likable (as well as despicable) characters add depth and authenticity to this captivating thriller that other non-Japanese authors rarely attain. . . . Far from a mere mouthpiece for multiculturalism, [Lancet's hero, Brodie] comes across as a complex figure with a genuine personal history, at once blessed with extensive expertise in his chosen fields and dogged by the kind of emotional conflicts common to the human experience. . . . Although I have studied Japanese for 30 years, I was kept guessing until the very end. Those with little knowledge of things Japanese will nonetheless be kept in suspense by the twists and turns of the underlying story — and edified and entertained along the way."
— Washington Independent Review of Books

"Engrossing debut thriller . . . Lancet has a gift for pacing and keeps the reader engaged and guessing til the very end."
— Library Journal

"[Lancet] draws upon his familiarity with the terrain, local history and Japanese culture to create an East-West adventure that informs as it thrills. . . . the intricate plot is skillfully developed, the action never flags and the climax is gripping. A fresh voice in crime fiction."
— Kirkus Reviews

"A solid mystery with a memorable protagonist, the book captures our interest from the first page."
— Booklist

"Sometimes I come across a book that simply is too good not to share, even if it lies outside my technophile niche . . . A distinctive and well-written debut novel with a fresh take on the international thriller genre."

— Sciencethriller.com

"From gritty San Francisco to exotic Tokyo, Japantown is a whip-smart, razor-fast ride, and entertaining from cover to cover."
— Taylor Stevens, New York Times bestselling author of The Informationist

"This is a terrific debut from a talented and very promising writer. Nimbly written and atmospheric, Lancet brings San Francisco to life in all its layers, focusing on the mysteries of the Japanese-American people. He depicts a rich mixture of art and violence, the past and the present, east and west."
— T. Jefferson Parker, New York Times Bestselling Author of The Famous and the Dead, and The Jaguar

"Get ready for an action-packed, tension-filled escape with Barry Lancet's thriller worthy of Elmore Leonard. The trail of crime races from Tokyo to New York and returns inevitably to Japantown, six square blocks in San Francisco, where antiques dealer and private eye Jim Brodie walks a dangerous line in the shadow world of clashing cultures."
— Ronald Kessler, author of In the President's Secret Service and The Secrets of the FBI

"Japantown is an expertly written story with vivid, complex characters. The mystery holds surprises until the very end."
— New York Times bestselling author Larry Bond
Simon & Schuster, 9781451691696, 416pp.
Publication Date: September 3, 2013
About the Author
Barry Lancet is a Barry Award­–winning author and finalist for the Shamus Award. He has lived in Japan for more than twenty-five years. His former position as an editor at one of the nation's largest publishers gave him access to the inner circles in traditional and business fields most outsiders are never granted, and an insider's view that informs his writing. He is the author of the Jim Brodie series: The Spy Across the Table; Pacific Burn; Tokyo Kill; and Japantown, which received four citations for Best First Novel and has been optioned by J.J. Abrams's Bad Robot Productions, in association with Warner Brothers. Visit Lancet at BarryLancet.com or on Twitter @BarryLancet.
or
Not Currently Available for Direct Purchase