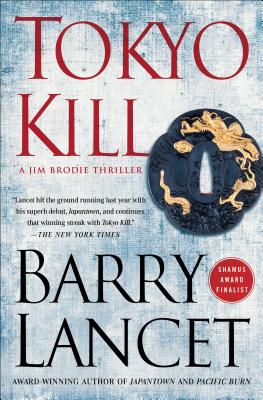 Tokyo Kill
A Jim Brodie Thriller
Paperback

* Individual store prices may vary.
Other Editions of This Title:
Digital Audiobook (9/8/2014)
Description
In a "sophisticated international thriller" (The New York Times Book Review) from "a fresh voice in crime fiction" (Kirkus Reviews), antiques dealer-turned-PI Jim Brodie takes on an elusive group of killers hunting for a long-lost treasure with a dangerous history.

After wading through the tragedy of San Francisco's Japantown murders, struggling antiques dealer Jim Brodie is back in Japan for a well-earned vacation. But checking in at the PI firm Brodie inherited from his father, he immediately acquires a new case: a Japanese World War II veteran shows up and spins a dark story connected to the war and a pair of violent home invasions committed in the Tokyo only days earlier.

Brodie agrees to provide protection for the old warrior, but soon an unexpected murder shocks him and his crew, and they begin a wild ride through the worlds of war atrocities, Japanese kendo clubs, the backstreets of Yokohama's unfathomable Chinatown, and Chinese spies. With the crusty PI Noda at his side, Brodie pokes around where he's not wanted, and when a friend is delivered up to him in pieces Brodie is once again running for his life—while seeking the answers he needs to save it.

Barry Lancet "imbues Tokyo Kill with a vivid sense of Japan, from sections of Tokyo that only a native would know about the meticulous research into the country's history and legends…Lancet hit the ground running…with his superb debut, Japantown, and continues that winning streak with Tokyo Kill" (The New York Times/AP).
Praise For Tokyo Kill: A Jim Brodie Thriller…
"A stellar novel of action, adventure, and intrigue. Jim Brodie is a true 21st century hero, part of the new, gritty mythos, warts and all, but capable of turning the ordinary into the extraordinary. On page after page of Tokyo Kill, skeletons bang on every closet door longing to be set free—and Barry Lancet delivers."
—Steve Berry, New York Times bestselling author of The Lincoln Myth

"[A] sophisticated international thriller . . . Having lived and worked in Japan for more than 25 years, Lancet brings an impressive breadth of knowledge to the historical aspects of the mystery and a sharp sense of immediacy to its action."
—The New York Times Book Review

"Lancet imbues 'Tokyo Kill' with a vivid sense of Japan, from sections of Tokyo that only a native would know about to meticulous research into the country's history and legends... Lancet hit the ground running last year with his superb debut, 'Japantown,' and continues that winning streak with 'Tokyo Kill.'"
— New York Times/AP

"Boasting surefire characters including the taciturn, thick-chested chief detective Noda and notorious crime figure called TNT who owes Brodie favors...[Lancet's] series remains highly distinctive."
— Kirkus Reviews

"An impressive novel of spirited adventure and edgy intrigue. It's obvious Lancet has firsthand knowledge of Japan and has done extensive research regarding the historical elements. This, along with realistic characterization and notable plot development, makes Tokyo Kill a dynamic read."
— Fresh Fiction

"Barry Lancet, an American expat who has lived in Japan for more than two decades, [weaves] in history, art, cuisine and martial arts seamlessly. Readers who enjoy fast-paced tales of intrigue are in for a treat."
—Minneapolis Star-Tribune

"The author's familiarity with Japanese history and culture, combined with his storytelling skills, make this a first-rate mystery . . . a clear indicator that Lancet considers Jim Brodie a series-worthy character. He'd be right, too."
— Booklist

"An excellent mystery that ... offers some nuanced understandings of the China-Japan relationship."
— Forbes.com

"Brodie is immediately noteworthy as one of the more interesting characters in the thriller universe...a book worth reading and a series worth starting."
— Book Reporter

"Lancet successfully places a PI in an international thriller plot in his highly entertaining debut . . . Readers will want to see more of the talented Jim Brodie, with his expertise in Japanese culture, history, and martial arts."
— Publishers Weekly (starred review)

"A solid mystery with a memorable protagonist, the book captures our interest from the first page."
— Booklist

"Not only Barry Lancet provide plenty of thrills as the story is told, but there's fascinating detail about so many subjects related to Japanese history and art... The book delivers on every level, both as a thriller and as a look inside an Asian culture with which many Westerners may not be familiar."
— ReviewingTheEvidence.com

"This excellent mystery has many layers and the reader (and Brodie) is kept guessing throughout. The ending was quite a surprise."
— Deadly Pleasures



Great action. . .What more could the reader ask for?
—pulplair.blogspot.com
Simon & Schuster, 9781451691733, 352pp.
Publication Date: December 8, 2015
About the Author
Barry Lancet is a Barry Award­–winning author and finalist for the Shamus Award. He has lived in Japan for more than twenty-five years. His former position as an editor at one of the nation's largest publishers gave him access to the inner circles in traditional and business fields most outsiders are never granted, and an insider's view that informs his writing. He is the author of the Jim Brodie series: The Spy Across the Table; Pacific Burn; Tokyo Kill; and Japantown, which received four citations for Best First Novel and has been optioned by J.J. Abrams's Bad Robot Productions, in association with Warner Brothers. Visit Lancet at BarryLancet.com or on Twitter @BarryLancet.