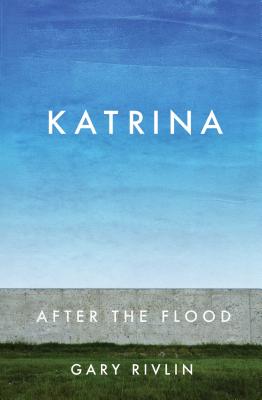 Katrina
After the Flood
Hardcover

* Individual store prices may vary.
Other Editions of This Title:
Paperback (8/23/2016)
Compact Disc (5/10/2016)
Compact Disc (5/10/2016)
MP3 CD (5/10/2016)
Description
One of New York Times's 100 Notable Books of the Year, 2015
One of NPR's Best Books of 2015

Ten years after Hurricane Katrina made landfall in southeast Louisiana—on August 29, 2005—journalist Gary Rivlin traces the storm's immediate damage, the city of New Orleans's efforts to rebuild itself, and the storm's lasting effects not just on the city's geography and infrastructure—but on the psychic, racial, and social fabric of one of this nation's great cities.

Much of New Orleans still sat under water the first time Gary Rivlin glimpsed the city after Hurricane Katrina. Then a staff reporter for The New York Times, he was heading into the city to survey the damage. The Interstate was eerily empty. Soldiers in uniform and armed with assault rifles stopped him. Water reached the eaves of houses for as far as the eye could see.

Four out of every five houses—eighty percent of the city's housing stock—had been flooded. Around that same proportion of schools and businesses were wrecked. The weight of all that water on the streets cracked gas and water and sewer pipes all around town and the deluge had drowned almost every power substation and rendered unusable most of the city's water and sewer system.

People living in flooded areas of the city could not be expected to pay their property taxes for the foreseeable future. Nor would all those boarded-up businesses—21,000 of the city's 22,000 businesses were still shuttered six months after the storm—be contributing their share of sales taxes and other fees to the city's coffers. Six weeks after the storm, the city laid off half its workforce—precisely when so many people were turning to its government for help. Meanwhile, cynics both in and out of the Beltway were questioning the use of taxpayer dollars to rebuild a city that sat mostly below sea level. How could the city possibly come back?

This book traces the stories of New Orleanians of all stripes—politicians and business owners, teachers and bus drivers, poor and wealthy, black and white—as they confront the aftermath of one of the great tragedies of our age and reconstruct, change, and in some cases abandon a city that's the soul of this nation.
Praise For Katrina: After the Flood…
"Rivlin's valuable book is among the first to relate, in clear and scrupulous detail, the decisions that have brought us this far, and to identify those who made them…Rivlin is a sharp observer and a dogged reporter. He is unerringly compassionate toward his subjects…But Rivlin's most valuable journalistic skill is his acute sensitivity to absurdity. He is particularly piqued by the absurdity of racial and economic injustice." – The New York Times Book Review

"One of the must-reads of the season…Rivlin offers a good report of what happened during the storm, the bureaucratic snarls and blockages that followed and, most of all, the human cost to all New Orleanians."–The New Orleans Advocate

"Deeply engrossing, well-written, and packed with revealing stories….a magnificently reported account of life in a broken, waterlogged city….Rivlin's exquisitely detailed narrative captures the anger, fatigue, and ambiguity of life during the recovery, the centrality of race at every step along the way, and the generosity of many from elsewhere in the country."—Kirkus (starred)

"[A] carefully researched, beautifully written book."–San Francisco Bay View

"A sprawling, epic tale, filled with cold numbers and heartbreaking scenes of loss and devastation. It's also an insightful, accessible saga that follows a wide cast of participants—including politicians, businessmen, and everyday residents—over the course of many years….[Rivlin] doesn't pull punches as he looks at the political, economic, and social aspects of New Orleans's struggle to recover, nor does he shy away from the complicated racial themes that have always been a part of the city's history….he skillfully balances out the human elements with concrete details of the devastation and the reconstruction that has followed. For those interested in how New Orleans came to the brink of destruction and slowly fought its way back to become a thriving, even improved, metropolis, this is certainly a work worth checking out."—Publishers Weekly

"A fascinating lesson in urban planning in the face of calamity and financial shenanigans about what has been deemed "the most expensive disaster in history."—Booklist

"Journalist Gary Rivlin sweeps from street to boardroom in this history of the aftermath…As Rivlin sharply reminds, overcoming disasters is very much an issue of governance."–Nature Magazine

"Sweeping and searching, Katrina is a Category Five exposé of disastrous disaster relief."–Florida Courier

"A gem of a book—well-reported, deftly written, tightly focused. It's a book that will appeal to the urban planner and the Mardi Gras reveler…'Katrina' is a genuine success, and is a starting point for anyone interested in how The City That Care Forgot develops in its second decade of recovery."–St. Louis Post-Dispatch

"Painstakingly researched…Rivlin's reporting allows him to paint deep portraits of his characters and explain relationships…Rivlin does an admirable job keeping the political personal and helping readers understand how deeply and devastatingly Katrina affected everyone in the city…The book is timed to come out a couple of weeks before the 10th anniversary of Katrina, but the timing this summer is equally important as part of the conversation America is currently having on the subject of race relations."–Miami Herald

"A riveting, wide-ranging but detailed account of Katrina's immediate impact and its aftermath."–Tampa Bay Tribune

"It is in large part because race lately imposes itself upon our national consciousness with even greater force than usual that Gary Rivlin's vital, comprehensive account of Hurricane Katrina's long-term impact on the city of New Orleans comes across less as a 10-year-anniversary marker of an indelible calamity and more as an up-to-the-minute microcosm of our larger society…manages to pack into a lean, taut narrative the heartbreaking setbacks, thwarted dreams and the confounding, repeated inability of anybody in power to either get things done or transcend festering social divisions…As with the finest works of journalism, Rivlin's book deploys the tools of his trade to illuminate the segment of history he examines – and make us wonder about the things we all have in common with those in New Orleans."–USA Today

"[Rivlin] constructs his narrative to give readers unfamiliar with the terrain a cohesive back story and illustrates the aftermath through a cross-section of people." – Chicago Tribune

"Gary Rivlin's sharp eye for detail, grasp of the big picture and thorough reporting reveals the endless errors, egregious official conduct and exploitation that compounded the misery of Katrina victims long after the storm. It's a helluva a book that should arouse every American to demand reform before disasters strike their communities."—David Cay Johnston, Recipient of the Pulitzer Prize, author of Divided and Perfectly Legal

"Gary Rivlin is one of our nation's most sharp-eyed cultural observers, and one of our most gifted social historians. Katrina is a provocative and beautifully-rendered book that reminds us that the subject of race is always percolating below the surface. The vividly-told and haunting Katrina is vital, not only for understanding New Orleans, and what happened there over the last ten years, but for understanding how divisions of race and class are perpetuated across America today."—Michael Eric Dyson, author of April 4, 1968

"The once-great city of New Orleans wasn't destroyed just by a force of nature. Along with the hurricane came a category-5 tsunami of racism, operating at every level from armed encounters in the streets to serene indifference in the White House. Gary Rivlin, one of our finest journalists, chronicles it all in superb and riveting detail. This is something we have to know, discuss and absorb—before the next storm comes along."—Barbara Ehrenreich, author of Nickle and Dimed

"Katrina is an important book. It's important not because it's brilliantly reported or well-written, not because it uncovers everything from political maneuvering in the White House to despicable acts of selfishness, and not because it also tells stories of courage and tenacity which give meaning to the word "inspirational." It's important as a case study of both how not to handle a disaster and how to survive one. There are real lessons here."—John M. Barry, author Rising Tide and The Great influenza

"As harrowing as it is riveting…a balanced and comprehensive chronicle."–New York Daily News

"Gary Rivlin's Katrina: After the Flood is as raw as the title.... Katrina carries you from the days before the disaster through an aftermath so tumultuous and chaotic you can scarcely fathom it happening in a developed country. Rivlin's careful storytelling won't let us escape, however, as he confronts us with testimonials from streets that remain uninhabited 10 years later."—Sierra Magazine

"In the last decade, few tales equal that of Hurricane Katrina in proportion or the amount of media devoted to it, yet non-fiction writer Gary Rivlin has woven a narrative so fresh in perspective and focus, his new book reminds us of how many personal accounts of this monumental event still beg to be told."—New Orleans Living

"A deeply-reported, character-driven procedural, not unlike the classics of its kind, such as And the Band Played On or The Warmth of Other Suns."—Virginia Quarterly
Simon & Schuster, 9781451692228, 480pp.
Publication Date: August 11, 2015
About the Author
Gary Rivlin is a Pulitzer Prize-winning investigative reporter and the author of five books, including Katrina: After the Flood. His work has appeared in The New York Times Magazine, Mother Jones, GQ, and Wired, among other publications. He is a two-time Gerald Loeb Award winner and former reporter for the New York Times. He lives in New York with his wife, theater director Daisy Walker, and two sons.
or
Not Currently Available for Direct Purchase