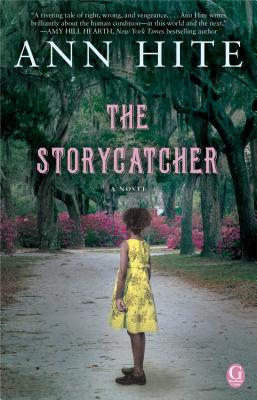 The Storycatcher
Paperback

* Individual store prices may vary.
Other Editions of This Title:
Digital Audiobook (9/9/2013)
Compact Disc (9/10/2013)
MP3 CD (9/10/2013)
Compact Disc (9/10/2013)
Description
From the author of the "wonderfully crafted" (San Francisco Book Review) Ghost on Black Mountain comes a haunting gothic novel set in the Depression-era South about two young women who form an unlikely alliance when the spirit of a dead woman takes up residence in their home.

Shelly Parker never much liked Faith Dobbins, the uppity way that girl bossed her around. But they had more in common than she knew. Shelly tried to ignore the haints that warned her Faith's tyrannical father, Pastor Dobbins, was a devil in disguise. But when Faith started acting strange, Shelly couldn't avoid the past—not anymore.

Critically acclaimed, award-winning author Ann Hite beckons readers back to the Depression-era South, from the saltwater marshes of Georgia's coast to the whispering winds of North Carolina's mystical Black Mountain, in a mesmerizing gothic tale about the dark family secrets that come back to haunt us.
Praise For The Storycatcher…
"Steeped in lushly-drawn landscapes and teeming with mystery, The Storycatcher is a beautifully-rendered story of the journey for redemption and justice that drives the human heart, even beyond the flesh--and the knots of family we tie, and sometimes must untangle, along the way. I was utterly absorbed from the first, riveted and captivated, and no more able to leave the side of Ann Hite's haunted characters than the ghosts that are leading them toward their impossible secret."
— Erika Marks

"The Storycatcher is a riveting tale of right, wrong, and vengeance. Restless souls (on Earth, as well as from the spirit world) can find peace only through justice, and at times, only by working together. Ann Hite writes brilliantly about the human condition – in this world and the next."
— Amy Hill Hearth

"There is a powerful new Southern voice sweeping across the literary landscape and it belongs to Ann Hite . . . [She] is a born storyteller who has crafted a mesmerizing and haunting tale. The Storycatcher is one that you'll want to put at the top of your reading stack and savor."
— Michael Morris, author of Man in the Blue Moon

"The Storycatcher transports you high atop rural Black Mountain, North Carolina, smack in the middle of a gothic tale so haunting and with characters and voices so authentic you'd swear you were living amongst them. Ann Hite's ability to weave the reader through the pages of the story catches you off guard with each and every spooky twist. Impossible to put it down. Brilliant!"
— Lisa Patton

"Haunting and daring, The Storycatcher grasps readers by the wrists and pulls them into world where the only boundary is the one of unfinished business. Ann Hite is a fearless writer who leaves her readers breathless, always looking back over their shoulders, unaware of the turn up ahead. The Storycatcher is riveting southern gothic literature. Hite has written an unforgettable novel that is lyrical and beautiful, absorbing and graceful, proving that she herself is a master storycatcher."
— Karen Spears Zacharias

"The intricate plot with its twists and turns, real and supernatural, delivers suspense, but what holds the reader in the end is the lyrical storytelling."
— Booklist

"Pull up a rocker and gaze into the hills at sundown. Old-time front porch storytelling unfolds in this dark, twisted tale where hardscrabble lives, murderous secrets, and ghosts intersect on a mysterious mountain."
— New York Times bestselling author Beth Hoffman

"An eerie page-turner told in authentic mountain voices that stick with the reader long after the story ends."
— Amy Greene

"Haunting, dark and unnerving, Hite's brilliant modern gothic casts an unbreakable spell."
— New York Times bestselling author Caroline Leavitt

"The authentic voice of Nellie Pritchard, who comes to Black Mountain as a new bride, wraps around you and pulls you deep into this haunted story. Ann Hite delivers an eerie page-turner that I couldn't put down."
— New York Times bestselling author Joshilyn Jackson

"The inhabitants of Black Mountain live side-by-side with the spirits of the dead, throw spells and dig for treasure, solve their problems with careful alliances and the occasional murder. This is a story where the spookiness of a mountain village comes to life through gritty characters whose feelings and motivations seem all too similar to our own. Ann Hite captures their voices so well, you'd swear they're whispering into your ear. Ghost on Black Mountain is captivating."
— Rebecca Coleman

"Will intrigue readers eager for a Southern Gothic tale, and suggests a promising future for the Black Mountain novels to come."
— Publisher's Weekly

"Multiple female narrators add dimension and perspective to Hite's first novel, and the sightings and visits from the spirits are often appropriately eerie . . . [An] artfully woven tale."
— Library Journal

"[Ann Hite] twists folklore with the genres of Southern Gothic, paranormal and literary fiction like a fine, fat pretzel, a guilty pleasure after midnight . . . A richly layered tale of haints, hoodoo and heebie-jeebies, mayhem and murder, love and betrayal."
— Alabama Mobile Register

"Hite paints a loving portrait of rural mountain life in the early twentieth century, and characters are nuanced and true."
— Atlanta Magazine

"A haunting Southern gothic tale . . . wonderfully crafted."
— San Francisco Book Review
Gallery Books, 9781451692273, 352pp.
Publication Date: September 10, 2013
About the Author
Ann Hite's debut novel, Ghost on Black Mountain, not only became a Townsend Prize Finalist but won Georgia Author of the Year in 2012. Her personal essays and short stories have been published in numerous national anthologies. The Storycatcher is her second Black Mountain novel. Ann is an admitted book junkie with a library of over a thousand books. She lives in Smyrna, Georgia, with her husband and daughter, where she allows her Appalachian characters to dictate their stories.