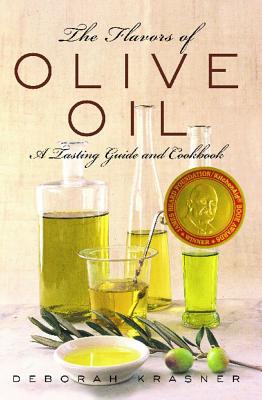 The Flavors of Olive Oil (Paperback)
A Tasting Guide and Cookbook
Simon & Schuster, 9781451692549, 240pp.
Publication Date: April 6, 2012
Description
Walk along the aisles of almost any grocery store in America and you'll be overwhelmed by the shelves of olive oil: bottles from France, Greece, Italy, and Spain; cold-pressed oil; hand-pressed oil. How do you know which oil is best? Which one should you choose for salads? For sauteing? For dipping?
In "The Flavors of Olive Oil, " Deborah Krasner demystifies the world of olive oil. Olives-just like wine grapes-respond directly to variations in climate, soil, cultivation, and harvest, so each oil is unique. By classifying olive oil in four distinct groups (delicate and mild, fruity and fragrant, olivey and peppery, and leafy-green and grassy), Krasner guides readers through the different characteristics of more than 150 different olive oils, providing a step-by-step tasting guide to the flavors and aromas of each one. With notes on oils from Italy to Morocco to California, Krasner transports the reader to olive-oil-producing regions around the world.
As all good cooks know, olive oil is an essential ingredient in preparing great food. In this comprehensive volume, Krasner incorporates olive oil into more than 100 delicious, mouthwatering recipes. With everything from appetizers and small dishes to breads and desserts, Krasner showcases each type of oil and combines complementary flavors. Leafy-green and grassy oils stand out when combined with shellfish in Seared Scallops on Chickpea Crepes. The fruity oils sing when combined with pasta in Penne with Pesto from Naples. The peppery oils retain their boldness in the recipe for Seared Sirloin Steak on a Bed of Watercress, and they add complexity to mashed potatoes in Olive Oil and Rosemary Mashed Potatoes.
Demonstrating that olive oil isn't just for use in savory dishes, Krasner offers recipes like Gingered Carrot Cake with Figs, "Hot" Chocolate Cake, Orange Chocolate Chip Biscotti, and Apple-Cherry Cardamom Strudel. These recipes, and many more, will showcase the delicate olive oils in your pantry and leave your guests clamoring for the recipes.
Hints on technique, pantry basics, and equipment are also included. No book on olive oil would be complete without noting the important health benefits offered by olive oil, and Krasner points to significant evidence that using olive oil is essential to a healthful diet.
"The Flavors of Olive Oil" is an indispensable guide to the joys of olive oil and a font of information you'll turn to again and again.
About the Author
Deborah Krasner's articles on food, design, and kitchen equipment have appeared in Food & Wine, Bon App'tit, and Cooks Illustrated, among others. A regular guest on Public Radio International's The Splendid Table with Lynne Rossetto Kasper, Krasner is also an active member of the International Association of Culinary Professionals (IACP), a Certified Culinary Professional (CCP), and she serves on the board of Gastronomica magazine. A kitchen designer, she is the author of several books on food and design, including Kitchens for Cooks: Planning Your Perfect Kitchen. She lives with her family in Vermont.
Praise For The Flavors of Olive Oil: A Tasting Guide and Cookbook…
Paula Wolfert author of Mediterranean Grains and Greens Deborah Krasner clearly understands the flavors and tastes of the Mediterranean kitchen. A charming book, filled with exuberance and spirit!



Nancy Harmon Jenkins author of The Mediterranean Diet Cookbook A user-friendly book for cooks as well as food-lovers that shows us how to enjoy to its fullest one of nature's most healthful products. It's a fine introduction to extra-virgin oil and its myriad uses, from salads to frying.



Peter Rinehart author of The Bread Baker's Apprentice: Mastering the Art of Extraordinary Bread Deborah Krasner has done for olive oil in all its layered and complex glory what others have done with wine. She teaches us why and how the various types (and there are many) are all oh so different, and how to enhance our enjoyment through her detailed tasting notes and wonderfully inventive recipes.



Dr. Andrew Weil coauthor, The Healthy Kitchen: Recipes for a Better Body, Life, and Spirit What a terrific book! I learned much about olive oil I didn't know, will use the suggestions of brands and sources, and can't wait to try more of the recipes, which look novel, delicious, and healthful.



Nancy Verde Barr author of We Called It Macaroni: An American Heritage of Southern Italian Cooking The Flavors of Olive Oil is full of superb, useful information that Deborah provides in the friendly style of your best friend taking you shopping. Try not to read the recipes first or you will never want to leave the kitchen. They are quite simply delicious!



Lorna Sass author of The Pressured Cook and The New Soy Cookbook Deborah Krasner has written a guide and cookbook as alluring and bursting with possibilities as olive oil itself.



Aliza Green chef, Stella Notte Restaurant; coauthor of Ceviche! Every reader will enjoy the imaginative yet easy-to-prepare recipes sprinkled with thoughtful cooking tips and answers to every question you've ever had about olive oil.
Advertisement