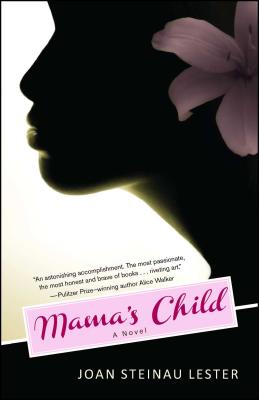 Mama's Child
A Novel
Paperback

* Individual store prices may vary.
Other Editions of This Title:
Digital Audiobook (9/26/2013)
Description
A stunning tale about the deeply entrenched conflicts between a white mother and her biracial daughter.

Mama's Child is story of an idealistic young white woman who travelled to the American South as a civil rights worker, fell in love with an African American man, and started a family in San Francisco, where the more liberal city embraced them—except when it didn't. They raise a son and daughter, but the tensions surrounding them have a negative impact on their marriage, and they divorce when their children are still young. For their biracial daughter, this split further destabilizes her already challenged sense of self—"Am I black or white?" she must ask herself, "Where do I belong?" Is she her father's daughter alone?

As the years pass, the chasm between them widens, even as the mother attempts to hold on to the emotional chord that binds them. It isn't until the daughter, Ruby, herself becomes a wife and mother that she begins to develop compassion and understanding for the many ways that her own mother's love transcended race and questions of identity.
Praise For Mama's Child: A Novel…
"An astonishing accomplishment. The most passionate, the most honest and brave of books…riveting art."
— Pulitzer Prize-winning author Alice Walker

"A powerful story brilliantly capturing the complications of the mother-daughter relationship from both sides."
— Marissa Moss, author of the award-winning Amelia's Notebook series

Mama's Child is a stunning portrait of a family amidst the agony of recovery from near-drowning in the sea of racism. Joan Steinau Lester writes of the desperate vulnerabilities and the personal triumphs with a deft emotional hand that makes the struggles that have ripped apart this nation more personal than most have ever experienced.
— Jewelle Gomez, novelist & playwright

"Mama's Child is a welcome addition to the growing body of mixed-race literature. Joan Steinau Lester's innovation is a shift in gaze from the experience of the confused child to the often overlooked, complicated white mother. It's a turn that's long overdue."
— Emily Raboteau, author of Searching for Zion and The Professor'

"Poignant narrative . . . . no matter a person's ethnic or cultural background, this book is relatable."
— Kirkus

"Mama's Child is a deeply felt novel of a daughter on a quest for selfhood and a mother striving to come back to her own. Through alternating perspectives, Lester sensitively illuminates the challenges of living in a world still viewed through the filter of race."
— Booklist
Atria Books, 9781451693188, 320pp.
Publication Date: May 7, 2013
About the Author
Joan Steinau Lester, Ed.D., is an award-winning journalist and author of four critically acclaimed books. Her writing has appeared in many newspapers and magazines, including Essence, Los Angeles Times, Chicago Tribune, and Cosmopolitan. She lives in Northern California.
Who was your favorite character? Why? Did you see this character change during the course of the novel? How?
Who was your least favorite character? Why? Did you see this character change during the course of the novel? How?
How did the pressures of the Civil Rights era manifest themselves within the Jordan/O'Leary family? How did the mother and the daughter each handle those pressures?
What was a unifying family dynamic and ethos, based on the Civil Rights Movement?
What made the relationship between Ruby and Elizabeth so fraught?
Why did Ruby cut off her mother for so long? Do you think a young biracial woman today would feel the same need to estrange herself from a white mother?
Have you heard of, or personally experienced, a similar situation in a family—where one member leaves for a long time? Has there been some healing? How did that happen? Did you play a role?
How did a theme of forgiveness weave throughout the novel?
What do you imagine happened after the close of the story?