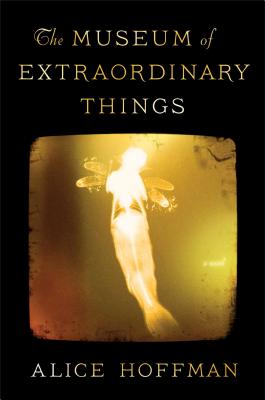 The Museum of Extraordinary Things
A Novel
Hardcover

* Individual store prices may vary.
Other Editions of This Title:
Digital Audiobook (2/17/2014)
Paperback (9/30/2014)
Paperback (3/12/2015)
Paperback (3/12/2015)
Paperback, Chinese (3/3/2016)
CD-Audio (2/18/2014)
Library Binding, Large Print (4/1/2014)
Description
From the beloved, bestselling author of The Dovekeepers, a mesmerizing new novel about the electric and impassioned love between two vastly different souls in New York during the volatile first decades of the twentieth century.

Mesmerizing and illuminating, Alice Hoffman's The Museum of Extraordinary Things is the story of an electric and impassioned love between two vastly different souls in New York during the volatile first decades of the twentieth century.

Coralie Sardie is the daughter of the sinister impresario behind The Museum of Extraordinary Things, a Coney Island boardwalk freak show that thrills the masses. An exceptional swimmer, Coralie appears as the Mermaid in her father's "museum," alongside performers like the Wolfman, the Butterfly Girl, and a one-hundred-year-old turtle. One night Coralie stumbles upon a striking young man taking pictures of moonlit trees in the woods off the Hudson River.

The dashing photographer is Eddie Cohen, a Russian immigrant who has run away from his father's Lower East Side Orthodox community and his job as a tailor's apprentice. When Eddie photographs the devastation on the streets of New York following the infamous Triangle Shirtwaist Factory fire, he becomes embroiled in the suspicious mystery behind a young woman's disappearance and ignites the heart of Coralie.

With its colorful crowds of bootleggers, heiresses, thugs, and idealists, New York itself becomes a riveting character as Hoffman weaves her trademark magic, romance, and masterful storytelling to unite Coralie and Eddie in a sizzling, tender, and moving story of young love in tumultuous times. The Museum of Extraordinary Things is Alice Hoffman at her most spellbinding.
Praise For The Museum of Extraordinary Things: A Novel…
"Hoffman's book earns its legitimacy through an eye-opening plethora of period detailing, coupled with the author's overarching outrage at urban workplace abuses….You can't help but admire the author's fervor for telling stories and the democratic manner in which she disseminates the love of reading."
— Jan Stuart

"A lavish tale about strange yet sympathetic people, haunted by the past and living in bizarre circumstances… Imaginative…Once Coralie and Eddie discover each other, their profound, mystical attraction and mutual obsession become forces of their own, driving the story forward."
— Katharine Weber

"Spellbinding… Hoffman's penchant for the magical is on full display in this world filled with rogues, strivers, corrupt politicians, Gilded Age riches and debilitating poverty. The chaos and grandeur of New York City at the time make it a character in its own right, as monstorous and intoxicating as the circus sideshow that traps Coralie and makes her a star."
— Andrea Walker

"Alice Hoffman employs her trademark alchemy of finding the magical amid the ordinary in her mesmerizing new novel.…If you're looking for an enchanting love story rich with history and a sense of place, step right up to The Museum of Extraordinary Things."
— USA Today

"The year 1911 had an apocalyptic feel in New York City as fire devastated the Triangle Shirtwaist Factory in Greenwich Village and destroyed the amusement park Dreamland that rose above Coney Island. Manhattan wasn't yet entirely tamed by concrete and people still believed in the fantastical. Alice Hoffman, whose brand of magic realism really should have a patent pending, makes lovely work of the era in her new city-centric novel, The Museum of Extraordinary Things."
— Sherryl Connelly

"Hoffman masterfully creates two characters of depth and emotion in Eddie and Coralie….[She] does not disappoint ."
— Amanda St. Amand

"The Museum of Extraordinary Things, like Ragtime, is packed with history and mystery, an introspective and full-bodied fairy tale for adult readers."
— Julie Bookman

"Alice Hoffman's storytelling magic is on abundant display in her new novel….Hoffman expertly weaves the future lovers' monologues with a third-person account moving through the spring of 1911 to create a wonderfully rich narrative tapestry. Her prose is as lyrically beautiful as ever, evoking the teeming complexity of New York ….The action-packed story line sweeps through labor strife, a missing Triangle worker eventually fished from the Hudson, the exposure of her murderer and a bravura plot twist that reveals the truth about Coralie's mother."
— Newsday

"Fans of Hoffman will not be disappointed. Lush imagery, extensive use of period details, well-drawn, and vivid prose make this a sumptuous read…a rich reading experience."
— The Seattle Times

"Part Ray Bradbury and part Steven Millhauser...the delicate balance between the everyday world and the extraordinary is balanced more in favor of the world we know, though not many writers describe that world as elegantly as Hoffman does....First-rate...Vividly drawn...Hoffman gives us extraordinary things and extraordinary times. And more."
— Ed Siegel

"[Hoffman is] a master of craft and a lover of language. Each sentence shows precision and deliberation….The Museum of Extraordinary Things lives up to the 'extraordinary' of its title, a work of passion that celebrates a place and an era even while it explores a particularly dark moment in New York's history."
— Zach Powers

"Classic Hoffman: a bewitching world of time and place (in this case, Coney Island and its boardwalk freak show in the early 1900s) suffused with magical moments, a mysterious disappearance and romance."
— Darcy Jacobs

"A mesmerizing new novel about the electric and impassioned love between two vastly different souls during the volatile first decades of the 20th century."
— Publisher's Weekly

"Hoffman breathes fiery life into an enrapturing fairy tale and historical fiction mash-up….Ravishing…Dramatic…Hoffman unveils both horror and magic in this transfixing tale of liberation and love in a metropolis of lies, yearning, and metamorphosis."
— Booklist (starred review)

"The Museum of Extraordinary Things is the mesmerizing new novel about the electric and impassioned love between two vastly different souls in New York during the volatile first decades of the twentieth century."
— Ann McDonald

"In The Museum of Extraordinary Things, Alice Hoffman mounts an arresting display: a New York City tale rich with literary inspiration, history, and urban legend. Readers often talk about being immersed in novels; this is a satisfying swim in tidal waters. Take the plunge."
— Gregory Maquire, author of Wicked and Out of Oz

"Alice Hoffman understands and delivers the ordinary and the extraordinary in this contemporary novel of the past. As always, her powerful, elegant prose embraces tremendous passion with constant, clear-eyed compassion."
— Amy Bloom, author of Away

"Beautiful, harrowing, a major contribution to twenty-first century literature."
— Toni Morrison, Nobel Laureate in Literature, on The Dovekeepers

"As always, Alice Hoffman amazes me with her ability to use words the way other master artists use watercolors, painting the dreamlike world of a girl who grows up in a hall of wonders only to learn that something as ordinary as love is the greatest marvel of all. Many novels these days are called 'stunning' but this one truly IS: part love story, part mystery, part history, and all beauty."
— Jodi Picoult, author of The Storyteller and Lone Wolf
Scribner, 9781451693560, 384pp.
Publication Date: February 18, 2014
About the Author
Alice Hoffman is the author of more than thirty works of fiction, including The World That We Knew, The Rules of Magic, The Marriage of Opposites, Practical Magic, The Red Garden, the Oprah's Book Club selection Here on Earth, The Museum of Extraordinary Things, and The Dovekeepers. She lives near Boston.
Book Videos
or
Not Currently Available for Direct Purchase