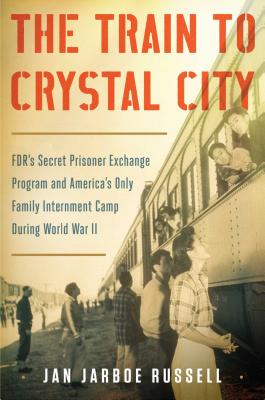 The Train to Crystal City
FDR's Secret Prisoner Exchange Program and America's Only Family Internment Camp During World War II
Hardcover

* Individual store prices may vary.
Other Editions of This Title:
Digital Audiobook (5/7/2015)
Paperback (1/5/2016)
Hardcover, Large Print (3/31/2015)
Description
The dramatic and never-before-told story of a secret FDR-approved American internment camp in Texas during World War II, where thousands of families—many US citizens—were incarcerated.

From 1942 to 1948, trains delivered thousands of civilians from the United States and Latin America to Crystal City, Texas, a small desert town at the southern tip of Texas. The trains carried Japanese, German, Italian immigrants and their American-born children. The only family internment camp during World War II, Crystal City was the center of a government prisoner exchange program called "quiet passage." During the course of the war, hundreds of prisoners in Crystal City, including their American-born children, were exchanged for other more important Americans—diplomats, businessmen, soldiers, physicians, and missionaries—behind enemy lines in Japan and Germany.

Focusing her story on two American-born teenage girls who were interned, author Jan Jarboe Russell uncovers the details of their years spent in the camp; the struggles of their fathers; their families' subsequent journeys to war-devastated Germany and Japan; and their years-long attempt to survive and return to the United States, transformed from incarcerated enemies to American loyalists. Their stories of day-to-day life at the camp, from the ten-foot high security fence to the armed guards, daily roll call, and censored mail, have never been told.

Combining big-picture World War II history with a little-known event in American history that has long been kept quiet, The Train to Crystal City reveals the war-time hysteria against the Japanese and Germans in America, the secrets of FDR's tactics to rescue high-profile POWs in Germany and Japan, and how the definition of American citizenship changed under the pressure of war.
Praise For The Train to Crystal City: FDR's Secret Prisoner Exchange Program and America's Only Family Internment Camp During World War II…
"Mind-boggling...TheTrain to Crystal City combines accounts of terrible sorrow and destructionwith great perseverance…Readers [will] wish these stories weren't true."
— The New York Times

"Russell movingly focuses on human stories coming out of one camp that held both Japanese and Germans,outside Crystal City, Tex....Poignant."
— New York Times Book Review

"Americans—and particularly Texans—should read Jan Jarboe Russell's The Train to Crystal City... Ultimately, The Train to Crystal City is about identity, allegiance and home, and the difficulty of determining the loyalties that lie in individual human hearts."
— Texas Observer

"Poignant, even shocking…a valuable look at a dark stain on America's Second World War."
— Newsday

"In this quietly moving book, Jan Jarboe Russell traces the history of one unusual camp that housed detainees from Japan, Germany, and Italy, along with their families, many of whom were American-born."
— Boston Globe

"There are obvious parallels between Crystal City and today's Guantanamo Bay detention facility and between the anti-immigrant sentiment then and now, but Russell wisely resists the urge to connect the dots. Her story is harrowing enough on its own."
— Chicago Tribune

"A must-read for those interested not just in history, but in human nature….The Train to Crystal City is compelling, thought-provoking and impossible to put down."
— Minneapolis Star-Tribune

"Engrossing…Russell documents in chilling details a shocking story of national betrayal."
— Kirkus

"This is an informative, disturbing, and necessary reminder of the dangers produced by wartime hysteria."
— Booklist

"Both scholars and generalreaders interested in World War II will agree, this book is a gripping storyfrom start to finish."
— Library Journal

"Russell pulls no punches describing the cost of war and the conditions internees endured....a powerful piece."
— Publishers Weekly

"The Train to Crystal City is a story ofheartbreaking dislocation, of lives smashed and ruined, and of almostunbelievable human endurance, resilience, and determination. Jan Jarboe Russellhas written a powerful book that will leave you shaking your head in disbelief."
— —S.C. Gwynne, New York Times bestselling author of Rebel Yell and Empire of the Summer Moon

"Jan Jarboe Russell has exposed a corner of American history that few knew existed, one that is at once bitter and transformative. The glory of this book is in the many human details so skillfully sketched, which add another chapter to the unending tally of war."
— Lawrence Wright, author of Thirteen Days in September: Carter, Begin, and Sadat at Camp David
Scribner, 9781451693669, 416pp.
Publication Date: January 20, 2015
About the Author
Jan Jarboe Russell is the author of the New York Times bestseller The Train to Crystal City: FDR's Secret Prisoner Exchange Program and America's Only Family Internment Camp During World War II, winner of the Texas Institute of Letters Prize for Best Book of Nonfiction. She is a Neiman Fellow, a contributing editor for Texas Monthly, and has written for the San Antonio Express-News, The New York Times, Slate, and other magazines. She also compiled and edited They Lived to Tell the Tale. She lives in San Antonio, Texas, with her husband, Dr. Lewis F. Russell, Jr.
Coverage from NPR
or
Not Currently Available for Direct Purchase