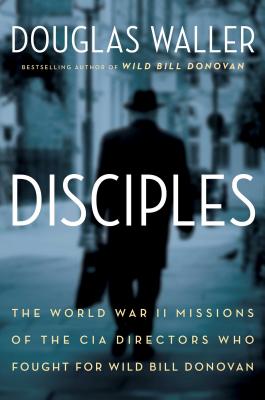 Disciples (Hardcover)
The World War II Missions of the CIA Directors Who Fought for Wild Bill Donovan
Simon & Schuster, 9781451693720, 592pp.
Publication Date: October 6, 2015
Other Editions of This Title:
Digital Audiobook (10/5/2015)
Paperback (10/25/2016)
* Individual store prices may vary.
Description
"A fantastic book, one of the very finest accounts of wartime spookery...a hell of a good tale." —The Wall Street Journal

The author of the critically acclaimed bestseller Wild Bill Donovan, tells the story of four OSS warriors of World War II. All four later led the CIA.

They are the most famous and controversial directors the CIA has ever had—Allen Dulles, Richard Helms, William Colby, and William Casey. Disciples is the story of these dynamic agents and their daring espionage and sabotage in wartime Europe under OSS Director Bill Donovan.

Allen Dulles ran the OSS's most successful spy operation against the Axis. Bill Casey organized dangerous missions to penetrate Nazi Germany. Bill Colby led OSS commando raids behind the lines in occupied France and Norway. Richard Helms mounted risky intelligence programs against the Russians in the ruin of Berlin after the German surrender.

Four very different men, they later led (or misled) the successor CIA. Dulles launched the calamitous operation to land CIA-trained, anti-Castro guerrillas at Cuba's Bay of Pigs. Helms was convicted of lying to Congress about the CIA's effort to oust Chile's president. Colby would become a pariah for releasing to Congress what became known as the "Family Jewels" report on CIA misdeeds during the 1950s, sixties and early seventies. Casey would nearly bring down the CIA—and Ronald Reagan's presidency—from a scheme to secretly supply Nicaragua's contras with money raked off from the sale of arms to Iran for American hostages in Beirut.

Mining thousands of once-secret World War II documents and interviewing scores of family members and CIA colleagues, Waller has written a brilliant successor to Wild Bill Donovan.
About the Author
Douglas Waller is a former correspondent for Newsweek and Time, where he covered the CIA, Pentagon, State Department, White House and Congress. He is the author of the bestsellers Wild Bill Donovan, Big Red and The Commandos, as well as critically acclaimed works such as Disciples, the story of four CIA directors who fought for Donovan in World War II, and A Question of Loyalty, a biography of General Billy Mitchell. He lives in Raleigh, North Carolina.
Praise For Disciples: The World War II Missions of the CIA Directors Who Fought for Wild Bill Donovan…
"Disciples is a fantastic book, one of the very finest accounts of wartime spookery I've seen. . . . it's a hell of a good tale, aided immeasurably by Mr. Waller's skill at disentangling the knotted story lines of his protagonists and his dexterous straightening of the often contradictory accounts of the shadow war's dauntingly complex machinations. . . . his eye for journalistic color (honed by his stints as a correspondent for Time and Newsweek) turns his solid research into taut narrative. . . . Disciples is a remarkable work of synthesis."
— The Wall Street Journal

"Entertaining and richly detailed . . . a textured adventure story that emerges from Waller's command of the archival material and his fluid writing style. That latter gift helps Waller overcome what could have been the cumbersome task of weaving together four distinct war experiences . . . Waller moves among these biographies with ease."
— The Washington Post

"Entertaining and enlightening . . . absorbing . . . [Waller's] story of Dulles' tortuous dance with a German informant while running the OSS activities in Switzerland is worthy of John le Carré. His tales of Colby's paramilitary operations in France and Norway include riveting episodes of heroism (and a possible war crime that got lost in the Allied victory) that would fit in the best war novels. . . . [Waller] makes the case that these four men's wartime actions deeply colored what they did as CIA directors. Their zeal in fighting the Nazis, and their acquired love of intrigue, escalated during the battle against communism. Ardor became audacity. And each fell from grace. It's a messy business."
— The Charlotte Observer

"Waller has clearly mastered the material and tells each man's story with verve and energy. Based on extensive research in original sources, which he lays out in endnotes, the chapters are literal page-turners."
— Studies in Intelligence

"Eye-opening . . . Waller keeps the interest high and the pages turning in one of the more interesting spy books this year."
— Kirkus Reviews

"Meticulously researched...Waller's easygoing writing style and extensive use of primary sources make this work worthwhile for those interested in espionage history."
— Publishers Weekly

"Douglas Waller knows the world of spies and he knows how to tell a story. The World War II adventures of these future spymasters are fascinating and instructive about the moral ambiguities of espionage and covert action. A gripping read from the pen of a master."
— Evan Thomas author of "Being Nixon" and "Ike's Bluff"

"Waller reintroduces us to the legendary spymasters who fought in World War II. In his gripping book, Waller gives us the little known backstories of the future intelligence chiefs and their cunning use of espionage and sabotage. Decades later, accused of bungled operations, crimes, and abuse of power, they would all go to war again, but this time just across the river in Washington."
— James Bamford, author of The Shadow Factory

"Allen Dulles, Bill Casey, Bill Colby and Richard Helms became symbols of the CIA's worst Cold War failures and scandals. Waller vividly chronicles their accomplishments as young OSS operatives who put their lives at risk during World War II. This is an enthralling story of patriotism, courage, dedication, and at times reckless panache. Given the trajectory of their postwar lives, it is also a tragedy—a true American tragedy."
— Andrew Nagorski, author of Hitlerland and the forthcoming The Nazi Hunters

"Meticulously researched . . . Waller's easygoing writing style and extensive use of primary sources make this work worthwhile for those interested in espionage history."
— Publishers Weekly

"Douglas Waller follows up his best-seller Wild Bill Donovan . . . with a ripping WWII sequel, Disciples . . . . Waller . . . drops a discerning dime on a series of backstories of espionage and sabotage provoked by Donovan's 'disciples'. . . Allen Dulles, Richard Helms, William Colby and William Casey, [who] later became CIA directors."
— The Buffalo News

"This book will make a dandy holiday gift for the spy story buff who eats up yarns about the dark side of the world of intelligence and those masters of intrigue who exist inside the web. This is an authoritatively researched and smoothly written tale. . . Disciples will make good reading for your favorite spy buff."
— The Washington Times

"Waller's Disciples offers the reader a thoroughly researched and highly detailed history of these influential spies who ignited the covert action industry of the late twentieth century."
— Military Review

"Disciples is a lengthy but marvelous work—assiduously researched and richly written—that actually delivers on its subtitle."
— International Journal of Intelligence and CounterIntelligence
or
Not Currently Available for Direct Purchase