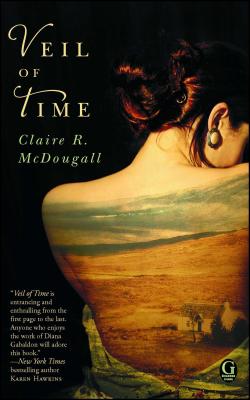 Veil of Time
Paperback

* Individual store prices may vary.
Description
In the tradition of Diana Gabaldon's Outlander, a woman finds herself transported to ancient Scotland and to nobleman Fergus, brother of the king. Fergus desperately wants Maggie to stay and create a life with him, but she's torn. Will she choose her future or his past?

A compelling tale of two Scotlands—one modern, one ancient—and the woman who parts the veil between them.

The medication that treats Maggie's seizures leaves her in a haze, but it can't dull her grief at losing her daughter to the same condition. With her marriage dissolved and her son away at school, Maggie retreats to a cottage below the ruins of Dunadd, once the royal seat of Scotland. But is it fantasy or reality when she awakens in a bustling village within the massive walls of eighth-century Dunadd? In a time and place so strange yet somehow familiar, Maggie is drawn to the striking, somber Fergus, brother of the king and father of Illa, who bears a keen resemblance to Maggie's late daughter. With each dreamlike journey to the past, Maggie grows closer to Fergus and embraces the possibility of staying in this Dunadd. But with present-day demands calling her back, can Maggie leave behind the Scottish prince who dubs her mo chridhe, my heart?
Praise For Veil of Time…
"From the moment I opened Veil of Time, I was instantly swept up in the lush, haunting and wholly credible world Claire R. McDougall has created. Fiercely inventive, steeped in history, and emotionally charged, Veil of Time is the gripping story of a grieving woman who is offered a second chance to rebuild her fractured family. The twist? She must relinquish her current life and return to 8th century Scotland. A powerful and thought-provoking novel, reading Veil of Time is like falling into a wild, enchanting dream state from which you hope never to awaken. "
— Jillian Medoff, bestselling author of I Couldn't Love You More and Hunger Point

"Veil of Time will enthrall you. Claire McDougall's fine novel is both a meditative exploration on the nature of perception and sanity and a saga of the first order, a wholly captivating journey through time and the variegated yet immutable complexities of love."
— Scott Lasser, author of Say Nice Things About Detroit

"With echoes of Audrey Niffeneggers's The Time Traveller's Wife…this poetically written novel tells a magical love story that spans the centuries while at the same time describing in striking detail the subjective effects of this intriguing neurological state. A brave, powerful, and incredibly moving debut novel from a very talented writer."
— Anthony Peake, author of The Labyrinth of Time: The Illusion of Past, Present & Future
Gallery Books, 9781451693812, 416pp.
Publication Date: March 11, 2014
About the Author
Claire R. McDougall, a native of Scotland, graduated from Oxford University and lives now in Aspen, Colorado, with her family. After an early start as a newspaper columnist, her career in creative writing moved through the genres of poetry and short stories to settle on Scottish novels.