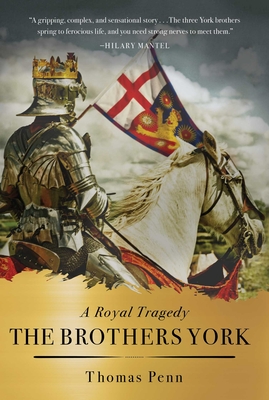 The Brothers York
A Royal Tragedy
Hardcover

* Individual store prices may vary.
Other Editions of This Title:
Compact Disc (12/3/2019)
MP3 CD (12/3/2019)
Compact Disc (12/3/2019)
Description
Vicious battles, powerful monarchs, and royal intrigue abound in this "gripping, complex, and sensational" (Hilary Mantel) true story of the War of the Roses—a struggle among three brothers, two of whom became kings, and the inspiration for Shakespeare's renowned play, Richard III.

In 15th-century England, two royal families, the House of York and the House of Lancaster, fought a bitter, decades-long civil war for the English throne. As their symbols were a red rose for Lancaster and a white rose for York, the conflict became known as the Wars of the Roses.

During this time, the house of York came to dominate England. At its heart were three charismatic brothers—King Edward IV, and his two younger siblings George and Richard—who became the figureheads of a spectacular ruling dynasty. Together, they looked invincible.

But with Edward's ascendancy the brothers began to turn on one another, unleashing a catastrophic chain of rebellion, vendetta, fratricide, usurpation, and regicide. The brutal end came at Bosworth Field in 1485, with the death of the youngest, then Richard III, at the hands of a new usurper, Henry Tudor, later Henry VII, progenitor of the Tudor line of monarchs.

Fascinating, dramatic, and filled with vivid historical detail, The Brothers York is a brilliant account of a conflict that fractured England for a generation. Riven by internal rivalries, jealousy, and infighting, the three York brothers failed to sustain their power and instead self-destructed. It is a rich and bloody tale as gripping as any historical fiction.
Praise For The Brothers York: A Royal Tragedy…
"A gripping, complex and sensational story, told with calm narrative command. It's a story we think we know—but most accounts leave the personnel as frozen as portraits in stained glass. Here, the three York brothers spring to ferocious life, and you need strong nerves to meet them. With insight and skill, Penn cuts through the thickets of history to find the heart of these heartless decades."
— Hilary Mantel

"Mr. Penn's narrative is rich in detail, and he leads the reader through a dense and dark forest with masterly skill. . . . A gripping account of the brothers York and of the England they briefly governed."
— Allan Massie

"Superb. . . . The tragedy and brutality of the Wars of the Roses jumps out from every page."
— The Financial Times

"An epic orgy of colour and character."
— Leanda de Lisle

"This thrilling biography of the three sons of the Duke of York—who fought won and lost the War of Roses—proves that Thomas Penn is among the most gifted historians at work in England today. . . . This is juicy, impeccably researched work that ought to earn Penn a massive audience."
— John Freeman

"A panoramic chronicle of the rise and fall of the House of York in 15th-century England. . . . This rigorous and richly detailed account breathes new life into the Wars of the Roses."
— Publishers Weekly

"Thrilling. . . . [Penn] brings a novelist's verve to his telling of events. . . . Penn's history of betrayal, backstabbing and paranoia strikes notes that still resonate today."
— John Gallagher

"A dramatic portrait of 15th-century England, which was besieged by political upheaval, betrayals, and ruthless violence. Penn . . . brings keen understanding and a sharp eye for detail to his prodigiously researched, engrossing history of the decades-long conflict between the houses of Lancaster and York. . . . Rebellious decades come to life vividly in a taut, spirited history."


— Kirkus Reviews (starred review)

"A gripping history . . . brings characters to life as real people."
— Simon Sebag Montefiore, BBC History Magazine, Books of the Year

"The Brothers York is not just a magisterial work of sublime scholarship, it's a pure page-turner. . . . The wonderful thing about Thomas Penn is that he makes some of the most familiar stories in English history feel fresh and exciting."
— Amanda Foreman, author of The Duchess

"Riveting . . . a tremendous storyteller. . . . The tales of the Princes in the Tower have often been told, but rarely with as much wisdom and gusto as this."
— Sunday Times (London), Books of the Year

"Gripping, richly contextualised and meticulously researched . . . a vital corrective to the ongoing, polarising battle over Richard III's legacy."
— The Spectator

"An exceptionally detailed and absorbing narrative history with a gallantly sustained human touch."
— The Telegraph (UK)

"Pacy, engrossing and evocative in its details (of feasts and jousts as well as battles and diplomatic skulduggery)."
— The Times Literary Supplement
Simon & Schuster, 9781451694178, 688pp.
Publication Date: June 16, 2020
About the Author
Thomas Penn is publishing director at Penguin Books UK. He holds a PhD in medieval history from Clare College, Cambridge University, and writes for The Guardian, the Daily Telegraph, and the London Review of Books, among other publications. He is the author of The Brothers York and Winter King: Henry VII and the Dawn of Tudor England.