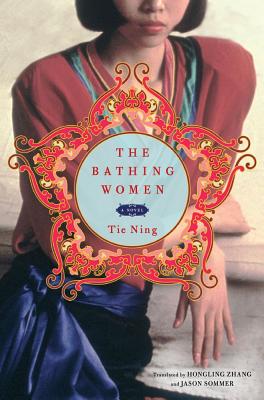 The Bathing Women
A Novel
Hardcover

* Individual store prices may vary.
Other Editions of This Title:
Paperback (10/18/2014)
Hardcover, Large Print (3/27/2013)
Description
From an award-winning and bestselling Chinese author, this stunningly original novel captures the spirit of a new generation of young professionals in contemporary China.

FROM AWARD-WINNING and bestselling Chinese writer Tie Ning comes a stunningly original novel that captures the spirit of a new generation of young professionals in contemporary China. The Bathing Women follows the lives of four women—Tiao, a children's book editor; Fan, her sister, who thinks escaping to America might solve her problems; Fei,a hedonistic and self-destructive young woman; and Youyou, a chef—from childhood during the Cultural Revolution to adulthood in the new market economy. This moving novel charts the journey of these women as they grapple with love, sibling rivalry, and, ultimately, redemption.

Beloved and renowned in China, Tie Ning's numerous books have never before been translated into English; this publication of The Bathing Women introduces a brilliant writer of uncommon talents, vision, and compassion to American readers. Spellbinding, unforgettable, and an important chronicle of modern China, The Bathing Women is a powerful and beautiful portrait of the strength of female friendship in the face of adversity.
Praise For The Bathing Women: A Novel…
"If I were to pick the ten best literary works in the world of the past ten years, I would definitely rank THE BATHING WOMEN among them." - Kenzaburo Oe, Nobel Laureate

"Tie Ning's unique novel about three Chinese women and their struggles with families and men in today's fast-changing China is as gorgeous as the Cezanne painting the novel takes its title from." —Xinran, author of Message from an Unknown Chinese Mother and The Good Women of China

"A probing and gracefully written portrait of an extended Chinese family, related by blood and mystery, in which the author explores areas of human behavior traditionally considered off-limits: the intimate and sexual lives of ordinary Chinese women." —Hannah Pakula, author of The Last Empress: Madame Chiang Kai-shek and the Birth of Modern China

"A literary gem of poetic prose that unmasks a complex story of jealousy, adultery, deception and acceptance."

"Ning escorts the reader through the underbelly of love, family and jealousy in prose that's pure poetry and a privilege to read."

"Tie Ning's writing fluidly captures the human desire to excel in life regardless of one's circumstances…it will be most definitely be appreciated by readers who enjoy literature (particularly Asian literature) that unabashedly explores the complexities of human relationships in times of adversity."

"Ning masterfully pins down the kaleidoscope of emotions aroused by her characters' actions, and moments of pain and conflict are colored with heartrending beauty."

"Set amidst shifting cultural values, this is a psychologically astute portrait of four women struggling to satisfy their appetites for food, camaraderie, family, community, sex, and love."
Scribner, 9781451694840, 368pp.
Publication Date: October 9, 2012
About the Author
Tie Ning won a national short story award at the age of twenty-five and is the recipient of numerous other literary prizes. She has published ten books—collections of short fiction, essays, and novels—three of which were made into movies and television series, including The Bathing Women. In 2006, at the age of forty-nine, she was elected president of the Chinese Writers Association, becoming the youngest writer and first woman to be honored in this way. Her works have been translated into Russian, German, French, Japanese, Korean, Spanish, Danish, Norwegian, and Vietnamese. The Bathing Women is her first work to be translated into English.
or
Not Currently Available for Direct Purchase