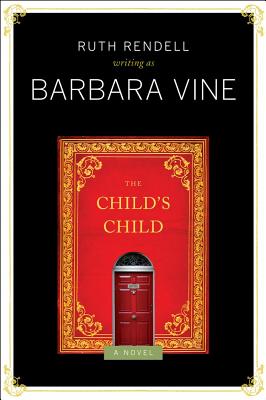 The Child's Child (Hardcover)
A Novel
Scribner, 9781451694895, 320pp.
Publication Date: December 4, 2012
Other Editions of This Title:
Paperback (10/8/2013)
MP3 CD (12/1/2016)
Hardcover, Large Print (1/1/2013)
Compact Disc (12/1/2012)
MP3 CD (12/1/2012)
MP3 CD (10/8/2013)
Compact Disc (10/8/2013)
MP3 CD (12/4/2012)
* Individual store prices may vary.
Description
INCLUDES AN EXCERPT OF RENDELL'S FINAL NOVEL, DARK CORNERS

From three-time Edgar Award–winning mystery writer Ruth Rendell, writing here under her Barbara Vine pseudonym, an ingenious novel-within-a-novel about brothers and sisters and the violence lurking behind our society's taboos.

When their grandmother dies, Grace and Andrew Easton inherit her sprawling, book-filled London home, Dinmont House. Rather than sell it, the adult siblings move in together, splitting the numerous bedrooms and studies. The arrangement is unusual, but ideal for the affectionate pair—until the day Andrew brings home a new boyfriend. A devilishly handsome novelist, James Derain resembles Cary Grant, but his strident comments about Grace's doctoral thesis soon puncture the house's idyllic atmosphere. When he and Andrew witness their friend's murder outside a London nightclub, James begins to unravel, and what happens next will change the lives of everyone in the house. Just as turmoil sets in at Dinmont House, Grace escapes into reading a manuscript—a long-lost novel from 1951 called The Child's Child—never published because of its frank depictions of an unwed mother and a homosexual relationship. The book is the story of two siblings born a few years after World War One. This brother and sister, John and Maud, mirror the present-day Andrew and Grace: a homosexual brother and a sister carrying an illegitimate child. Acts of violence and sex will reverberate through their stories.

The Child's Child is an enormously clever, brilliantly constructed novel-within-a-novel about family, betrayal, and disgrace. A master of psychological suspense, Ruth Rendell, in her newest work under the pseudonym Barbara Vine, takes us where violence and social taboos collide. She shows how society's treatment of those it once considered undesirable has changed—and how sometimes it hasn't.
About the Author
Barbara Vine is a pseudonym for Ruth Rendell, who has won numerous awards, including three Edgars, the highest accolade from Mystery Writers of America, as well as three Gold Daggers, a Silver Dagger, and a Diamond Dagger for outstanding contribution to the genre from England's prestigious Crime Writer's Association. A member of the House of Lords, she lives in London. Ruth Rendell's newest novel is No Man's Nightingale.
Praise For The Child's Child: A Novel…
"The Rendell/Vine partnership has for years been producing consistently better work than most Booker winners put together."
— Ian Rankin

"Barbara Vine is Ruth Rendell letting rip."

"A novel by Ruth Rendell (or her literary alter ego, Barbara Vine) is like none other..... The results are seldom what we expect them to be, and that is part of this author's special genius."
— Robert Croan

"Vine vividly conjures the high price paid by social outcasts, even in our own supposedly enlightened age."

"Just a cracking good read."

"Ruth Rendell, whether writing her mystery novels or molting into Barbara Vine and burrowing deep into réalité intérieure, has always written thoughtful novels on the consequences of our choice."

"In the hands of Vine, otherwise known as Ruth Rendell, the book-within-a-book strategy evolves into something infinitely more intricate — a sinister, constantly shifting Rubik's Cube of motives, betrayals, and violence. Grade A"
— Tina Jordan

"A study of taboos of the past and the growing tolerance of the present -- except when open-mindedness is absent -- The Child's Child encompasses darkness and light -- and simultaneously offers diverting fiction with thought-provoking but never preachy purpose."

''Subtle'' is an inadequate word for Ruth Rendell. So are 'crafty,' 'cunning,' 'clever' and 'sly.' Although these are accurate descriptions of her confounding technique, a better word would be 'surprising.' Whatever it is you might think Rendell is up to, especially when she's writing as Barbara Vine -- that's not it."
— Marilyn Stasio

"Not even fans who expect more felonies will be able to put this one down."

"These last pages are as thrilling as anything Vine or Rendell has ever written. As for the rest, they are simply superb. She can make your blood boil or run cold at will."
or
Not Currently Available for Direct Purchase