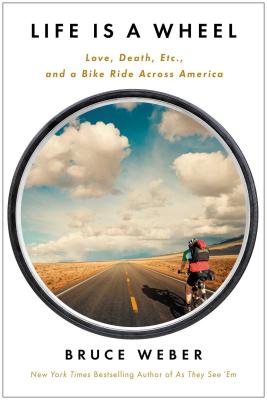 Life Is a Wheel
Love, Death, Etc., and a Bike Ride Across America
Hardcover

* Individual store prices may vary.
Description
Based on his popular series in the New York Times chronicling his cross-country bicycle trip, bestselling author Bruce Weber shares his adventures from his solo ride across the USA.

Based on his popular New York Times series, bestselling author Bruce Weber shares the adventures of his solo bicycle ride from coast to coast.

Riding a bicycle across the United States is one of those bucket-list goals that many dream about but few fulfill. During the summer and fall of 2011, at the age of fifty-seven, Bruce Weber, an obituary writer for The New York Times, made the trip, alone, and wrote about it as it unfolded mile by mile, a vivid and immediate report of the self-powered life on the road.

Now, expanding upon the articles and blog posts that quickly became a must-read adventure story, Weber gives us Life Is a Wheel, a witty, inspiring, and reflective diary of his journey, in which the challenges and rewards of self-reliance and strenuous physical effort yield wry and incisive observations about cycling and America, not to mention the pleasures of a three-thousand-calorie breakfast.

The story begins on the Oregon coast, with Weber wondering what he's gotten himself into, and ends in triumph on New York City's George Washington Bridge. From Going-to-the-Sun Road in the northern Rockies to the headwaters of the Mississippi and through the cityscapes of Chicago and Pittsburgh, his encounters with people and places provide us with an intimate, two-wheeled perspective of America. And with thousands of miles to travel, Weber considers— when he's not dealing with tractor-trailers, lightning storms, dehydration, headwinds, and loneliness—his past, his family, and the echo that a well-lived life leaves behind.

Part travelogue, part memoir, part romance, part paean to the bicycle as a simple mode of both mobility and self-expression—and part bemused and panicky account of a middle-aged man's attempt to stave off, well, you know—Life Is a Wheel is an elegant and beguiling escape for biking enthusiasts, armchair travelers, and any readers who are older than they were yesterday.
Praise For Life Is a Wheel: Love, Death, Etc., and a Bike Ride Across America…
"Life Is a Wheel is a book for cyclists, certainly, and for anyone who has ever dreamed of such transcontinental travels. But it also should prove enlightening, soul-stirring, even, to those who don't care a whit about bikes but who care about the way people connect - strangers, friends, parents and children, lovers."

"Mr. Weber's writing style, straightforward, unexaggerated and conversational, has an understated tone that recalls Hemingway more than Beckett: He rations his emotions, which makes the impact strong when he reveals grief, loneliness or fear… [He] manages to be both expressive and enigmatic, inclusive and solitary — a rider in the world, coasting through the landscape, sometimes participating, always observing."

"This delightful book is sure to appeal to cyclists who may harbor dreams of pedaling from coast to coast. But any reader simply looking for a well-written and entertaining travel story filled with insightful thoughts about life, family and aging will not be disappointed."

"Riding a bike across the country is hard work; doing it at age 57 when, as Bruce Weber writes, his body was "both perfectly healthy and falling apart," sounds either foolish or heroic. In this lovely account, Weber manages to avoid both, focusing instead on the beauty of the country he passed through…the kindness of the people he met, and his own musings on life, love, and death... Readers will enjoy going there with him."

"This title is his witty travelogue, his reflective road journal, and a vivid testament to the beauty of a journey made on two wheels. Perfect for fans of Billy Bryson's travel writing or books such as Jim Malusa's Into Thick Air: Biking to the Bellybutton of Six Continents and Paul Howard's Eat, Sleep, Ride: How I Braved Bears, Badlands, and Big Breakfasts in My Quest to Cycle the Tour Divide, this title is a cross-country trip every reader can enjoy. VERDICT: Weber's journey is sure to inspire readers to roll their old bikes out of the shed and plan an epic trek of their own."

"Weber's trip – and his thoughts – are distilled into a read that is both entertaining and thoughtful."

"Weber's memoir has an air to it that reminds me of Richard Ford's novel "The Sportswriter"… Looking back, looking forward, making sense of what we face now. Or as he says as he pedals a stationary bike back in his gym after his trip, 'the present is where you want to be. Never wish away distance. Never wish away time.'"

"Weber never fails to entertain, and his compulsion to always move forward despite the weight of the past is as inspiring as his astounding cycling achievement."

"Weber's pedalogue is a one-word case study of highs and lows: Gulp. Damn. Yikes! So... Whew! Ommmmmm. Arrrrgh. Ha! Sigh. Cool! Yikes! Arrgh. Whoa!"

"Cover to cover this book is a great ride. Bruce Weber is an entertaining and absorbing travel companion and in Life is a Wheel he pulls off a master storyteller's trick. He gives us a very personal journey that resonates on every page as part of the universal journey we're all on. It's great writing and reading."
— Michael Connelly

"Kerouac claimed that the romance of the American road died with the completion of the interstate system, but Bruce Weber proves him wrong, and on only two wheels. Life is a Wheel is an engaging blend of adventure and autobiography, a courageous journey over the breadth of the country and the distant terrains of the past."
— Billy Collins

"It's about the bike – to a point. Taking us along on a challenging and deeply personal journey, Weber shares memories, hopes, and emotions as rich and complex as the American landscape he conquers."
— David V. Herlihy, author of Bicycle: The History and Lost Cyclist
Scribner, 9781451695014, 352pp.
Publication Date: March 18, 2014
About the Author
Bruce Weber, a reporter for The New York Times, began his career in publishing as a fiction editor at Esquire. He has written for numerous publications and is the author of the New York Times bestseller As They See 'Em: A Fan's Travels in the Land of Umpires, coauthor (with Savion Glover) of Savion! My Life in Tap, and the editor of Look Who's Talking: An Anthology of Voices in the Modern American Short Story.
or
Not Currently Available for Direct Purchase