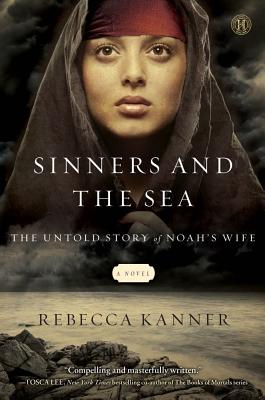 Sinners and the Sea (Hardcover)
The Untold Story of Noah's Wife
Howard Books, 9781451695236, 352pp.
Publication Date: April 2, 2013
Other Editions of This Title:
Digital Audiobook (4/1/2013)
Paperback (2/4/2014)
Hardcover, Large Print (9/11/2013)
CD-Audio (4/2/2013)
CD-Audio (4/2/2013)
* Individual store prices may vary.
Description
In the spirit of Anita Diamant, this ambitious and unforgettable novel about the story of Noah blends Biblical history, mythology, and the inimitable strength of women.

The young heroine in Sinners and the Sea is destined for greatness. Known only as "wife" in the Bible and cursed with a birthmark that many think is the brand of a demon, this unnamed woman—fated to become the mother of all generations after the great flood—lives anew through Rebecca Kanner. The author gives this virtuous woman the perfect voice to make one of the Old Testament's stories come alive like never before.

Desperate to keep her safe, the woman's father gives her to the righteous Noah, who weds her and takes her to the town of Sorum, a haven for outcasts. Alone in her new life, Noah's wife gives him three sons. But living in this wicked and perverse town with an aloof husband who speaks more to God than to her takes its toll. Noah's wife struggles to know her own identity and value. She tries to make friends with the violent and dissolute people of Sorum while raising a brood that, despite its pious upbringing, develops some sinful tendencies of its own. While Noah carries out the Lord's commands, she tries to hide her mark and her shame as she weathers the scorn and taunts of the townspeople.

But these trials are nothing compared to what awaits her after God tells her husband that a flood is coming—and that Noah and his family must build an ark so that they alone can repopulate the world. As the floodwaters draw near, she grows in courage and honor, and when the water finally recedes, she emerges whole, displaying once and for all the indomitable strength of women. Drawing on the biblical narrative and Jewish mythology, Sinners and the Sea is a beautifully written account of the antediluvian world told in cinematic detail.
About the Author
Rebecca Kanner's writing has won an Associated Writing Programs Award and a Loft Mentorship Award. Her stories have been published in numerous journals, including The Kenyon Review and The Cincinnati Review. She is a freelance writer and teaches writing at The Loft in Minneapolis.
Praise For Sinners and the Sea: The Untold Story of Noah's Wife…
"Kanner animates a harsh, almost dystopic world of fallen people struggling to survive. Noah's unnamed wife is a powerful, memorable character."

"Kanner successfully undertakes a formidable task retelling a familiar religious story through the eyes of Noah's wife. The narrative's well-articulated, evenly balanced, and stimulating—but it's definitely not the familiar tale that's so frequently illustrated in children's books."

"Sinners and the Sea is a rare find—a bold and vivid journey into the antediluvian world of Noah. Kanner's is a fresh, irresistible story about the unnamed woman behind the famous ark-builder. Compelling and masterfully written."
— Tosca Lee, New York Times bestselling co-author of The Books of Mortals series

"We think we know Noah's story but he was not alone on the ark; what was the experience of his wife, his family? Rebecca Kanner's vividly imagined telling recreates the world of the Bible, and asks powerful questions about the story and about ourselves."
— Rabbi David Wolpe, Sinai Temple in Los Angeles, author of Why Faith Matters

"Rebecca Kanner brings the antediluvian world of giants, prophets, and demons alive, setting her narrative in motion from the first chapter and never letting it rest. She is a writer of great dexterity, performing tricks at a full sprint."
— Marshall Klimasewiski, author of The Cottagers and Tyrants

"Sinners and the Sea is an excellent example of the traditional Jewish method of Midrash meeting the modern writer's pen. Kanner does a masterful job of penetrating the depths of the Biblical Flood narrative and weaving in the complicated reality of challenging relationships and longings for personal fulfillment. Her desire to go beyond the traditional midrashic understanding of the lives she explores introduces us to a courageous and insightful young writer whose first book will take its place alongside other exciting modern re-readings of the ancient Biblical text."
— Rabbi Morris Allen of Beth Jacob Congregation
or
Not Currently Available for Direct Purchase