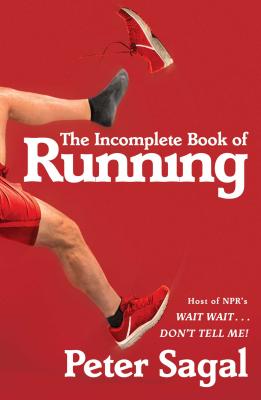 The Incomplete Book of Running
Hardcover

* Individual store prices may vary.
Other Editions of This Title:
Digital Audiobook (10/29/2018)
Paperback (9/10/2019)
Library Binding, Large Print (2/6/2019)
Compact Disc (10/30/2018)
Description
"Sagal has created a new genre—the five-minute-mile memoir. Combining commentary and reflection about running with a deeply felt personal story, this book is winning, smart, honest, and affecting. Whether you are a runner or not, it will move you." —Susan Orlean

In the midpoint of life, I found myself lost, in a dark place. So I tried to figure out exactly how many miles I had run to get there...

So begins The Incomplete Book of Running, a funny, wise, and powerful meditation about running and life from Peter Sagal, longtime columnist for Runner's World and the host of NPR's Wait Wait...Don't Tell Me!, that shares stories, advice, and warnings he's learned over his long and checkered career on the pavement.

Just before turning forty, Sagal—brainiac Harvard grad, short bald Jew with a disposition toward heft, and sedentary star of public radio who had exercised sporadically as a teenager—started running seriously. A decade later, what began as a simple mission to keep himself healthy had evolved into fourteen marathon finishes—including one in Boston in 2013, where he crossed the line only moments before two bombs went off—and tens of thousands of miles on roads, sidewalks, paths, and trails all over the United States and the world. Running was an important part of his life, but it wasn't until he experienced a personal crisis that he realized it had become a mode of survival.

In these pages, Sagal writes with humor and insight about the moments that have changed the way he sees the relationship between life and sport—from running a charity race in his underwear (in St. Louis, in February) and attempting to "quiet his colon" while taking a lap in his neighborhood to volunteering as a guide for visually impaired runners, causing a scandal by sneaking onto a course midrace, and making his triumphant post-bombing return to Boston in 2014. He also dives deep into the emotional experience of running, body image, the similarities between endurance sports and sadomasochism, the legacy of the sport as passed down from parent and child, and the odd but extraordinary bonds created among strangers and friends sharing the road. As time goes on and his mileage increases, he realizes that the only way to overcome obstacles is simply to keep running through them.

Candid, clear-eyed, and frequently hilarious, The Incomplete Book of Running is about more than just a man and a sport. It is a field guide to life, a collection of lessons centered around all those things that keep us moving forward: hope, persistence, practice, and love.
Praise For The Incomplete Book of Running…
Praise for The Incomplete Book of Running

"Sagal is a very good runner . . . and a very good writer. He is clever, warm, funny and engaging."
—The Washington Post

"The Incomplete Book of Running has been a loyal companion. It's funny, well written . . . filled with humility and perpetually on the scan for moments of stray grace. . . . I would go for a run with Sagal anytime."
—Dwight Garner, The New York Times

"Sagal is brilliant and accomplished, but he's also self-deprecating and funny. . . . Full of irreverence . . . Sagal is not here to make you faster, but he'll make you smile, reflect and perhaps take the holiest of actions: those first scary steps out the door."
—Minneapolis Star Tribune

"Entertaining and poignant."
—Chicago Sun-Times

"With exceptional wit and self-deprecating humor . . . Sagal is a compelling writer, and his story may well rouse some to get off the couch, lace up their sneakers, and get running."
—Booklist

"By turns beautiful and moving, and laced with plenty of Sagal's signature wry humor."
—MyFitnessPal Blog

"Full of rich observations."
—Chicago Magazine

"Anyone who's ever run for fitness, for fun (are there people who do that?), for recreation, or to be a better person will appreciate Peter Sagal's The Incomplete Book of Running. . . . In addition to taking the reader along on some races and training runs, and giving insight into the importance of a supportive running group and good nutrition, Sagal entertains with sprinklings of fascinating research. . . . The book is full of wonderful cultural references, and Sagal is creative in drawing from diverse sources to stitch together his running philosophy."
—Washington Independent Review of Books

"Hilarious and poignant."
—BuzzFeed

"Sagal has created a new genre—the five-minute-mile memoir. Combining commentary and reflection about running with a deeply felt personal story, this book is winning, smart, honest, and affecting. Whether you are a runner or not, it will move you."
—Susan Orlean

"This is a brilliant book about running, and it's brilliant even if you never have—and never want to—move faster than a shuffle. Ostensibly, Peter's subject is the physical activity itself. (Feh, as far as I'm concerned.) In fact the book is a manifesto on the redemption of escape. And, even more so, a meditation on the direction of flight. Whatever you're running from, you're running to something else. What Peter runs toward is strength, understanding, endurance, acceptance, faith, hope, and charity."
—P. J. O'Rourke

"Peter Sagal is the funniest person on radio (quick reminder, I am on television). I enjoy listening to Peter on Wait, Wait . . . Don't Tell Me! on the weekend while chopping vegetables for soup. It will be nearly impossible to do that while reading this book, so if someone could bring me some carrots and onions in half-inch dice, that'd be great."
—Stephen Colbert

"Peter Sagal's insightful and open-hearted book about running will make you wish he was your long run buddy. This book not only demonstrates the ways in which running shapes a life, but also how life, in all its beauty and pain, shapes the run. I loved it."
—Lauren Fleshman

"Look, everything Peter Sagal says he knows is written on an index card supplied to him by a member of his staff. If he, himself, wrote any kind of guide to running, it'd be incomplete."
—Tom Hanks

Praise for The Book of Vice:

"In this investigation of our human frailty, Peter Sagal combines intellect, sympathy, moral perspective, and common sense to produce—of all things—laughter. [In] the English morality plays of the fifteenth and sixteenth centuries . . . 'Vice' was the devil's comic sidekick. Peter Sagal is ours." —P.J. O'Rourke

"Sagal . . . charms readers with the same wit, humility, and observational prowess he uses to win over the dipso-, nympho-, and assorted other maniacs he encounters." —Radar
Simon & Schuster, 9781451696240, 208pp.
Publication Date: October 30, 2018
About the Author
Peter Sagal is the host of the Peabody Award-winning NPR news quiz Wait Wait...Don't Tell Me!, one of the most popular shows on public radio, heard over four million listeners each week. He is also a playwright, a screenwriter, the host of Constitution USA with Peter Sagal on PBS, a one-time extra in a Michael Jackson music video, a contributor to publications from Opera News to The Magazine of the AARP and a featured columnist in Runner's World. He's run fourteen marathons across the United States. Sagal lives near Chicago with his wife Mara.


Coverage from NPR
or
Not Currently Available for Direct Purchase