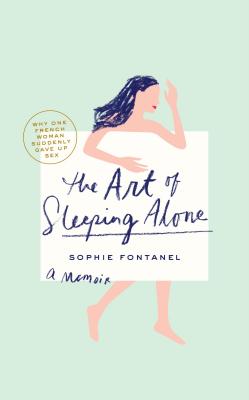 The Art of Sleeping Alone
Why One French Woman Suddenly Gave Up Sex
Hardcover

* Individual store prices may vary.
Other Editions of This Title:
Paperback (8/5/2014)
Description
Sophie Fontanel, bestselling novelist and iconic editor of French Elle, tells the provocative story of her decision to stop having sex—a choice that profoundly changed her view of herself and her place in the world.


At the age of twenty-seven, after many years of having (and, for the most part, enjoying) an active sex life, beloved French author, journalist, editor, and fashion blogger Sophie Fontanel decided she wanted to take a break. Despite having it all—a glamorous job, plenty of dates and boyfriends, stylish clothes, and endless parties to attend—she still wasn't happy, and found herself wanting more. She chose to give up her sex life, and in so doing shocked all of her friends and colleagues. What she discovers about herself is truly liberating and raises a number of questions about the expectations of the society in which we live. As she experiences being the only non-coupled one at dinner parties, weekend getaways, and summer vacations, she muses inspiringly on what it means to find hap­piness and fulfillment alone.

Provocative and illuminating, The Art of Sleeping Alone, which spent eight weeks on the bestseller list in France, offers advice on love and sex while challenging modern-day conven­tions of marriage and motherhood, making this an ideal read for anyone who has chosen to do things a little differently.
Praise For The Art of Sleeping Alone: Why One French Woman Suddenly Gave Up Sex…
"Fontanel's writing is intelligent, the reading experience is sensual."

"Sophie writes provocatively about fashion (her signature, after all), the constraints society places on sex, and the vulnerability of desire."

"Fontanel's admissions offer a salutary lesson to young women everywhere."

"Leave it to a Frenchwoman to convert even giving up sex into an elegant gesture that reeks of worldliness and sends up a smoky wreath."

"Her depiction of celibacy isn't prudish or dry but lush; she isn't shy when describing either her previous affairs or her current erotic fantasies, and her frankness keeps the book from straying into polemical territory. The writing is stripped bare, with no extra fat or flair, and this simplicity works."

"In gracefully woven vignettes, Fontanel observes how society disapproves of people who refuse to pair off even as she is steadfast in underscoring the benefits she enjoys from unapologetically listening to her body's needs and taking time for herself."

"Candid, funny... For someone who has been celibate for the majority of her adult life, Sophie Fontanel sure is good at writing about sex."

"A searching investigation into the power of no... a sophisticated bagatelle of a volume, filled with detours to exotic locales."
— Dwight Garner

"Fontanel strings together her narrative in a series of lyrical vignettes....No one has written so sumptuously about celibacy."
Scribner, 9781451696271, 160pp.
Publication Date: August 13, 2013
About the Author
Sophie Fontanel has been an editor at Elle France for more than a decade. A novelist and essayist, she lives in Paris. The Art of Sleeping Alone is her first book to be published in English.
or
Not Currently Available for Direct Purchase