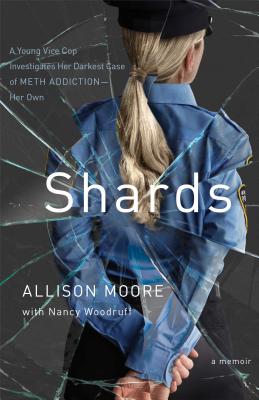 Shards
A Young Vice Cop Investigates Her Darkest Case of Meth Addiction—Her Own
Hardcover

* Individual store prices may vary.
Other Editions of This Title:
Paperback (4/21/2015)
Description
The shocking true story of Allison Moore, a cop in Hawaii who became addicted to meth, deceived her entire police department, and endured prison, prostitution, and torture—until finally seeking redemption.

I had told myself when I did that line that I would only try it once. . . . But when I started to come down, I couldn't face being plunged into the icy cold water of my real life. I couldn't bear to have those feelings return. I did another line, bigger than the first. It made me feel calm, confident, excited about my future. Meth was the answer to all my problems.

As a beautiful, ambitious, and fearless young woman, Allison Moore had everything going for her: She had been the star student of her recruit class and was quickly promoted to vice cop at the Maui Police Department, while earning the respect of her colleagues and a stellar reputation. But when a doomed love affair with another cop led Allison to seek a desperate escape, her life took a sudden and violent plunge.

Using her position of authority and skills of manipulation, Allison hid her addiction from her lover and her department for as long as possible. She fabricated an elaborate story that she had ovarian cancer and needed to seek treatment on the mainland, while actually traveling to get a steady supply of meth from a brutal Seattle drug dealer. When her intensifying dependence on meth put her at the mercy of the ruthless dealer, he made her a prisoner in his house, subjecting her to unthinkable physical and sexual abuse, and monitoring her every move through a web of hidden cameras.

Astounding, gripping, and told firsthand in a deeply sympathetic voice, Shards spares no detail of Allison's horrific experiences and the tangle of addiction and betrayal that cost her the career she loved, the colleagues who adored her, and the island that was once her paradise.
Praise For Shards: A Young Vice Cop Investigates Her Darkest Case of Meth Addiction—Her Own…
"Honest, introspective, harrowing . . . Somehow, knowing that the author survived to tell her story doesn't offer any comfort or allay fear for her well-being. An addition to the world of addiction literature worth reading, full of grim reality that thankfully never crosses the line into gratuitous territory."

"Moore's ability to dress herself down so nakedly is a brave feat and formidable to grasp."

"Shards is a straight-up, gut-wrenching account of one woman's fierce battle with her demons. Honest and moving, it is a testament to ultimately choosing to save your own life and proof that anything is survivable."
— Wendy Lawless, author of Chanel Bonfire

"Compelling from the first page."
— Kathy Burke, former NYPD officer and author of Detective
Touchstone, 9781451696356, 288pp.
Publication Date: April 22, 2014
About the Author
Allison Moore is a former narcotics officer with the Maui Police Department. A native of New Mexico, she served a one-year sentence in the Federal Correction Center in Oahu for drug-related felonies. She is currently attempting to make amends to all those she has hurt and find her way back to life.

Nancy Woodruff received her MFA from Columbia University, and she has taught writing at Columbia, Purchase College, Richmond, the American International University in London, and New York University. She is the author of two novels, My Wife's Affair and Someone Else's Child. She currently lives in Brooklyn with her husband, sons, and daughter.
or
Not Currently Available for Direct Purchase