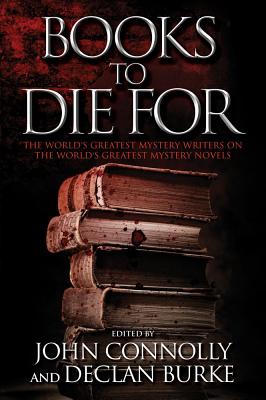 Books to Die For (Hardcover)
The World's Greatest Mystery Writers on the World's Greatest Mystery Novels
Atria/Emily Bestler Books, 9781451696578, 560pp.
Publication Date: October 2, 2012
* Individual store prices may vary.
Description
The world's greatest mystery writers on the world's greatest mystery novels:

Michael Connelly on The Little Sister . . .

Kathy Reichs on The Silence of the Lambs . . .

Mark Billingham on The Maltese Falcon . . .

Ian Rankin on I Was Dora Suarez . . .

With so many mystery novels to choose among, and so many new titles appearing each year, where should a reader start? What are the classics of the genre? Which are the hidden gems?

In the most ambitious anthology of its kind yet attempted, the world's leading mystery writers have come together to champion the greatest mystery novels ever written. In a series of personal essays that often reveal as much about the authors and their own work as they do about the books that they love, 119 authors from 20 countries have created a guide that will be indispensable for generations of readers and writers. From Agatha Christie to Lee Child, from Edgar Allan Poe to P. D. James, from Sherlock Holmes to Hannibal Lecter and Philip Marlowe to Lord Peter Wimsey, Books to Die For brings together the cream of the mystery world for a feast of reading pleasure, a treasure trove for those new to the genre and for those who believe that there is nothing new left to discover. This is the one essential book for every reader who has ever finished a mystery novel and thought . . .

I want more!

***

"Why does the mystery novel enjoy such enduring appeal? There is no simple answer. It has a distinctive capacity for subtle social commentary, a concern with the disparity between law and justice, and a passion for order, however compromised. Even in the vision of the darkest of mystery writers, it provides us with a glimpse of the world as it might be, a world in which good men and women do not stand idly by and allow the worst aspects of human nature to triumph without opposition. It can touch upon all these facets while still entertaining the reader."

—From the introduction of Books to Die For
About the Author
John Connolly is the author of the Charlie Parker series of mystery novels, the supernatural collection Nocturnes, the Samuel Johnson Trilogy for younger readers, and (with Jennifer Ridyard) the Chronicles of the Invaders series. He lives in Dublin, Ireland. For more information, see his website at JohnConnollyBooks.com, or follow him on Twitter @JConnollyBooks.

Declan Burke has published six novels: Eightball Boogie (2003), The Big O (2007), Absolute Zero Cool (2011), Slaughter's Hound (2012), Crime Always Pays (2014), and The Lost and the Blind (2015). Absolute Zero Cool received the Goldsboro/Crimefest "Last Laugh" Award for Best Humorous Crime Novel in 2012. He also is the editor of Down These Green Streets: Irish Crime Writing in the 21st Century (2011). He hosts a website dedicated to Irish crime fiction called Crime Always Pays.
Praise For Books to Die For: The World's Greatest Mystery Writers on the World's Greatest Mystery Novels…
"A delectable treat for mystery lovers."

"Indispensable."

"Get your hands on this book and devour it."

"A sumptuous exploration of some of the best mystery authors of our time . . . Books to Die For is a resource readers will want to keep for decades."

"Books to Die For will thrill the individual mystery lover as much as it will prove an essential reference for the shelves of lending libraries. A vast, comprehensive undertaking, it is that rare breed of anthology of interest to both the initiated and the newcomer. Indeed, like the ideal mystery novel itself, this is a page-turner with an addictive quality."

"Indispensable . . . It is an absolute must for everyone's personal library."

"An engaging, erudite and substantial anthology."

"This is an off-beat must have book for mystery lovers!"

"Fascinating."

"Books to Die For is . . . as good a collection of short essays on crime fiction as one is likely to find."

"An essential anthology for crime-fiction fans."

"A unique, must-have anthology for any fan."

"One of the most anticipated publications of the year."

"A dedicated crime reader's treasure trove."

"Memorable . . . delightful . . . Take my advice: Just flip open this volume at random. Chances are, you'll learn something interesting from whatever you read first."

"A must-have for readers and writers alike."

"A satisfying anthology for mystery lovers . . . A great way to revisit old favorites and discover new delights."

"A refreshing . . . provocative, and always entertaining piece of work."
or
Not Currently Available for Direct Purchase