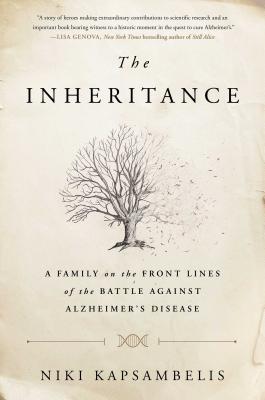 The Inheritance
A Family on the Front Lines of the Battle Against Alzheimer's Disease
Hardcover

* Individual store prices may vary.
Other Editions of This Title:
MP3 CD (4/14/2017)
Compact Disc (4/14/2017)
Paperback (3/13/2018)
Hardcover, Large Print (3/22/2017)
Description
An inspiring race against time: The courageous, hopeful story of the one family who may hold the key to finding a cure for Alzheimer's disease.

Every sixty-nine seconds, someone is diagnosed with Alzheimer's disease. Of the top ten killers, it is the only disease for which there is no cure or treatment. For most people, there is nothing that they can do to fight back. But one family is doing all they can.

The DeMoe family has the most devastating form of the disease that there is: early onset Alzheimer's, an inherited genetic mutation that causes the disease in 100 percent of cases, and has a 50 percent chance of being passed onto the next generation. Of the six DeMoe children whose father had it, five have inherited the gene; the sixth, Karla, has inherited responsibility for all of them. But rather than give up in the face of such news, the DeMoes have agreed to spend their precious, abbreviated years as part of a worldwide study that could utterly change the landscape of Alzheimer's research and offers the brightest hope for future treatments—and possibly a cure.

Drawing from several years of in-depth research with this charming and upbeat family, journalist Niki Kapsambelis tells the story of Alzheimer's through the humanizing lens of these ordinary people made extraordinary by both their terrible circumstances and their bravery. Their tale is intertwined with the dramatic narrative history of the disease, the cutting-edge research that brings us ever closer to a possible cure, and the accounts of the extraordinary doctors spearheading these groundbreaking studies. From the oil fields of North Dakota to the jungles of Colombia, this incredible narrative redefines courage in the face of one of the most pervasive and mysterious pandemics of our time.
Praise For The Inheritance: A Family on the Front Lines of the Battle Against Alzheimer's Disease…
"Kapsambelis skillfully interweaves the quest to conquer Alzheimer's with the saga of a few families at the center of the latest research....At its most compelling, The Inheritance is a portrait of the DeMoes' experience as both Alzheimer's sufferers and research subjects."
—Wall Street Journal

"A model of immersion journalism, it is especially notable for its specificity and author Niki Kapsambelis' empathy. The DeMoes laid bare their lives, and Kapsambelis repays their candor with a warts-and-all portrait softened by fondness and respect."
—Chicago Tribune

"In sometimes heartbreaking detail, The Inheritance describes the impact of the disease on individual family members."
—Pittsburgh Post-Gazette

"Excellent, accessible.... A science text that reads like a mystery and treats its subjects with humanity and sympathy, this volume should be of interest to everyone, as Alzheimer's is now known to be a major cause of dementia in the elderly and because we are facing a potential epidemic as the baby boom generation ages."
—Library Journal, starred review

"Kapsambelis, an empathetic reporter and storyteller, obviously cares deeply for the DeMoes... With its ethical quandaries and likeable characters, this absorbing story will be of interest to medically curious readers."
—Booklist

"In her debut, journalist Kapsambelis builds a compelling narrative about Alzheimer's disease around one North Dakota extended family.... In addition to clear discussions of the disease's history and research, Kapsambelis successfully portrays Gail, Galen, and their extended family as fully fleshed individuals. An educational and emotional chronicle that should resonate with a wide variety of readers."
—Kirkus Reviews, starred review

"The Inheritance is the story of the DeMoe family, plagued by familial, early onset Alzheimer's disease. It is a story of heroes making extraordinary contributions to scientific research, of crusaders driven to change the course of this disease for the sake of their children, the next generation, all of us. I felt honored to read this important book, bearing witness to a historic moment in the quest to cure Alzheimer's."
—Lisa Genova, New York Times bestselling author of STILL ALICE?

"Niki Kapsambelis has produced an unflinching narrative of a family in an unfathomable situation, seamlessly weaving in the history of the disease and neuroscience's ongoing race against the clock to find a cure. This is a truly important book."
—Susannah Cahalan, New York Times bestselling author of BRAIN ON FIRE: My Month of Madness

"Kapsambelis is a beautiful writer whose storytelling transports you. I fell in love with the big, loud, awesome DeMoe family and was inspired by the doctors on their long, strange journey into Alzheimer's research. The Inheritance offers a rare, human glimpse at this harrowing disease."
—Jeanne Marie Laskas, New York Times bestselling author of CONCUSSION

"Science is people. Niki Kapsambelis doesn't let you forget that for one moment in this very human story. The Alzheimer's community is so lucky to have this first-rate storyteller. Her book tackles the disease from every possible angle."
—David Shenk, author of THE FORGETTING: Alzheimer's, Portrait of an Epidemic

"Niki Kapsambelis adroitly weaves the saga of a family with the stories of the scientists, who are working to develop therapies for this disease. Her insightful reporting makes it impossible not to marvel at the courage of the DeMoe family."
—Kathleen Gallagher, author of ONE IN A BILLION: The Story of Nic Volker and the Dawn of Genomic Medicine
Simon & Schuster, 9781451697223, 368pp.
Publication Date: March 7, 2017
About the Author
Niki Kapsambelis was born and raised in Boston, Massachusetts. She worked for several years as a newswoman for the Associated Press in New England, Los Angeles, and Pittsburgh. Her work has appeared in publications around the world, including The Washington Post, Los Angeles Times, and People magazine. She lives in Pennsylvania. The Inheritance is her first book.
or
Not Currently Available for Direct Purchase