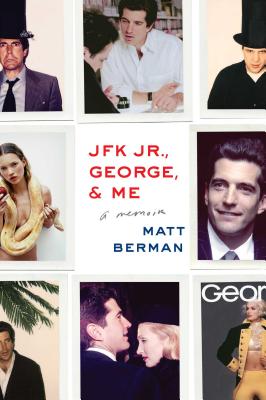 JFK Jr., George, & Me
A Memoir
Paperback

* Individual store prices may vary.
Other Editions of This Title:
Hardcover (5/20/2014)
Compact Disc (5/20/2014)
MP3 CD (5/20/2014)
Compact Disc (5/20/2014)
Description
John Kennedy Jr.'s creative director for George magazine presents "a vivid portrait of JFK Jr. that only a select few have ever seen, offering a touching and honest tribute to John's legacy" (BookReporter.com).

If George magazine was about "not just politics as usual," a day at the office with John F. Kennedy Jr. was not just business as usual. John handpicked Creative Director Matt Berman to bring his vision for a new political magazine to life. Through marathon nights leading up to George's launch; extraordinary meetings with celebrities including Barbra Streisand, Robert De Niro, and Demi Moore; and jokes at each other's expense, Matt developed a wonderfully collaborative and fun-loving relationship with America's favorite son.

They were an unlikely team: the poised, charismatic scion of a beloved political family and the shy, self-deprecating, artistic kid. Yet they became close friends and confidants. In this warm, funny, and intimate book, Matt remembers his brilliant friend and colleague—John's approach to work, life, and fame, and most of all, his ease and grace, which charmed those around him.

More than any book before it, JFK Jr., George, & Me reveals the friendly, witty, down-to-earth guy the paparazzi could never capture. Matt opens the doors of John's messy office to share previously untold stories, personal notes, and never-before-seen photos from the trenches of a startup magazine that was the brainchild of a superstar. John helped Matt navigate a world filled with celebrities, artists, beauty, style, competition, and stunningly tender egos. In turn, Matt shares the invaluable lessons about business and life that he learned from John. What emerges is a portrait of JFK Jr. as a true friend and mentor.
Praise For JFK Jr., George, & Me: A Memoir…
"Told with unprecedented candor and wit. . . . Matt paints a vivid portrait of JFK Jr., that only a select few have ever seen, offering a touching and honest tribute to John's legacy."
— Bookreporter

"Berman seems to have saved every photo and scrap of paper from those days."
— New York Post

"The author's humor and self-deprecation make for a lot of fun moments as he takes readers behind the scenes of many photo shoots, dishing on celebrity behavior such as Barbara Walters's playful flirtation with a notoriously disagreeable photographer. In addition, Berman details the creative process leading up to the launch of George.. . . Most noteworthy though is Berman's insight into the character and work ethic of his late boss. . . . It is Berman's palpable grief and musings on wasted potential at the loss of his friend that make this more than a celebrity-tell all."
— Publishers Weekly

"Nearly 15 years after Kennedy died in a plane crash at age 38, Berman is looking back at those heady days and recalling his friend in a new memoir."
— USA Today

"Berman recounts his relationship with JFK Jr., both personal and professional."
— Library Journal

"For a shy young art director, being hired to design John F. Kennedy Jr.'s new magazine was both daunting and exhilarating."
— Vanity Fair

A perfectly-timed, personal, funny and fascinating look back on the mid-90's publishing world. I read it in one sitting.
— Julie Klausner, Comedian
Gallery Books, 9781451697261, 224pp.
Publication Date: September 30, 2014
About the Author
Since the 1990s, creative director Matt Berman has been collaborating with some of the most influential photographers in fashion and art to create some of the industry's most enduring imagery in print. In 1995, Matt was hired by JFK Jr. to serve as the creative director of George magazine. He wor­ked side-by-side with John until his death in 1999 to craft his boss's unique vision for a new kind of magazine. Matt then moved to Paris and continued to serve as creative director on several French magazine titles and advertising campaigns. Presently, Matt is a creative director living in Los Angeles.