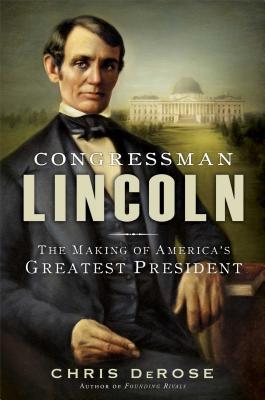 Congressman Lincoln
Paperback

* Individual store prices may vary.
Other Editions of This Title:
MP3 CD (1/29/2013)
Hardcover (1/29/2013)
Compact Disc (1/29/2013)
Compact Disc (1/29/2013)
Description
The first fully realized portrait of Abraham Lincoln's ambitious and controversial early political career written by the "gifted young historian" (Richard Norton Smith) and author of Founding Rivals.

Chris DeRose, the "gifted young historian" (Richard Norton Smith) who penned one of The Washington Post's "Best Political Books" with 2011's Founding Rivals, draws from the unpublished "Papers of Abraham Lincoln," and other rare sources, to deliver the first fully realized portrait of Lincoln's controversial early political career.

The years 1847 through 1849, though marked by defeat and divisiveness for Washington's newest arrival, ultimately defined Lincoln's future as president during America's darkest days. With keen insights sprung from his exhaustive research, DeRose portrays Congressman Lincoln as a leader torn between principle and viability, who once nearly dueled a political adversary; a master strategist and member of the Whig party; a reluctant husband saddled with a tormented private life; and more—in a biography so timely and relevant that House Speaker John A. Boehner quoted Congressman Lincoln at length in a 2013 address to House Republicans, excerpting Lincoln's warnings about government debt "growing with a rapidity fearful to contemplate."
Threshold Editions, 9781451697285, 352pp.
Publication Date: February 4, 2014
About the Author
Chris DeRose is the author of Founding Rivals: Madison vs. Monroe, the Bill of Rights, and the Election that Saved a Nation, named by The Washington Post as one of the "Best Political Books of 2011." DeRose is an attorney and political strategist who, for the past fifteen years, has served in every capacity on campaigns up and down the ballot across five different states. Chris currently leads the Congressional efforts of Sheriff Paul Babeu, and has recently served Director of Election Day Operations for Bob McDonnell and the Virginia Republicans in their 2009 historic landslide victory, and as campaign manager for Congressman Sean Duffy.