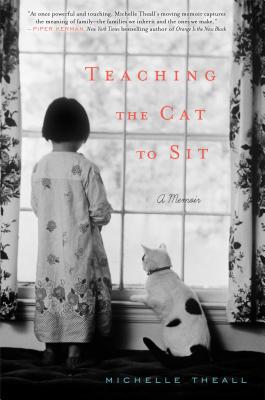 Teaching the Cat to Sit
A Memoir
Hardcover

* Individual store prices may vary.
Other Editions of This Title:
Paperback (9/30/2014)
Description
Nuanced and poignant, heartrending and funny, Michelle Theall's thoughtful memoir is a universal story about our quest for unconditional love from our parents, our children, and most importantly, from ourselves.

Nuanced and poignant, heartrending and funny, Michelle Theall's thoughtful memoir is a universal story about our quest for unconditional love from our parents, our children, and most important, from ourselves.

Even when society, friends, the legal system, and the Pope himself swing toward acceptance of the once unacceptable, Michelle Theall still waits for the one blessing that has always mattered to her the most: her mother's. Michelle grew up in the conservative Texas Bible Belt, bullied by her classmates and abandoned by her evangelical best friend before she'd ever even held a girl's hand. She was often at odds with her volatile, overly dramatic, and depressed mother, who had strict ideas about how girls should act. Yet they both clung tightly to their devout Catholic faith—the unifying grace that all but shattered their relationship when Michelle finally admitted she was gay.

Years later at age forty-two, Michelle has made delicate peace with her mother and is living her life openly with her partner of ten years and their adopted son in the liberal haven of Boulder, Colorado. But when her four-year-old's Catholic school decides to expel all children of gay parents, Michelle tiptoes into a controversy that exposes her to long-buried shame, which leads to a public battle with the Church and a private one with her parents. In the end she realizes that in order to be a good mother, she may have to be a bad daughter.

Michelle writes with wry wit and bald honesty about her life, seamlessly weaving her past and her present into a touching commentary on all the love, pain, and redemption that families inspire. Teaching the Cat to Sit makes us each reflect on our sense of humanity, our connection to religion, and our struggles to accept ourselves—and each other—as we are.
Praise For Teaching the Cat to Sit: A Memoir…
"Michelle Theall can really write. This is a littlestory packed with big issues and told with real mastery."
— KELLY CORRIGAN, New York Times bestselling author of The Middle Place, Lift, and Glitter and Glue

"Theall's written a memoir that isgenuinely moving, compelling, and at times, hilarious. As she grapples with thebasic questions of family, faith, love, and identity, she expresses with greatpoignancy the transformative power of love in all its forms."
— WENDY LAWLESS, New York Times bestselling author of Chanel Bonfire

"Teaching the Cat to Sit is about the most important thing of all: Unconditional love. Michelle Theall's beautiful,compassionate book touches on many of today's thorniest subjects, from marriage equality to adoption to the politics of the Catholic Church, but ultimately hers is a simple tale of parents, children, and the courage that loving one another—and ourselves—truly requires."
— BUZZY JACKSON, writer for the Boston Globe and author of Effie Perine, Shaking the Family Tree, and A Bad Woman Feeling Good

"Teaching the Cat to Sit is a powerful reminder of the ways that discrimination and cruelty still flourish, even as laws shift to recognize more of the LGBT population. Michelle Theall beautifully captures the effects of bigotry on a community, a family, and on an individual psyche both afraid and determined to change."
— CRIS BEAM, author of To the End of June: The Intimate Life of American Foster Care

"Michelle Theall is a fighter, and in her warm, courageous, deeply honest, heartbreaking, heart-mending memoir we bear witness to the staggering number of times she gets knocked to her knees, and cheer at increasing volume every time she comes up swinging. This timely reckoning with Catholicism, homosexuality, abuse, adoption, and illness, ultimately gives rise to a celebration of tenacity, forgiveness, and love. Teaching the Cat to Sit could convince the most committed outsider to come inside, and teach the rest of us how best to invite her."
— PAM HOUSTON, author of Contents May Have Shifted

"Michelle Theall's memoir Teaching The Cat To Sit is all heart--painfully and beautifully so--with a moving message about how powerful a mother and church can be--for better or for worse."
— LORI DURON, author of Raising My Rainbow

"Theall's tightly wrought account serves as a powerful testimony to the healing power of language."
— Publishers Weekly

Michelle Theall has written a clear-eyed, brave-hearted and utterly unforgettable memoir about life's big things—love, faith, identity, and justice—and the sometimes-ferocious effort it takes to balance them. At this book's center is a beautifully rendered relationship between a mother and daughter that's as complicated and memorable as any I've ever read. Here is a story told with grace, honesty, and remarkable spirit.
— SARA CORBETT, co-author of theNew York Times bestseller A House in the Sky

Michelle Theall tells the story of learning to fight for her truth and the journey is engaging and evocative. Teaching the Cat to Sit is life under the microscope—a struggling family, the rigid church, the mean kids at school, and the coaches who took the time to care. It's an emotional ride as this mama bear finds home.
— JENNIFER WILSON, author of Running Away to Home: voted Best Nonfiction Book of 2011 by the AJSA

Powerful down to the last page. This book shows the resilience of its author and the universal quest to belong at all costs.
— JULIA SCHEERES, New York Times bestselling author of the memoir Jesus Land

"At once powerful and touching, Michelle Theall's moving memoir captures the meaning of family—the families we inherit and the ones we make."
— PIPER KERMAN, New York Times bestselling author of Orange is the New Black

"Theall's tightly wrought account serves as a powerful testimony to the healing power of language."
— Publishers Weekly

"In a narrative that deftly moves between past and present, Theall tells the moving story of how she found self-acceptance as a lesbian mother of faith. . . . A searingly hones memoir of faith, sexuality and motherhood."
— Kirkus Reviews

"An unusually moving memoir of alienation and discrimination. . . . Theall's heartbreaking and ­heart-affirming coming-of-age, respect-seeking, and truth-telling tale ultimately demonstrates that openness is all."
— Booklist

"Through unflinching prose, Theall returns to her youth and untangles the complexities of her life.She walks readers through her feelings of insecurity and loss with such sincerity that, were it not for the elegant writing, you might mistake the memoir for a diary. "
— 5280, The Denver Magazine

"Painfully honest. . .. Theall records her story with skill and humor."
— Windy City Times

"Despite its inherent sadness, Teaching is hard to put down because author Michelle Theall is a first-rate storyteller. .. . The book works because of its deliberateness and its ultimately empowering message of truth to self. For that, and for the great biography it is, Teaching the Cat to Sit is a must-read,especially for those who can relate."
— Washington Blade
Gallery Books, 9781451697292, 288pp.
Publication Date: February 25, 2014
About the Author
Michelle Theall is an award-winning health, fitness, and travel writer and the founder of Women's Adventure magazine. Her feature essay in 5280, the inspiration for her memoir, was nominated for a GLAAD Media Award. She lives with her partner, their son, and three dogs, in Boulder, Colorado. Visit MichelleTheall.com.
or
Not Currently Available for Direct Purchase