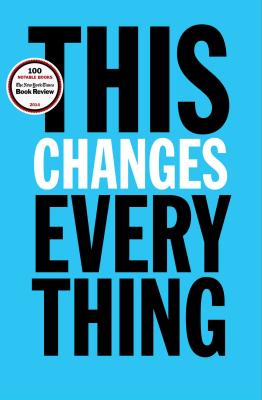 This Changes Everything
Capitalism vs. The Climate
Hardcover

* Individual store prices may vary.
Other Editions of This Title:
Digital Audiobook (9/15/2014)
Paperback (8/4/2015)
Paperback, Chinese (1/5/2016)
CD-Audio (9/16/2014)
Description
The most important book yet from the author of the international bestseller The Shock Doctrine, a brilliant explanation of why the climate crisis challenges us to abandon the core "free market" ideology of our time, restructure the global economy, and remake our political systems.

In short, either we embrace radical change ourselves or radical changes will be visited upon our physical world. The status quo is no longer an option.

In This Changes Everything Naomi Klein argues that climate change isn't just another issue to be neatly filed between taxes and health care. It's an alarm that calls us to fix an economic system that is already failing us in many ways. Klein meticulously builds the case for how massively reducing our greenhouse emissions is our best chance to simultaneously reduce gaping inequalities, re-imagine our broken democracies, and rebuild our gutted local economies. She exposes the ideological desperation of the climate-change deniers, the messianic delusions of the would-be geoengineers, and the tragic defeatism of too many mainstream green initiatives. And she demonstrates precisely why the market has not—and cannot—fix the climate crisis but will instead make things worse, with ever more extreme and ecologically damaging extraction methods, accompanied by rampant disaster capitalism.

Klein argues that the changes to our relationship with nature and one another that are required to respond to the climate crisis humanely should not be viewed as grim penance, but rather as a kind of gift—a catalyst to transform broken economic and cultural priorities and to heal long-festering historical wounds. And she documents the inspiring movements that have already begun this process: communities that are not just refusing to be sites of further fossil fuel extraction but are building the next, regeneration-based economies right now.

Can we pull off these changes in time? Nothing is certain. Nothing except that climate change changes everything. And for a very brief time, the nature of that change is still up to us.
Praise For This Changes Everything: Capitalism vs. The Climate…
"The most momentous and contentious environmental book since Silent Spring."
— Rob Nixon

"This may be the first truly honest book ever written about climate change."
— Bryan Walsh

"This is the best book about climate change in a very long time—in large part because it's about much more. It sets the most important crisis in human history in the context of our other ongoing traumas, reminding us just how much the powers-that-be depend on the power of coal, gas and oil. And that in turn should give us hope, because it means the fight for a just world is the same as the fight for a livable one."
— Bill McKibben, author of The End of Nature and co-founder of 350.org

"This Changes Everything is the work book for . . . [a] new, more assertive, more powerful environmental movement."
— Mark Bittman

"Naomi Klein applies her fine, fierce, and meticulous mind to the greatest, most urgent questions of our times. . . . I count her among the most inspirational political thinkers in the world today."
— Arundhati Roy, author of The God of Small Things and Capitalism: A Ghost Story

"Naomi Klein is a genius. She has done for politics what Jared Diamond did for the study of human history. She skillfully blends politics, economics and history and distills out simple and powerful truths with universal applicability."
— Robert F. Kennedy, Jr.

"[A]robust new polemic. . . . Drawing on an impressive volume of research, Ms. Klein savages the idea that we will be saved by new technologies or by an incremental shift away from fossil fuels: Both approaches, she argues, are forms of denial. . . . Ms. Klein is aware of the intractability of the problems she describes, but she manages optimism nonetheless."
— Nathaniel Rich

"Klein is a brave and passionate writer who always deserves to be heard, and this is a powerful and urgent book."
— John Gray

"If global warming is a worldwide wake-up call, we're all pretty heavy sleepers. . . . We haven't made significant progress, Klein argues, because we've been expecting solutions from the very same institutions that created the problem in the first place. . . . Klein's sharp analysis makes a compelling case that a mass awakening is part of the answer."
— Chris Bentley

"Gripping and dramatic. . . . [Klein] writes of a decisive battle for the fate of the earth in which we either take back control of the planet from the capitalists who are destroying it or watch it all burn."
— Roy Scranton

"Naomi Klein's latest book may be the manifesto that the climate movement — and the planet — needs right now. . . . For those with whom her message does resonate — and they are likely to be legion — her book could help catalyze the kind of mass movement she argues the world needs now."
— Mason Inman

"Powerfully and uncompromisingly written, the impassioned polemic we have come to expect from Klein, mixing first-hand accounts of events around the world and withering political analysis. . . . Her stirring vision is nothing less than a political, economic, social, cultural and moral make-over of the human world."
— Mike Hulme

"A powerful, profound, and compelling book."
— Matthew Rothschild

"Klein is one of the left's most influential figures and a prominent climate champion. . . . [She] is a gifted writer and there is little doubt about the problem she identifies."
— Pilita Clark

"Whatever side you take, Klein deserves credit for not sugarcoating the problem. She writes that limiting global warming won't be quick, easy or without disruptions, yet holds out hope that the end result will be better for people, the environment and even the economy. . . . This Changes Everything may motivate more people to think and act on climate change, and that's good."
— Associated Press

"Journalist Klein is a resolute investigator into the dark side of unchecked capitalism. . . . This comprehensive, sure-to-be controversial inquiry, one of the most thorough, eloquent, and enlightening books yet on this urgent and overwhelming subject—alongside works by Bill McKibben, Elizabeth Kolbert, and Diane Ackerman—provides the evidence and the reasoning we need to help us shift to a 'worldview based on regeneration and renewal rather than domination and depletion.'"
— Booklist (starred review)

"[Klein's] journalism won't slow down the fossil fuel companies, but it surely holds out hope for activists looking to avert a disaster. . . . A sharp analysis that is bound to be widely discussed."
— Kirkus Reviews

"The book has an uplifting message: that humans have changed before, and can change again. It poses a gutsy challenge to those who are vaguely hoping that the whole issue will go away, or that some new technology will save us."
— Camilla Cavendish

"An intellectual hero of many in the alter-globalization protests as well as the Occupy movement. . . . Klein is ready for battle and is not afraid to own her politics."
— Adam Morris
Simon & Schuster, 9781451697384, 576pp.
Publication Date: September 16, 2014
About the Author
Naomi Klein is an award-winning journalist, columnist, and author of the New York Times and international bestsellers The Shock Doctrine, No Logo, This Changes Everything, and No Is Not Enough. A Senior Correspondent for The Intercept, reporter for Rolling Stone, and contributor for both The Nation and The Guardian, Klein is the inaugural Gloria Steinem Endowed Chair in Media, Culture, and Feminist Studies at Rutgers University. She is co-founder of the climate justice organization The Leap.
or
Not Currently Available for Direct Purchase