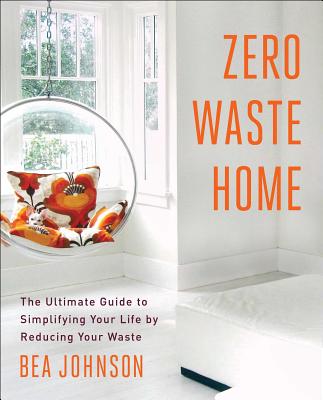 Zero Waste Home
The Ultimate Guide to Simplifying Your Life by Reducing Your Waste
Paperback

* Individual store prices may vary.
Other Editions of This Title:
Compact Disc (2/28/2017)
MP3 CD (2/28/2017)
Description
Part inspirational story of Bea Johnson (the "Priestess of Waste-Free Living") and how she transformed her family's life for the better by reducing their waste to an astonishing one liter per year; part practical, step-by-step guide that gives readers tools and tips to diminish their footprint and simplify their lives.

In Zero Waste Home, Bea Johnson shares the story of how she simplified her life by reducing her waste. Today, Bea, her husband, Scott, and their two young sons produce just one quart of garbage a year, and their overall quality of life has changed for the better: they now have more time together, they've cut their annual spending by a remarkable 40 percent, and they are healthier than they've ever been.

This book shares essential how-to advice, secrets, and insights based on Bea's experience. She demystifies the process of going Zero Waste with hundreds of easy tips for sustainable living that even the busiest people can integrate: from making your own mustard, to packing kids' lunches without plastic, to canceling your junk mail, to enjoying the holidays without the guilt associated with overconsumption. Zero Waste Home is a stylish and relatable step-by-step guide that will give you the practical tools to help you improve your health, save money and time, and achieve a brighter future for your family—and the planet.
Praise For Zero Waste Home: The Ultimate Guide to Simplifying Your Life by Reducing Your Waste…
"Bea Johnson's book has allowed me to get even closer to Zero Waste than I was before I picked it up. Read it today. It will transform the way you view waste."
— Ed Begley, Jr.
"
Zero Waste Home
is an amazing story of personal transformation. It compels us to recognize that our heedlessly wasteful ways are not gateways to prosperity and convenience, but barriers to a good life and a healthy planet. Bea Johnson has produced an invaluable resource."
— Edward Humes, author of Garbology
"Waste not, want not isn't about penny pinching. It's about gratitude and loving our lives. Bea Johnson doesn't just teach us to save the planet. She teaches us to save ourselves."
— Colin Beavan, author of No Impact Man
"If you want inspiration and practical information... [Zero Waste Home] is powerful."
— Natural Child World magazine
"Clear, authentic, knowledgeable, helpful and a great read.
Zero Waste Home
will make a difference."
— Paul Hawken, author of Natural Capitalism: Creating the Next Industrial Revolution
Scribner, 9781451697681, 304pp.

Publication Date: April 9, 2013




About the Author
Bea Johnson has been shattering preconceptions attached to a lifestyle of environmental consciousness through her Zero Waste lifestyle. She regularly opens her home to educational tours and the media, and she has appeared in segments on the Today show, NBC and CBS news, Global TV BC (Canada), and a mini Yahoo! documentary. Bea and her family have also been featured in print publications, including People, Sunset, the San Francisco Chronicle, as well as The Huffington Post, MSNBC, USA TODAY, Mother Nature Network, among others. They live in Mill Valley, California.