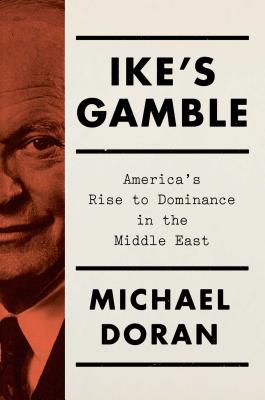 Ike's Gamble
America's Rise to Dominance in the Middle East
Hardcover

* Individual store prices may vary.
Other Editions of This Title:
Paperback (10/24/2017)
MP3 CD (3/7/2017)
Description
This major retelling of the Suez Crisis of 1956—one of the most important events in the history of US policy in the Middle East—shows how President Eisenhower came to realize that Israel, not Egypt, is America's strongest regional ally.

In 1956 President Nasser of Egypt moved to take possession of the Suez Canal, thereby bringing the Middle East to the brink of war. The British and the French, who operated the canal, joined with Israel in a plan to retake it by force. Despite the special relationship between England and America, Dwight Eisenhower intervened to stop the invasion.

In Ike's Gamble, Michael Doran shows how Nasser played the US, invoking America's opposition to European colonialism to drive a wedge between Eisenhower and two British Prime Ministers, Winston Churchill and Anthony Eden. Meanwhile, in his quest to make himself the strongman of the Arab world, Nasser was making weapons deals with the USSR and destabilizing other Arab countries that the US had been courting. The Suez Crisis was his crowning triumph. In time, Eisenhower would conclude that Nasser had duped him, that the Arab countries were too fractious to anchor America's interests in the Middle East, and that the US should turn instead to Israel.

Affording deep insight into Eisenhower and his foreign policy, this fascinating and provocative history provides a rich new understanding of how the US became the power broker in the Middle East.
Praise For Ike's Gamble: America's Rise to Dominance in the Middle East…
"This book is subversively revisionist history with sharp relevance to the present. . . . [A] deeply researched, tightly argued and accessibly concise book. . . . [Doran ] writes with the authority of a scholar and the familiarity of a senior policy adviser."

— David Frum

"Mr. Doran illuminates a narrative with which very few non-specialists will be familiar. . . . A thoroughly researched, closely argued work of traditional diplomatic history."
— James Traub

"This is a story that has been told many times, but seldom with the depth and stylistic elegance of Ike's Gamble. Michael Doran does not just challenge the prevailing historiography, he turns it on its head."
— Ray Takeyh

"The failure of the British-French invasion of Egypt in 1956 was one of the seminal events of the second half of the twentieth century: it marked the end of Britain's and France's aspirations to world leadership. America's involvement is brilliantly described in Ike's Gamble, a thoughtful and articulate account of the evolution of America's role in that fateful period."
— Henry A. Kissinger

"Deeply researched, well-written and powerfully persuasive, this book revises everything we've come to accept about America's role in the Middle East in the 1950s. This highly readable and remarkably forthright book explains how America changed from being a mere 'honest broker' in Middle Eastern affairs to being a committed player."
— Professor Andrew Roberts, Lehrman Institute Distinguished Fellow, New-York Historical Society

"[Doran] fits the Suez crisis into a broader argument about American policy in the Middle East during the Eisenhower administration. . . . Ike's Gamble [is] a timely intervention into current debates. Obama won't read it, but Hillary Clinton should."
— Adam Kirsch

"Ike's Gamble is a brilliant and fascinating story,compellingly told, of American politics, government, and foreign policy. Doran paints a fascinating portrait of how American foreign policy is designed, how mistakes are made, and how Eisenhower came to understand the errors that had strengthened America's enemies."
— Elliott Abrams, Senior Fellow for Middle Eastern Studies, Council on Foreign Relations

"Riveting, original, and deeply relevant. . . . This is a history of the formative Cold War years that continue to shape current conflicts in Iraq, Syria, and other parts of the region. Anyone interested in the contemporary Middle East and U.S. foreign policy should read this book."
— Jeremi Suri, Author of Liberty's Surest Guardian: American Nation-Building from the Founders to Obama

"With this highly original and persuasive new book, Mike Doran offers a fresh interpretation of Eisenhower's Middle East policy. Doran also sheds new light on the complexities of the Middle East and American policy challenges there today. This is a compelling history by an accomplished scholar."
— William Inboden, Executive Director and William Powers, Jr. Chair, theClements Center for National Security at UT-Austin

"Doran is so good at bringing Eisenhower and his challenges to life that one can't avoid making comparisons with the tough choices confronting the United States today. I can't think of another book that so thoroughly challenged my assumptions about America's role in the Middle East."

— Will McCants, author of The Isis Apocalypse and Director, Project on U.S. Relations with the Islamic World at The Brookings Institution

"A detailed analysis of the context for the Suez Crisis of 1956. . . . A disturbing history that clearly reveals the dangerous 'collective American delusion' about the Middle East, which the author believes still persists today."
— Kirkus Reviews
Free Press, 9781451697759, 304pp.
Publication Date: October 11, 2016
About the Author
Michael Doran has served as a Middle East advisor in the White House and as a deputy assistant secretary of defense. An alumnus of Stanford and Princeton Universities, he has held several academic positions and is a senior fellow at the Hudson Institute, where he specializes in Middle East security issues. He lives in Washington, DC.
or
Not Currently Available for Direct Purchase