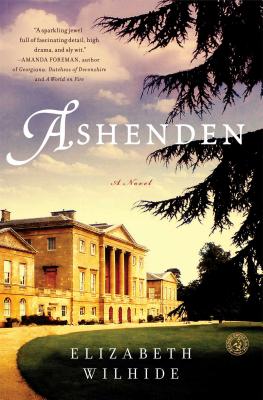 Ashenden (Paperback)
Simon & Schuster, 9781451697896, 339pp.
Publication Date: November 19, 2013
Other Editions of This Title:
Hardcover (1/8/2013)
Hardcover, Large Print (4/5/2013)
* Individual store prices may vary.
Description
A beautifully atmospheric debut about 240 years in the life of an English country house, "this book is a sparkling jewel: full of fascinating detail, high drama, and sly wit" (Amanda Foreman, author of Georgiana: Duchess of Devonshire). THE HOUSE CONTAINS TIME. ITS WALLS HOLD STORIES. . . . When brother and sister Charlie and Ros discover that they have inherited Ashenden, the beautiful eighteenth-century English country house steeped in their family history, they face an important decision: Do they try to keep it or do they sell it? In a beguiling narrative spanning two and a half centuries, we meet those who have built the house, lived in it, loved it, and those who would subvert it to their own ends. The walls of Ashenden echo with the lives of the architect who directs the building of the house in 1775, the wealthy Henderson family in their heyday, the maid who is tempted to solve her problems by stealing a trinket, the Jazz Age speculator who hosts a fabulous treasure hunt, the prisoners held there during World War II, and the young couple who lovingly restore it in the 1950s. With upstairs and downstairs storylines intertwining to form a rich tapestry, Ashenden is an evocative portrait of a house that is a character as compelling as the people who inhabit it.
Praise For Ashenden…
"This beautifully written debut novel takes us on a moving pilgrimage through the ups and downs of human nature, all within the walls of a historic English mansion. . . . With its top-notch writing, strong character development, and excellent plot, this will be on the . . . list of Downton Abbey fans, historical fiction readers, and family saga buffs."

"Engaging . . . A carefully crafted, touching historical that achieves exactly the right note of rewarding readability."

"Delightful . . . The beauty of Ashenden lies in the interwoven tales that move us carefully through the years at irregular intervals, giving us intimate glimpses into not only the people who occupied the house but inside the heart of the very building itself . . . well-written and vivid . . . thoroughly engrossing."

"Memorable, affecting . . . as beautifully constructed and lovingly adorned as its stately namesake."

"We are reminded of Brideshead Revisited . . . well observed."

"Ashenden is an engrossing debut by one of Britain's leading writers on design and interiors. This book is a sparkling jewel: full of fascinating detail, high drama and sly wit."
-Amanda Foreman, author of Georgiana: Duchess of Devonshire and A World on Fire

"I adored this book; I saw it as a sort of love letter to a vanished way of life, and a slice of English history at the same time, tracing as it does the lives of all the people who lived in Ashenden, a beautiful English country house, for over two hundred years. It's very touching and very compelling."
-Penny Vincenzi, author of Another Woman

"A pleasurably subtle web of connections . . . a beguilingly effortless read."

"An affecting, intelligent debut."

"Rich and absorbing . . . personalities are sharpened by Wilhide's fine ear for dialogue and her wry sense of humor. The novel's real value lies in its detail, the patches of finely embroidered description, and in its subtle observation of behavior and tastes."

"A panoramic view of family life . . . any reader who loves history and houses will enjoy this verbal magic lantern show."
-Charlotte Moore, author of Hancox: A House and a Family

"A mixture of short stories about the people who admired the grand house, found love and heartbreak inside its walls, and recovered in the green expanse that was part of the property. . . . Elizabeth Wilhide smoothly moves the story along while it remains in place at the same time. It's a very effective way to tell the story of the house and make it more than simply a structure of bricks, glass, and wood. It becomes a living part of the story and, in fact, the story itself . . . a lovely story and a satisfying read."
or
Not Currently Available for Direct Purchase