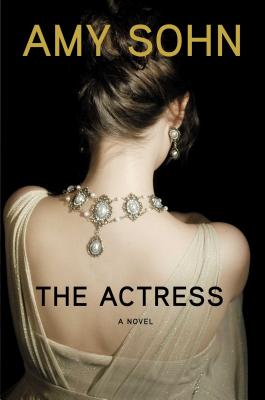 The Actress
A Novel
Hardcover

* Individual store prices may vary.
Other Editions of This Title:
MP3 CD (7/22/2014)
Paperback (6/9/2015)
Compact Disc (7/22/2014)
Description
A talented young actress. A leading man. A sexy secret. The role of a lifetime.

In this big, juicy literary novel from bestselling author Amy Sohn, an ambitious young actress discovers that every marriage is a mystery, and that sometimes the greatest performances don't take place on screen.

When Hollywood heartthrob Steven Weller pulls Maddy Freed out of obscurity for a starring part in his newest, Oscar-worthy film, she feels her career roaring onto the express track. Steven's professional attention soon turns personal as they are thrown together amid Europe's Old World charm, and Maddy allows herself to tumble headlong into a fairytale romance with the world's most eligible bachelor. She knows there's no truth to the gay rumors that have followed him for years.

Yet what is it that Steven sees in Maddy that he has not seen in his string of past girlfriends? Steven tells her he is drawn to her stunning gift as an actress—her ability to inhabit a character so seamlessly, so convincingly, that it is nearly impossible to tell she is playing a role—a compliment that becomes more ominous as their marriage progresses. Ultimately, as Maddy's own happiness and success grow intertwined with her new husband's, she cannot afford to ask too many questions about Steven's complicated past. But can she ignore her inner voice, and her instincts about her own worth?

Set in a tantalizing world of glamour and scandal, of red carpets and ruthless competition, of scheming agents and the prying eye of the press, The Actress is a romantic, sophisticated page-turner about the price of ambition, the treachery of love, and the roles we all play.
Praise For The Actress: A Novel…
"[The Actress sits] perfectly between Joan Didion's Play It As It Lays and Jackie Collins' Hollywood Wives.... The great strength of The Actress lies in Sohn's narrativizing of Maddy's… journey from innocent to hardened veteran, as a Gaslight-style mystery. Our heroine is dropped into the cauldron of Hollywood life, [and] Sohn very smartly dramatizes the contradictory dictates the true-to-life industry imposes on many actresses… A valuable contribution to the canon of Hollywood fiction—a canon which is actually, incredibly, more sorely lacking strong female points of view than even Hollywood movies."

"Fun, funny, steamy and unputdownable."

"Amy Sohn turns her razor-sharp eye on stardom in this sexy and engaging novel. The Actress delves deep into the nature of love and marriage, and offers a behind-the-scenes studio tour of Hollywood to boot."
— Emma Straub, author of The Vacationers

"In the story of Maddy Freed, indie actress goneHollywood A-list, Amy Sohn delivers at once a serious Bildungsroman and asurreptitious pleasure. The Actress is juicy and addictive, aJamesian Page Six of a novel."
— Elizabeth Gaffney, author of When the World Was Young

"Amy Sohn's unputdownable The Actress is like Henry James crossbred with the very best of US Weekly. An addictive saga of love, lust, fame, and friendship centered on a fascinating question: are we who we pretend to be?"
— Elisa Albert, author of The Book of Dahlia and How This Night is Different

"Charismatic, sophisticated and beguiling, The Actress unfurls as seamlessly as a red carpet on opening night. Amy Sohn has written a textured, fresh take on classic, incendiary Hollywood tropes—the closeted leading man, arranged marriage, ambitious ingénues, ruthless agents—that is also a relatable, nuanced story of love and marriage. The Actress is an intelligent and humane novel that manages to civilize Hollywood while honoring its often overlooked complexities and still leaving its wicked vitality intact."
— Elizabeth Kelly, author of Apologize, Apologize! and The Last Summer of the Camperdowns

"Amy Sohn peels back the tabloid curtain and portrays, in granular detail, the emotional and vocational machinations of a made-in-Hollywood marriage. The Actress is a riveting and frothy novel."
— Teddy Wayne, author of The Love Song of Jonny Valentine

"Amy Sohn's The Actress is one heck of a lot of fun to read and it also offers up rich moral complexities. Maddy, the main character, is both modern and ageless; the young woman who wants it all NOW."
— Darcey Steinke, author of Sister Golden Hair

"Amy Sohn's The Actress is gorgeous and blood-tingling, is smart and fun, is perfect. It's timely, with links to the real world that go much deeper than mere references. It's a rare treat to read a book you know will be beloved."
— Darin Strauss, author of Half a Life
Simon & Schuster, 9781451698619, 352pp.
Publication Date: July 1, 2014
About the Author
Amy Sohn's novels include Prospect Park West and Motherland. Her articles have appeared in New York, Harper's Bazaar, Playboy, and The Nation. She lives in Brooklyn with her family.
or
Not Currently Available for Direct Purchase