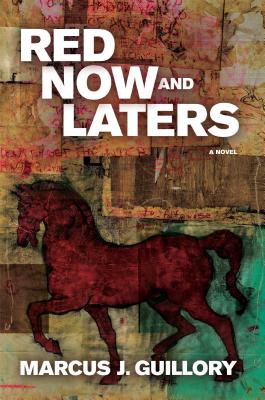 Red Now and Laters (Hardcover)
A Novel
Atria Books, 9781451699111, 352pp.
Publication Date: March 11, 2014
Other Editions of This Title:
Paperback (3/10/2015)
* Individual store prices may vary.
Description
Go deep into the heart of 1980s Texan Creole culture in this vivid, visceral novel about a gifted boy who comes of age at the crossroads of privilege and poverty, life and death.

In this impressive debut Marcus J. Guillory brilliantly weaves together the many obstacles of a young man growing into adulthood, the realities of urban life, the history of Louisiana Creole culture, the glory of the black cowboy, and the role of religion in shaping lives.

South Park, Houston, Texas, 1977, is where we first meet Ti' John, a young boy under the care of his larger-thanlife father—a working-class rodeo star and a practitioner of vodou—and his mother—a good Catholic and cautious disciplinarian— who forbids him to play with the neighborhood "hoodlums." Ti' John, throughout the era of Reaganomics and the dawn of hip-hop and cassette tapes, must negotiate the world around him and a peculiar gift he's inherited from his father and Jules Saint-Pierre "Nonc" Sonnier, a deceased ancestor who visits the boy, announcing himself with the smell of smoke on a regular basis. In many ways, Ti' John is an ordinary kid who loses his innocence as he witnesses violence and death, as he gets his heart broken by girls and his own embittered father, as he struggles to live up to his mother's middle-class aspirations and his father's notion of what it is to be a man. In other ways, he is different—from his childhood buddies and from the father who is his hero.

The question throughout this layered and complex coming-of-age story is will Ti' John survive the bad side of life—and his upbringing—and learn how to recognize and keep what is good.
About the Author
Marcus J. Guillory is one of the most talented emerging writers in America today. His short stories have been published in Outcry Magazine, Secret Attic (UK), and Dogmatika Magazine, among others. Guillory has also produced reality TV shows for E! Network and written the film Karma, Confessions & Holi. Red Now and Laters is his first novel. He currently resides in Los Angeles.
Praise For Red Now and Laters: A Novel…
"Red Now and Laters is literary Zydeco: rolling, captivating, filled with sweet joy yet informed by sorrow. This is everything a debut novel should be: the call of a distinctive new voice staking claim to undiscovered territory. Marcus Guillory has created a heartfelt tribute to the beauty of Creole culture."
— Mat Johnson, author of PYM

"A truly unforgettable world of spirits and magical men. Guillory's community is like the richest of cultural maps, peopled by some of the most memorable characters I have ever encountered."
— Dolen Perkins-Valdez, author of Wench

Guillory's enchanting debut introduces Ti John, a young Creole growing up in Houston's South Park neighborhood in the 1980s. Once a prominent, middle-class white community, South Park is now a ghetto plagued by violence and periodic flooding, a bizarre world saturated in mysticism, superstition, funk music, and disco. Ti John idolizes his embittered father, a cowboy and hero in the African American rodeo circuit, who grants his son a sense of freedom his overprotective Catholic mother denies him. All Ti John wants is to prove his manhood to the Ricky Street kids, whom his mother deems hoodlums. After witnessing a series of bloody misfortunes, most notably a bull disemboweling a friend's father, Ti John disregards his mother's cautions and emulates his father only to encounter romantic heartbreak, discover his father's voodoo practices, and embark on a personal quest to unmask the mysterious ancestor whose ghost serves as his spiritual mentor. With dark humor and élan, Guillory's complex and mesmerizing novel spans numerous eras of family history and southern folklore, offering a haunting yet soulful portrait of a neglected America culture.
— Booklist
or
Not Currently Available for Direct Purchase