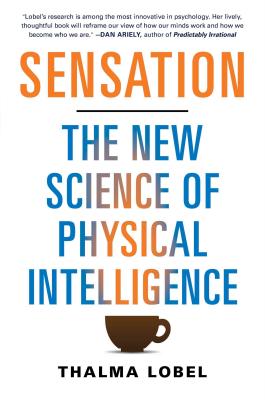 Sensation (Hardcover)
The New Science of Physical Intelligence
Atria Books, 9781451699135, 256pp.
Publication Date: April 29, 2014
Other Editions of This Title:
Paperback (4/19/2016)
Compact Disc (4/19/2016)
Compact Disc (4/29/2014)
MP3 CD (4/29/2014)
Compact Disc (4/29/2014)
* Individual store prices may vary.
Description
Like the revolutionary bestsellers Predictably Irrational and Emotional Intelligence, Sensation is an exciting, completely new view of human behavior—a new psychology of physical intelligence (or embodied cognition)—that explains how the body unconsciously affects our everyday decisions and choices, written by one of the world's leading psychologists.

Color and temperature, darkness and light, rough and smooth textures—all these sensations influence your inner world and your actions with unexpected power. In Sensation, one of the world's leading experts on human behavior, Dr. Thalma Lobel, shares an exciting, completely new view of physical intelligence, or embodied cognition. She reveals that physical experiences unconsciously affect your everyday decisions and choices—with profound implications for your everyday life.

Before you read the rest of this description, find a comfy place to sit and settle in with a mug of something warm. If you can, wrap yourself in a soft jacket, shawl, or blanket. Once you're warm and cozy, you'll warm to new ideas more quickly. Now listen: This book holds the power to change your life.

That sounds like a lofty claim, but if this book were ten pounds heavier, you might regard that claim as more believable. (Job seekers, take note: A resume printed on thin paper is taken less seriously than ones on thick paper.) If this copy were written

TOP
TO
BOTTOM

instead of SIDE TO SIDE

you'd be more likely to believe it. You might also pay more attention if this were printed on red paper—although that color would seriously undermine your reading comprehension. (Test takers, beware: Exposure to the color red significantly and consistently reduces performance. But a whiff of cinnamon may undo the damage.)

The more you know about how your physical environment influences your mind's interpretation of the world around you, the better you are able to navigate tricky waters and get to where you want to go. People with a sweet tooth seem kinder than others. Clean smells promote moral behavior, but people are more likely to cheat on a test right after having taken a shower. Hard surfaces make us inflexible. Sensation empowers you to recognize these outside forces and hidden biases, and even put them to use in your own life, in order to improve every facet of your personal and professional lives. The outside world shapes our perceptions and beliefs at every moment; Sensation reveals these hidden effects and lets you take control of your place in the world.
About the Author
Thalma Lobel, PhD, is an internationally recognized psychologist and a professor at the School of Psychological Science at Tel Aviv University, where she is director of the child development center. She was the chairperson of the school of psychological sciences and a member of the executive board of the university. She has been a visiting professor at Harvard, Tufts, the University of California San Diego, and New York University. She divides her time between Tel Aviv and Southern California.
Praise For Sensation: The New Science of Physical Intelligence…
"Thalma's research is among the most innovative in psychology. Her lively, thoughtful book will reframe our view of how our minds work and how we become who we are."
— Daniel Ariely, author of Predictably Irrational

"We think we're so cool and rational, but the hot new study of physical intelligence shows that we are deeply affected by physical stimuli; red type makes us fail tests, for instance, while red jerseys make sports teams win. Internationally renowned psychologist Lobel explains how we can better evaluate the impact of sights, smells, and sounds."

"Sensation is a delightful collection of the most interesting ideas, experiments, and anecdotes from the world of psychology today. A terrific read if you're interested in why some people fall in love, some fall afoul of the law, and others fall prey to clever marketing ploys."
— Adam Alter, author of Drunk Tank Pink: And Other Unexpected Forces That Shape How We Think, F

"Professor Lobel draws on rigorous science and makes it accessible, interesting, and actionable. By raising our awareness of the influence the external environment has on us, this wonderful book can help us live more fully, more sensually."
— Tal Ben-Shahar, author of Happier

"Sensation is Sensational! Chock full of jaw-dropping studies, fascinating insights, and practical applications that will make you reexamine everything you do. Every page feels like a peek into the hidden workings of the human mind!"
— Guy Winch Ph.D., author of Emotional First Aid and The Squeaky Whe

"An intriguing look at how our sensory perceptions affect our language and ability to understand abstract concepts but can also sway judgment. Shelve alongside Malcolm Gladwell, Dan Ariely and others in the pop-psych realm."

'Thalma Lobel ... has written an intriguing, sometimes funny, sometimes rather alarming overview of just how much we are influenced by what our senses tell us."

"An intriguing theory of how our physical experiences affect our mental ones… The book chronicles some of the quirky contributions of embodied cognition research and provides a nice reminder that the relation between mind and body is complex."
or
Not Currently Available for Direct Purchase