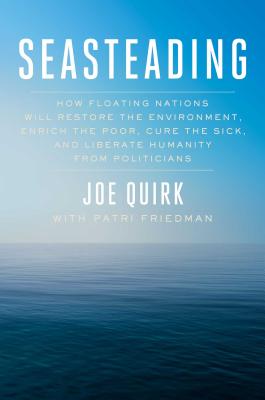 Seasteading
How Floating Nations Will Restore the Environment, Enrich the Poor, Cure the Sick, and Liberate Humanity from Politicians
Hardcover

* Individual store prices may vary.
Other Editions of This Title:
Paperback (3/20/2018)
MP3 CD (3/21/2017)
Compact Disc (3/21/2017)
Description
Two-thirds of our globe is Planet Ocean, not Planet Earth.

Imagine a vast new source of sustainable and renewable energy that would also bring more equitable economies. A previously untapped source of farming that could produce significant new sources of nutrition. Future societies where people could choose the communities they want to live in, free from the restrictions of conventional citizenship. This bold vision of our near future as imagined in Seasteading attracted the powerful support of Silicon Valley's Peter Thiel—and it may be drawing close to reality.

Our planet is suffering from serious environmental problems: coastal flooding due to severe storms caused in part by atmospheric pollution and diminishing natural resources among them. But the seas can be home to a new breed of pioneers, seasteaders, who are willing to homestead the Blue Frontier. Oil platforms and cruise ships already inhabit the waters; now it's time to take the next step to full-fledged ocean civilizations.

Joe Quirk and Patri Friedman show us how cities built on floating platforms in the ocean will work, and they profile some of the visionaries who are implementing basic concepts of seasteading today. An entrepreneur's dream, these floating cities will become laboratories for innovation and creativity. Seasteading may be visionary, but it already has begun proving the adage that yesterday's science fiction is tomorrow's science fact. Welcome to seavilization.
Praise For Seasteading: How Floating Nations Will Restore the Environment, Enrich the Poor, Cure the Sick, and Liberate Humanity from Politicians…
"This energetic and enthusiastic book gives a fascinating glimpse of the blue revolution to come, as human beings experiment with more sustainable ways of managing the biology of the sea — and experiment with more sustainable ways of living and governing ourselves as well, free from the constraints of land-based governments."
— Matt Ridley, author of The Evolution of Everything

"Really disruptive, definitely visionary, and even more proof that tomorrow will look nothing like today. Seasteading is a grand adventure in sustainability and possibility and it's definitely a trip worth taking!"
— Steven Kotler, author of The Rise of Superman, and coauthor of Bold and Abundance

"Seasteading provides some thought-provoking visions of the future. Messrs. Quirk and Friedman introduce us to some very interesting people experimenting with some very interesting technologies, all having to do with living and working on the sea."
— Shlomo Angel

"Seasteading is an enormous opportunity for humanity. Not only will these sea-based communities be able to try new sciences and technology . . . they will allow new forms of community with a fresh start, and an ability to experiment as to form. . . . Anyone willing to work for a living can come and go from a seastead. People can finally be citizens of the world."
— Timothy Draper, founder of Draper Fisher Jurvetson

"Passionate and convincing. The idea of individual sovereignty could finally come true with floating ocean cities."
— Titus Gebel, Founder & CEO of Free Private Cities Ltd.

"Today a new set of futurists is envisioning the next iteration of the floating city. . . . Quirk and Friedman's book also serves as a manifesto for the movement."
— Rachel Riederer
Free Press, 9781451699265, 384pp.
Publication Date: March 21, 2017
About the Author
Joe Quirk serves as "Seavangelist" at the Seasteading Institute. He has taught at Lekha School of Creative Writing in San Jose and served as a freelance science humor consultant at Pixar. Quirk co-leads a team working to establish the first seastead with unprecedented political autonomy in the waters of a host nation. He lives in Oakland, California. Visit him at Seasteading.org.

Patri Friedman founded The Seasteading Institute in 2008 with seed funding from PayPal founder Peter Thiel. He also founded the annual Ephemerisle floating festival. Friedman, the grandson of economist Milton Friedman, currently works at Google, runs a micro-venture capital fund, and lives with his family in San Jose, California. Visit him at Seasteading.org.
or
Not Currently Available for Direct Purchase