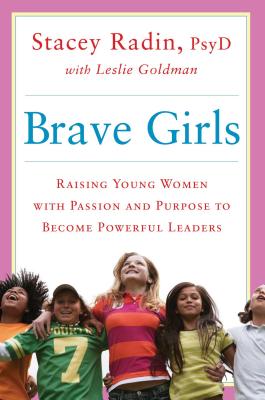 Brave Girls
Raising Young Women with Passion and Purpose to Become Powerful Leaders
Hardcover

* Individual store prices may vary.
Other Editions of This Title:
Paperback (1/12/2016)
Description
An empowering guide to cultivating confident, passionate, and powerful young leaders during the most formative stage of life: the middle school years.

After years of research as a psychologist and consultant for women struggling in the professional world, Stacey Radin made a groundbreaking realization: it all begins in middle school. Women who become successful leaders learn how to do so in the middle grades—the most formative stage in a girl's development and self-identification. Drawing on her own experience with Unleashed, an after-school program dedicated to empowering girls through puppy rescue, Radin has written Brave Girls­—the ultimate guidebook for parents and educators who want to learn how to help their girls become confident, passionate, and powerful leaders.

At a pivotal time in their lives, girls learn to advocate for others, think critically, and, most importantly, gain confidence in their ability to create change. Perfect for "anyone concerned with girls and women's lives" (New York Times bestselling author Michael Gurian), Brave Girls shows how contributing to one cause can shape a leader for life while reducing the hazards of middle school—bullying, excessive competition, fear of speaking out—and identifying the patterns that truly make a difference. If we take initiative early enough, we can inspire today's girls to become the next generation of strong, enthusiastic, and fulfilled leaders in all areas of society.
Praise For Brave Girls: Raising Young Women with Passion and Purpose to Become Powerful Leaders…
"A solid resource for parents and educators working with middle school girls; the program goals can be adapted to other issues."
— Kirkus Reviews

"Brave Girls is an excellent and brave book. As I read Dr. Radin's stories and keen advice, I felt educated and inspired. My own daughters, now grown, would have benefitted from this book during their younger lives. My corporate clients will certainly benefit from it, especially those women who feel that they have to battle every day to be heard. I recommend Brave Girls to anyone concerned with girls and women's lives."
— Michael Gurian, author of The Wonder of Girls and Leadership and the Sexes

"Stacey Radin believes in the leadership potential of middle school girls and their capacity to create change. This book taps into that passion and imparts Radin's thinking on gender development, leadership, and power. If every future woman had the kind of training offered through Radin's program, aptly named Unleashed, what a different world this would be."
— Deborah Siegel, Ph.D., author of Sisterhood, Interrupted: From Radical Women to Grrls Gone Wild

"Stacey Radin's insightful and instructive book shows that successful women—the same women I work with every day—wouldn't fear failure or hesitate half as much if they'd only felt empowered as young women. This brilliant book gives women the tools to help their daughters stand up and feel brave."
— Barbara Stanny, author of THE SECRETS OF SIX FIGURE WOMEN

"Brave Girls is today's blueprint for the development of passionate, effective, meaningful women leaders. Stacey's remarkable insights about the key role middle school plays in this journey and the importance of causes, such as animal rescue, make for a compelling narrative.I look forward to discussing this with my own middle-school-aged daughter and applying its principles together to help unleash our power to have a positive impact on our world."
— Susan L. Jurevics, CEO, Pottermore from J.K. Rowling

"There is no more powerful way to build girls' social-emotional intelligence than to connect their capacity to care about causes for which they feel passion with the opportunity to learn skills so that they can make a difference in the world. Brave Girls is the story of how this happens in the context of animal rights and welfare, through the"unleashed" program. You will read inspiring and moving stories of how girls have had their lives transformed, and how you can do the same for the girls in your life for whom you care deeply."
— Maurice J. Elias, Ph.D., Professor of Psychology, Rutgers University

"Stacey Radin has produced a powerful, practical approach to preparing young women for leadership – in all aspects of their lives. Brave Girls is a must-read for anyone interested in what we can do now to unleash the spirit of courageous freedom we need to create a more egalitarian society."
— Stewart D. Friedman, Wharton professor and author of Leading the Life You Want and of Total Leadership.

"Radin gives voice to the fears, doubts and societal pressures of an often overlooked age group: middle school girls. And then she goes ten steps further by creating empowering solutions to help build their confidence and self esteem.The results are astounding. A must read for women of any age,parents of young girls, and teachers."
— Wendy Straker Hauser
Atria Books, 9781451699302, 304pp.
Publication Date: January 6, 2015
About the Author
Dr. Stacey Radin was a psychologist, researcher, and consultant who dedicated her career to the development of girls and women. She was the founder and president of Corporate Equilibrium, specializing in the psychology of organizational effectiveness, a member of the United Nation's Working Group on Girls and founder of Unleashed, a ground-breaking girl's leadership program. In October 2019, the Children's Aid Society of New York announced that Unleashed had donated its financial, educational, and intellectual assets in the memory of Stacey Radin to Children's Aid, who will utilize these assets to build a new curriculum focused on adolescent girl empowerment, especially for their South Bronx community schools. Stacey's passion for developing leadership programs designed to implement change, strengthen leaders' ability to influence ethically, and create opportunities to experiment and think out of the box is a testament of how she will be remembered. The culmination of her experiences with Unleashed was the publishing of Brave Girls: Raising Young Woman With Passion and Purpose to Become Powerful Leaders. She passed away in 2018.
or
Not Currently Available for Direct Purchase