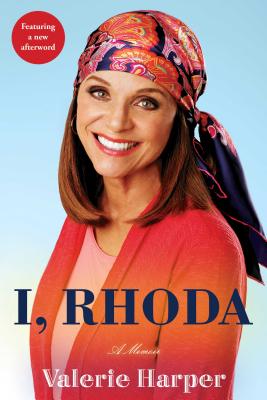 I, Rhoda
Paperback

* Individual store prices may vary.
Other Editions of This Title:
Hardcover (1/15/2013)
CD-Audio (1/15/2013)
Description
The heartwarming memoir of beloved television actress Valerie Harper, best known for her role as Rhoda Morgenstern on The Mary Tyler Moore Show and on Rhoda.

Valerie Harper was an unknown actress when she won the groundbreaking role of Rhoda Morgenstern, Mary Tyler Moore's lovable and self-deprecating on-screen best friend. Bold and hilarious, the native New Yorker and struggling working girl was unlucky in love and insecure about her weight—in other words, every woman's best friend.

Harper represented a self-reliant new identity for women of the 1970s. She fought for equal rights alongside feminists Gloria Steinem and Bella Abzug; and her incredible showbiz journey, which began on Broadway with Lucille Ball and Jackie Gleason, led her to four Emmy Awards and a Golden Globe.

Harper is upbeat and funny, and her inspiring life story is laced with triumphs and transformative obstacles. This beloved actress's incredible pluck, indomitable spirit, and warm and generous heart have touched our lives and kept us entertained for decades.
Praise For I, Rhoda…
"Valerie Harper, my beloved friend, is just as enjoyable on the printed page as she is on the screen. This is a delightful read. Enjoy."
— Betty White

"I, Rosie, loved I, RHODA, Valerie Harper's wonderful new book full of heart and Hollywood, friends and family. I have loved Val since I first saw her standing on Mary's balcony. Her amazing career and her beautiful life are woven together with grace and wit."
— Rosie O'Donnell

"Valerie is brilliant, frigging talented, funny as hell, warm, generous...and her book is a HIT! Detailed, delightful, and delicious—I've found myself starting to read it again!"
— Cloris Leachman

"I am a law-abiding, God-fearing Orthodox Jewish boy, and Valerie Harper is a wanton, out of control, nihilist who I'm sure never thought of God unless his name was on a contract. I thought I knew this wastrel of an actress, but it turns out I didn't know a thing about her! A regular Jo, she worked her ass off to develop every aspect of her great talent, be it as a twinkle-toed tapper or a fantastic comedic actress with equal dramatic chops. Valerie is a pisser and you gotta read her book!"
— Ed Asner

"Valerie writes in a straight-forward style that is honest and funny and true. I know because I was there during the Rhoda years. It was great fun to relive the moments I was honored and lucky enough to be a part of. I also got to learn things about Valerie I never knew. What a marvelous life and what a wonderful read."
— Julie Kavner
Gallery Books, 9781451699470, 320pp.
Publication Date: September 17, 2013
About the Author
Valerie Harper is best known for her role as Rhoda Morgenstern on The Mary Tyler Moore Show and on Rhoda. The winner of four Emmys, as well as a Golden Globe for her starring role in Rhoda, Harper has been celebrated by fans and peers alike for her work in television. She currently lives in Los Angeles with her husband.