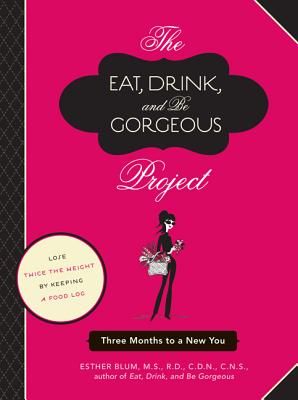 The Eat, Drink, and Be Gorgeous Project
Three Months to a New You
Paperback

* Individual store prices may vary.
Other Editions of This Title:
Hardcover (8/13/2007)
Description
Women will lose twice the weight when they track what they eat with this helpful food diary. Expert nutritionist Esther Blum provides a healthy dose of motivation plus all the necessary tools to make it happen: delicious meal plans (the gluten-free one is surprisingly savory), easy recipes (McSteamy Veggies, Low-Carb Chocolate Peanut Butter Bars), strategies for curbing mindless eating, exercises that maximize fat-burning potential, and three months' worth of food log pages. This easy, effective path to personal accountability helps women fix diet imbalances that prevent them from losing weight. All wrapped up in a pretty purse-worthy package, it's everything a woman needs to perfect her most important project ever: herself.
Praise For The Eat, Drink, and Be Gorgeous Project: Three Months to a New You…
"Esther Blum has created the ultimate solution to convert all that nutritional knowledge out there into an easy and practical daily lifestyle that will make you healthy and look great. This could be the best single source of scientific nutritional guidance anywhere. Please read it, keep a copy on you at all times and send one to all those that you care about. What is contained in these pages could reduce the incidence of over 70 percent of the diseases that face the US population."
--Mark Houston MD, MS, ABAARM, FACP, FAHA, FASH
Author of What Your Doctor May Not Tell You About Hypertension and What Your Doctor May Not Tell You About Heart Disease

"With The Eat, Drink, and Be Gorgeous Project, Esther Blum delivers impeccable information with lighthearted wit. This book has all the sass and swagger of Skinny Bitch but with one major difference: Esther actually knows what she's talking about!"
--Jonny Bowden, PhD, CNS aka "The Rogue Nutritionist"T, best-selling author of Unleash Your Thin, Living Low Carb and The 150 Healthiest Foods on Earth

"The Eat, Drink, and Be Gorgeous Project is the modern day girl's instructional manual to the latest science in health, fitness and weight loss. Esther's books redefine health and dieting and make gorgeous living a fun and healthy lifestyle!"
--Jade Teta,ND,CSCS, Author of The New ME Diet

"Esther knocks it out of the park once again with The Eat, Drink, and Be Gorgeous Project. Easy to follow suggestions makes this book a great resource for anyone who wants to get healthy and stay that way. You can open the book to any page and get fabulous suggestions that you can put to use right away. You want to get gorgeous? Get the book today!"
--Mark Schauss, MBA,DB, Author of Achieving Victory Over A Toxic World

"Esther makes science sexy and gives you all the tools to help you burn fat and look fabulous. The Eat, Drink, and Be Gorgeous Project is this season's hottest accessory!"
--Jason Boehm, MS, CNS, MMC

''Losing weight is not easy; keeping it off is even harder. It's all a matter of having the right tools and being ready to adopt a new lifestyle. The Eat, Drink, and Be Gorgeous Project has all the tools you need to lose weight, be healthy and to stay that way for as long as you want. It is the best guide I have come across to this day and I highly recommend it to anyone who is looking for a simple, detailed and updated guide to a gorgeous and healthy body!''
--Eric Falstrault, PICP Level 5 Strength Coach, BioSignature practitioner, naturopath and Head Coach at Bodhifit
Chronicle Books, 9781452102580, 244pp.
Publication Date: April 4, 2012
About the Author
Esther Blum is a registered dietician, certified nutrition specialist, and the author of Eat, Drink, and Be Gorgeous and Secrets of Gorgeous. She lives in Weston, Connecticut.
or
Not Currently Available for Direct Purchase