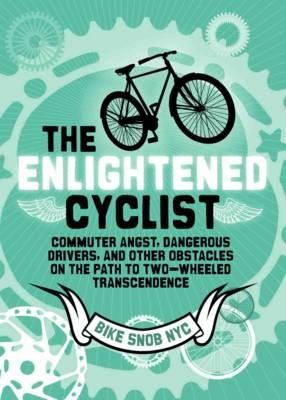 The Enlightened Cyclist
Commuter Angst, Dangerous Drivers, and Other Obstacles on the Path to Two-Wheeled Trancendence
Hardcover

* Individual store prices may vary.
Description
The joys of commuting by bike attract scores of new converts every year. But as fresh-faced cyclists fill the roads, they also encounter their share of frustrations—careless drivers, wide-flung car doors, zoned-out pedestrians, and aggressive fellow cyclists, to name a few. In this follow-up to the best-selling Bike Snob, BikeSnobNYC takes on the trials and triumphs of bike commuting with snark, humor, and enthusiasm, asking the question: If we become better commuters, will that make us better people? From the deadly sins of biking to tactics for dealing with cars, pedestrians, and other cyclists, this primer on bike travel is a must-read for cyclists new and seasoned alike.
Praise For The Enlightened Cyclist: Commuter Angst, Dangerous Drivers, and Other Obstacles on the Path to Two-Wheeled Trancendence…
"Weiss is a Brooklyn-based cyclist and writer. His book is 240 pages of optimism hidden in snark, of hope cloaked in sarcasm, and it's full of sometimes scathing, always accurate cycling observations that occasionally border on genius....But for all its sardonic wit - and there is a lot of it - "The Enlightened Cyclist'' at its core is an honest look at a growing culture of bicycle commuters vying for a slice of the road in a car-dominated culture that still considers the bicycle an "alternative'' means of transportation. Mixed into the snark stew is a plea for commuters of all stripes - pedestrian, cyclist and driver - simply to get along." - The Unnamed Cyclist
—
-
According to the irreverent Bike Snob NYC (Bike Snob: Systematically and Mercilessly Realigning the World of Cycling), the nom de guerre of Eben Weiss, the main thing commuters want is "To be happy, and to not get killed." And in this hilarious faux-epic volume, the author uses the Bible as a loose template for how cyclists and cars can, and should, all get along. Though there's some take-home advice, such as driving behaviors to avoid and which kind of bike to buy, most of the book is a rollicking window into urban cycling from a self-professed "smug dork." There are several extended glossaries--in the annals of Annoying Cyclist Behavior, Weiss describes the differences between "salmoning," "shoaling," and "wheelsucking." And sidebars include Understanding Bipedal Idiocy and The Dachshund of Time. Occasionally, the author flips into an earnest, philosophical voice; though his description of his experience on 9/11 and his rant about the pointlessness of dressing up for work are thought-provoking, their tone is somewhat out of place in what is, at heart, a truly fun and witty ride. The book shines when the author combines his self-deprecation on behalf of all cyclists ("we are kind of the nerds in the school cafeteria of transportation") with heavier topics ("when it comes to integrating our transportation, we're as closed-minded as the racists of yesteryear"), creating a call to arms for the ultimate commuting goals: transcendence and "highways of happiness." - Publishers Weekly
—
-
Chronicle Books, 9781452105000, 240pp.
Publication Date: March 21, 2012
About the Author
BikeSnobNYC (a.k.a. Eben Weiss) is the blogger behind bikesnobnyc.blogspot.com, a massively popular cycling blog. He also writes a monthly column in Bicycling magazine. He lives in Brooklyn, New York.
or
Not Currently Available for Direct Purchase