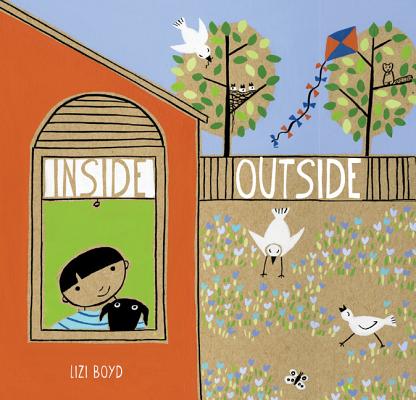 Inside Outside (Hardcover)
Chronicle Books, 9781452106441, 40pp.
Publication Date: March 19, 2013
* Individual store prices may vary.
Description
What is happening outside today? Peek through the window to find out. What is happening inside? Peek again! Whimsical die-cuts throughout lead to charming and surprising reveals with every turn of the page. Filled with fun details (can you find the two mice playing throughout?), this deceptively simple book is one readers will visit again and again.
About the Author
Lizi Boyd has written and illustrated many children's books and she also creates other works of delight. Her dogs, Olive and Zuli, assisted in the making of this book. She lives in Vermont.
Praise For Inside Outside…
"This inspiring endeavor begs to be shared again and again." - Booklist, starred review

"There are so many delightful details in Inside Outside it should provide hours of fun over multiple readings as both parents and children discover new things each time they pick it up."- Mother-Daughter Book Club

"The overall feeling is one of pervasive contentment." - Publishers Weekly

"With peek-a-boo images, sweet illustrations, and noticeable attention to detail, Inside Outside will persuade the reader to open it's pages season after season."-Sturdy for Common Things

"This lovely concept book succeeds on multiple levels."-School Library Journal, starred review

"This is a book readers/viewers will return to again and again" - Reading Today

" A work of art." - Pink Me

"The lovely inventiveness of the illustrations makes this one really work."-Salt Lake City Tribune

"The book, like nature, reveals more with each study... you don't have to go beyond "Inside Outside" to discover how much a picture book can do. " - The New York Times

"Subtly stylish... great fun for a parent to enjoy with a young child just beginning to master the rudiments of language." - The Wall Street Journal

"Readers will be caught up in the story, boredom banished-at least for now"--The Horn Book

"Play an artful game of peekaboo through die-cut 'windows.' They give a sneak peek at what's to come as you ramble along with a boy who plays indoors and outdoors as the seasons change." - Daily Candy Kids

"Once I finished, I went right back to that cover and started again. And then again. Truly."--DesignMom

"Inspired and inspiring, this is creative genius at work." - Kirkus Reviews, starred review

"Filled with small details that will have children looking back at previous pages when they discover something new, this book is perfect for lingering over on long trips or snuggled in someone's lap." - Walking Brain Cells

"Exquisite."--Travel for Kids

"A charming, sweet book and is so rich with details that it deserves to be read over and over." - Books 4 your Kids

"A celebration of imagination and creativity... a book to return to again and again, with new discoveries to be made with each rereading." - Shelf Awareness for Readers, starred review