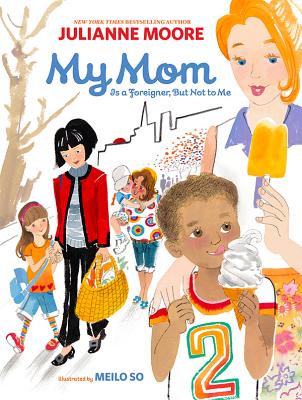 My Mom Is a Foreigner, But Not to Me (Hardcover)
Chronicle Books, 9781452107929, 40pp.
Publication Date: August 27, 2013
Description
Bestselling author and award-winning actress Julianne Moore pays homage to all the Muttis, Mammas, and Mamans who are from another country. A foreign mom may eat, speak, and dress differently than other moms-- she may wear special clothes for holidays, twist hair in strange old-fashioned braids, and cook recipes passed down from grandma. Such a mom may be different than other moms, but...she is also clearly the best. Vividly illustrated by Meilo So, this funny and heartwarming picture book about growing up in multiple cultures celebrates the diverse world in which we live.
About the Author
Julianne Moore was inspired to write My Mom Is a Foreigner in memory of her own foreign mom. Moore is the bestselling author of the Freckleface Strawberry series. She is also an award-winning actress and artist ambassador for Save the Children. She lives in New York City with her husband and two children. Meilo So is the esteemed illustrator of Water Sings Blue. She was born in Hong Kong and now lives in the Shetland Islands with her husband and daughter. Meilo So is herself a foreign mom.
Praise For My Mom Is a Foreigner, But Not to Me…
"A vividly illustrated book that celebrates different cultures in our diverse world."--SheKnows.com
Advertisement