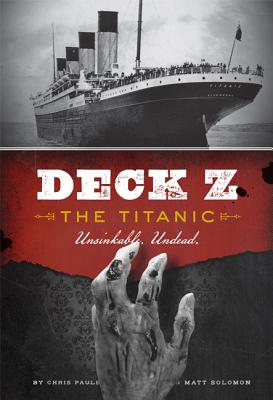 Deck Z
The Titanic: Unsinkable. Undead
Paperback

* Individual store prices may vary.
Description
Imagine being trapped aboard the doomed Titanic on an icy Atlantic. . . with the walking dead. This fast-paced thriller reimagines the historical events of the fateful Titanic voyage through the lens of zombie mayhem. Captain Edward Smith and his inner circle desperately try to contain a weaponized zombie virus smuggled on board with the 2,200 passengers sailing to New York. Faced with an exploding population of lumbering, flesh-hungry undead, Smith's team is forced into bloody hand-to-hand combat down the narrow halls of the huge steamer. In its few short days at sea, the majestic Titanic turns into a Victorian bloodbath, steaming at top speed toward a cold, blue iceberg. A creepy, tense page-turner, Deck Z will thrill zombie fans and Titanic buffs alike.
Praise For Deck Z: The Titanic: Unsinkable. Undead…
"A spine-chilling, nail-biting page-turner."
School Library Journal

"Fans of the undead should definitely seek this one out."
British Fantasy Society

"It doesn't really matter that this is the 100th year anniversary of the sinking of the Titanic, as the subject is always hugely popular. Deck Z, however, is no retelling of the research on the building or sinking of the ocean liner. The brilliant premise is this: take a biological weapon and run away with it on an ocean liner sailing to America. Dr. Weiss is a German scientist who discovers a plague that turns its victims into zombies. Though he wants to use his findings to create a cure for other diseases, the German army has other ideas. Planning to use the Toxic to start a zombie army, they anticipate that Russia will use all its funds to stop them and Germany can win the war.

When Dr. Weiss learns of the plot, he does the only possible thing?run for America. The problem is that he took the vial with him and left a trail for the Germans to follow. Once on board, the Toxic is released and zombies take over the E Deck, turning it into Deck Z.

Using known research and inserting fantastic events from the zombie plague, Pauls and Solomon create a riveting mystery. The band plays on to distract the zombies from boarding the lifeboats. More people die on Deck E than any other. The architect goes down with the ship. Who is after the Toxic? Can the passengers defeat the zombies? What happens to Dr. Weiss? Does he invent a cure? You'll have to read it for yourself?you'll never believe it until you do."
-- SchoolLibraryJournal.com

"if you find yourself a fan of the history of the Titanic or a fan of a really fun zombie tale then you owe it to yourself to pick up a copy."
--Retroist

"The Titanic disaster gets a horror-flavored reinterpretation in this slim but effective debut tale of zombies on the high seas. In an attempt to keep a deadly plague from being weaponized by the Germans, scientist Theodor Weiss steals the only sample, destroys his notes, and flees, ultimately seeking refuge aboard the Titanic. He's tracked down by an agent of the German Empire who inadvertently releases the plague, turning passengers and crew into ravening monsters. As Weiss, Capt. Smith, and others try to contain the infection, the Titanic strikes an iceberg, compounding their problems. This fast-paced nightmare hits all the horror notes: a high body count, tense combat, moments of cowardice and valor, and even a plucky child in mortal peril. The cinematic atmosphere and attention to detail make this a better-than-average zombie mash-up."
- Publishers Weekly

"Deck Z is an enjoyable romp for anyone who likes to mix history and genre horror"
io9.com

"Be warned: this is no campy Pride and Prejudice and Zombies-style mash-up but a serious, gory horror story. History buffs will appreciate details about the Titanic's construction and the appearance of historical figures like Captain E. J. Smith (portrayed as a man of honor and a badass), designer Thomas Andrews, 'Unsinkable' Molly Brown, and White Star Line manager J. Bruce Ismay. But with all the bloody zombie action, zombie fans are the real intended audience here. This quick, creepy read is perfect for Halloween."
-The Horn Book
Chronicle Books, 9781452108032, 222pp.
Publication Date: October 3, 2012
About the Author
Chris Pauls and Matt Solomon are regular contributors to popular websites and national publications. They live in Wisconsin.

Chris Pauls and Matt Solomon are regular contributors to popular websites and national publications. They live in Wisconsin.