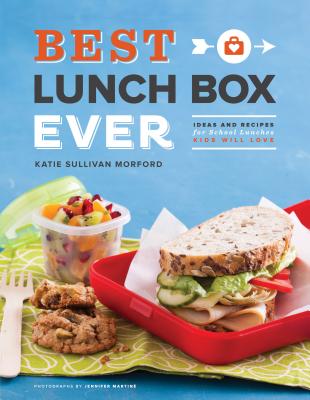 Best Lunch Box Ever (Hardcover)
Ideas and Recipes for School Lunches Kids Will Love
Chronicle Books, 9781452108292, 156pp.
Publication Date: July 16, 2013
* Individual store prices may vary.
Description
Best Lunch Box Ever is full of recipes, ideas, and strategies for packing creative and healthful lunches for kids, solving what is for many parents the most taxing of daily chores. Kids will love the scrumptiousness, while busy moms and dads will appreciate the quick and simple solutions for wholesome, balanced meals developed by Katie Sullivan Morford, a registered dietician and mother of three. The 65 recipes are easy, delicious, and—best of all—packed with nutrients for well-rounded lunches and snacks, including Deconstructed Caprese Skewers, Easy Cheesy Thermos Beans, Pesto Pita Pizza, Cinnamon Wonton Crisps, Parmesan Kale Chips, Crispy Applewiches, and more.
About the Author
Katie Sullivan Morford is a registered dietician, a freelance food and nutrition writer, and founder of the Mom's Kitchen Handbook blog. She lives in San Francisco, California.
Praise For Best Lunch Box Ever: Ideas and Recipes for School Lunches Kids Will Love…
"Dietitian, food and nutrition writer, and blogger Morford does an truly sweet job of helping parents pack more inspired lunches in her new cookbook, which features 75 recipes for everything from wraps and sandwiches to pizzas and salads. Packing healthy lunches that kids will actually eat is no easy feat, but Morford is up for the challenge. "This book is a toolbox full of fresh ideas to help you break from the lunch-box rut that plagues the best of us," Morford explains in her intro. Chapter one, Brown Bag Basics, gives nutrition advice and offers healthier versions for lunchtime favorites such as turkey sandwiches with hummus and romaine, while the second chapter includes tips on getting organized and how to plan ahead. Healthy, fresh sandwich recipes include chickpea panini and deconstructed Caprese cherry tomatoes and mozzarella on skewers. Salads Kids Will Love offers up a variety of greens made with kid-friendly ingredients like Where's Waldorf, made with apple and raisins, and Lunch Box Slaw, crunchy veggies with a slightly sweet dressing of rice vinegar, brown sugar, and soy sauce. There are recipes for all-time favorites-pizza, wraps, and roll-ups-as well as a section on how to put a fresh new spin on leftovers. This is an extremely useful guide that's both fun and accessible." - Publishers Weekly

"This wonderful book is sure to get you out of a lunch-box rut, with inspiring, easy, healthful ideas for lunches that will put a smile on any kid's face!" -- Ellie Krieger, RD, author and host of Food Network's "Healthy Appetite"

The Best Lunch Box Ever is a terrific gift to anyone who has to pack a lunch for a kid, and wants that lunch to be healthy-and eaten. Katie Morford has dozens of interesting and sometimes surprising suggestions for easy, delicious, and nutritious lunch items that kids will enjoy-if parents don't get to them first. I wish I'd had this book when my kids were in school. -- Marion Nestle, Professor of Nutrition, Food Studies, and Public Health at New York University and author of What to Eat.

"Ideal for parents and professionals, this cookbook features winning lunch ideas for eco- and health-conscious households." -- Library Journal, July 2013

"Ideal for parents and professionals, this cookbook features winning lunch ideas for eco- and health-conscious households." - Library Journal