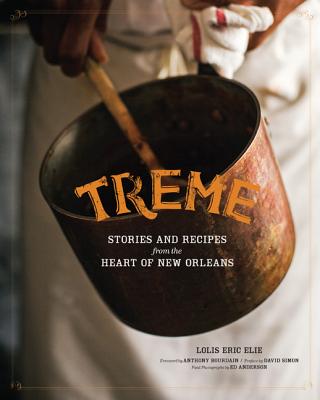 Treme
Stories and Recipes from the Heart of New Orleans
Hardcover

* Individual store prices may vary.
Description
Inspired by David Simon's award-winning HBO series Treme, this celebration of the culinary spirit of post-Katrina New Orleans features recipes and tributes from the characters, real and fictional, who highlight the Crescent City's rich foodways. From chef Janette Desautel's own Crawfish Ravioli and LaDonna Batiste-Williams's Smothered Turnip Soup to the city's finest Sazerac, New Orleans' cuisine is a mélange of influences from Creole to Vietnamese, at once new and old, genteel and down-home, and, in the words of Toni Bernette, "seasoned with delicious nostalgia." As visually rich as the series itself, the book includes 100 heritage and contemporary recipes from the city's heralded restaurants such as Upperline, Bayona, Restaurant August, and Herbsaint, plus original recipes from renowned chefs Eric Ripert, David Chang, and other Treme guest stars. For the 6 million who come to New Orleans each year for its food and music, this is the ultimate homage to the traditions that make it one of the world's greatest cities.
Praise For Treme: Stories and Recipes from the Heart of New Orleans…
"Food, music, and New Orleans are all passions about which-it seems to me-all reasonable people of substance should be vocal. . . . This book gives voice to the characters, real and imaginary, whose love and deep attachments to a great but deeply wounded city should be immediately understandable with one bite." - Anthony Bourdain
—
-
Chronicle Books, 9781452109695, 240pp.
Publication Date: January 1, 2022
About the Author
Lolis Eric Elie is a New Orleans native, the story editor for the HBO series Treme, co-producer of the documentary Faubourg Treme, and author of Smokestack Lightning.

David Simon is an author, television producer, and the co-creator of the HBO series The Wire and Treme. He lives in Baltimore.

Ed Anderson is a photographer specializing in food and the people who make it. He lives in Petaluma, California.

Anthony Bourdain is an author, television host, and writer for Treme. He lives in New York City.