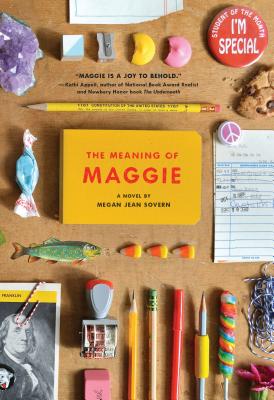 The Meaning of Maggie (Hardcover)
Chronicle Books, 9781452110219, 220pp.
Publication Date: May 6, 2014
* Individual store prices may vary.
Description
•"Smart, sensitive, sad and funny."—Kirkus Reviews, starred review

As befits a future President of the United States of America, Maggie Mayfield has decided to write a memoir of the past year of her life. And what a banner year it's been! During this period she's Student of the Month on a regular basis, an official shareholder of Coca-Cola stock, and defending Science Fair champion. Most importantly, though, this is the year Maggie has to pull up her bootstraps (the family motto) and finally learn why her cool-dude dad is in a wheelchair, no matter how scary that is. Author Megan Jean Sovern, herself the daughter of a dad with multiple sclerosis, writes with the funny grace and assured prose of a new literary star.

A portion of the proceeds of the sale of this book will be donated to the National Multiple Sclerosis Society.
About the Author
Megan Jean Sovern is an award-winning copywriter at a major advertising agency. She lives in Atlanta, Georgia. This is her first novel.
Praise For The Meaning of Maggie…
"A character who's...tough to forget."--The Horn Book Magazine

"Refreshing, quirky, and honest."--Reading Today

"Smart, sensitive, sad and funny."--Kirkus Reviews, starred review

"Remarkable... Maggie makes us feel...everything...through our laughter and our tears. This is a marvelous middle grade book."--Librarian's Quest

"Readers will instantly fall in love with Maggie. Her narrative voice is smart, funny and clever, which makes her a highly entertaining, endearing, complex, triple threat."--The Children's Book Review

"Readers will appreciate Maggie's humor and rejoice in her growth. This is a remarkable story of a working-class family pulling together in the face of a serious illness."-School Library Journal, starred review

"One of the best middle-grade reads so far this summer is author Megan Jean Sovern's remarkable debut, The Meaning of Maggie ."--GeekMom

"Maggie, marches to her own beat, but she certainly charms readers."-- Makin Books in Bloom

"Maggie is a firecracker character, one who sparkles with wit, cynicism, love, and potential. Her voice will charm and captivate readers."--Shelf Awarness

"Maggie is a firecracker character, one who sparkles with wit, cynicism, love and potential. Her voice will charm and captivate readers."--Shelf Awareness for Readers, starred review

"In The Meaning of Maggie, Megan Jean Sovern has found a way to illuminate one family's struggle in the face of an impossible and incurable disease. She's done it with humor, wit, and heartache. And along the way, she's given us a character-Maggie-who is a joy to behold despite being stubborn, immature, and temperamental. There is hope here, and a great story to boot." --Kathi Appelt, author of National Book Award finalist and Newbery Honor book The Underneath

"Her endearing blend of innocence and burgeoning maturity as well as her diligence and work ethic made me wish I was her teacher. Her penchant for sweets and her love of reading made me wish I was her friend."--Two Writing Teachers

"Heart-wrenching yet full of heart."-Publishers Weekly

"Full of tender moments and light-hearted fun, this book is a poignant debut about growing up."--Library Media Connection

"An absolute start-to-finish delight... a book bound for glory."--Beth Kephart, author of Small Damages and National Book Award Finalist.

"The Meaning of Maggie does for middle-grade fiction what John Green's The Fault in Our Stars did for teen literature: Both portray coping with serious illness as one aspect of a complex character, not as the single issue that defines them."--BookPage

"Written with skill and sensitivity, this precocious and poignant story of familial love will make good company for those readers dealing with health issues in their home lives, as well as those wanting a smart, refreshing voice to take them on a meaningful journey."-Bulletin of the Center for Children's Books, starred review

"Wll inspire hours of great conversation for your readers. Maggie is a character they will admire and adore- we know we do!"--Teachers for Teachers

"This novel has VOICE in spades. Maggie is intelligent, self-aware, and humorous."--Middle Grade Mafioso

"This debut novel is perfect in every regard."--Books to Borrow... Books to Buy

"The must-read book of the summer!" -Annie Jones, The Bookshelf, Thomasville, GA
Book Videos
or
Not Currently Available for Direct Purchase