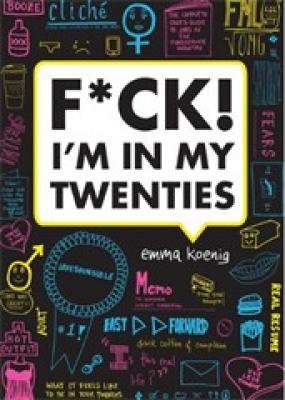 F*ck! I'm in My Twenties (Paperback)
Chronicle Books, 9781452110530, 128pp.
Publication Date: August 22, 2012
* Individual store prices may vary.
Description
F*ck! Everyone has that moment—the realization that adulthood has arrived, like a runaway train, and there's no getting out of its way. In attempt to express the contradictions and anxieties that come with being over-educated, minimally employed, mostly single, and on your own, Emma Koenig turned to the blogosphere. In this collection of her most popular posts from her blog of the same name (along with over 50% new material) Emma harnesses the power of illustrations, graphs, checklists, and flowcharts to explore this twenty-something life.
About the Author
Emma Koenig is a New York based actor/singer/writer and the creator of fuckiminmy20s.tumblr.com. She is still waiting for her BFA to pay for itself.
Praise For F*ck! I'm in My Twenties…
"Must Read"
-Hurricane Vanessa

"This quirky new book by Emma Koenig provides sweet salvation in knowing that you're not alone in thinking that your Twenties suck."-
Tantrum Magazine

"This book is like keeping a tray of brownies on your cookie table; it's completely irresistible, and will leave your guests chatty and satisfied. "
-Nylon magazine