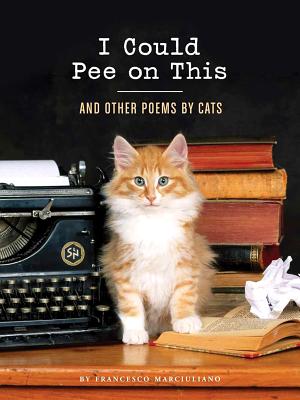 I Could Pee on This
And Other Poems by Cats (Gifts for Cat Lovers, Funny Cat Books for Cat Lovers)
Hardcover

* Individual store prices may vary.
Other Editions of This Title:
Hardcover (8/16/2016)
Calendar (8/1/2017)
Calendar (7/26/2016)
Description
Animal lovers will laugh out loud at the quirkiness of their feline friends with these insightful and curious poems from the singular minds of funny cats. In this hilarious book of tongue-in-cheek poetry, the author of the internationally syndicated comic strip Sally Forth helps cats unlock their creative potential and explain their odd behavior to ignorant humans. With titles like "Who Is That on Your Lap?," "This Is My Chair," "Kneel Before Me," "Nudge," and "Some of My Best Friends Are Dogs," the poems collected in I Could Pee on This perfectly capture the inner workings of the cat psyche. With photos of the cat authors throughout, this whimsical volume reveals kitties at their wackiest, and most exasperating (but always lovable).

Ideal for that "crazy cat lady" or "cat mom/dad" in your life this collection of poems makes for the perfect cat themed gift for anyone who's obsessed with our feline friends.
Praise For I Could Pee on This: And Other Poems by Cats (Gifts for Cat Lovers, Funny Cat Books for Cat Lovers)…
"4 stars."
- LitPick

"perfectly captures the odd, sweet, and sometimes sassy minds of our feline companions."
Tails Magazine

"With poems like 'Who Is That On Your Lap,' 'Nudge' and 'Kneel Before Me,' this quirky book will surely induce laughter and whimsical from all who decide to delve into its poetry."
-Trend Hunter

"Poems by cats? Honestly? Yes."I Could Pee on This: And Other Poems by Cats' once opened, is as evil as an evil little book can get. It went from desk to desk to desk here at The Post, clawing anyone who's had or known a feline into its silly spell and sucking precious tens of minutes into its hairy vortex.

In four cat-egories - family, work, play, and existence - Francesco Marciuliano (writer of the comic strip "Sally Forth") has given voice to cats' 'every desire, their every conflict, their every epiphany.' Also why they'll put an entire paw in your wine glass when you have a date over."
- The Denver Post

"Francesco Marciuliano has collected poems by cats into a hilarious little book. From expressing their love for dead mice to pulling over Christmas trees, cats reveal their genius and neuroses"
Shelf Awareness

"Cats. They pee on our clothes, bang on our doors all night (and refuse to come in when we open it for them), and turn Christmas trees into their personal jungle gyms. So what goes through their heads? This book of poems written from the perspective of a destructive house cat attempts to answer these mysteries. It's the ideal gift for someone with a fuzzy ball of destruction of their own at home."
-MentalFloss
Chronicle Books, 9781452110585, 112pp.
Publication Date: August 15, 2012
About the Author
Francesco Marciuliano is the author of Sally Forth, an internationally syndicated family comic strip that appears in nearly 800 newspapers around the world (created by Greg Howard). He was also the head writer for the highly praised PBS children's series SeeMore's Playhouse. He lives in New York City.
Coverage from NPR