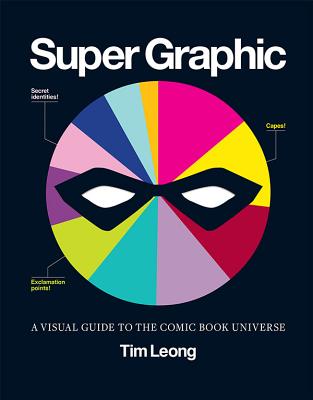 Super Graphic (Paperback)
A Visual Guide to the Comic Book Universe
Chronicle Books, 9781452113883, 196pp.
Publication Date: July 16, 2013
Other Editions of This Title:
Prebound (7/16/2013)
* Individual store prices may vary.
Description
The comic book universe is adventurous, mystifying, and filled with heroes, villains, and cosplaying Comic-Con attendees. This book by one of Wired magazine's art directors traverses the graphic world through a collection of pie charts, bar graphs, timelines, scatter plots, and more. Super Graphic offers readers a unique look at the intricate and sometimes contradictory storylines that weave their way through comic books, and shares advice for navigating the pages of some of the most popular, longest-running, and best-loved comics and graphic novels out there. From a colorful breakdown of the DC Comics reader demographic to a witty Venn diagram of superhero comic tropes and a Chris Ware sadness scale, this book charts the most arbitrary and monumental characters, moments, and equipment of the wide world of comics.
About the Author
Tim Leong is an award-winning art director and designer. He's currently the Design Director at Entertainment Weekly magazine, and was previously Design Director at Fortune magazine, Director of Digital Design at WIRED magazine, and Design Director at Complex magazine. During Tim's run at Complex, Kanye West said: "I really think Complex is taking the cover game to another level; these are all history in the making." And that has to count for something, right? He's also the founder of the Eisner-award losing Comic Foundry magazine. His first book, Super Graphic: A Visual Guide to the Comic Book Universe is published by Chronicle Books. He also writes his author bios in third person.
Praise For Super Graphic: A Visual Guide to the Comic Book Universe…
"... takes the cape-wearing obsession of millions and makes it handsome like never before."
-Kotaku

"Tim Leong's mixture of deep nerd data and gorgeous information design are the perfect chocolate-and-peanut butter combo you didn't know your eyes needed. It's part beautiful, part fascinating, occasionally challenging and sometimes completely useless--in other words, a work of art."
-Matt Fraction, award-winning writer of The Invincible Iron Man, Fantastic Four, and Casanova.

"This is a wonderful book, both clever and informative while also being a joy to look at. Highly recommended...!"
- Paul Pope, Eisner-award winning writer and illustrator of Heavy Liquid, 100%, and Batman: Year 100.

"This gorgeous compendium illustrating comic-book-world factoids will give info-graphic obsessives much to pore over. You haven't fully studied comics until you've seen the Venn diagram of superhero tropes with a ring for 'Underware on the outside'."
-Entertainment Weekly, MUST LIST pick

"This book is a delight--and you don't have to be a comic fanatic to get something out of it...Super Graphic is simply perfect for that cofee table--right next to your comic books, of course."
-SFX magazine

"The book combines data from all comic books into one neat little compilation of pie charts, bar charts and other infographic forms. This may seem strange, but it really is a breakthrough for all comics and graphic novels, as the data for this medium is so huge; [author Tim] Leong is really doing inspirational work by making it more academic. Leong points out how intricate comic storylines can be (and somewhat contradictory), shares advice on some of the longest running, best loved comics, and gives a brilliant breakdown of DC Comics demographic."
- Starburst Magazine

"The best book of comic book related graphs that you can possibly buy."
-Comics Alliance

"Many comics aren't worth reading. Many infographics don't say anything at all. But when one of the keenest visual minds targets one of the most expansive visual mediums, wonderful things happen. Tim Leong's Super Graphic: A Visual Guide to the Comic Book Universe is the perfect collision. And I want it."
-Gizmodo

"It's a very heart-felt love letter to comic books, the imaginary people that inhabit them and the actual people that imagine the imaginary people."
- The Awl

"Ingenious graphic breakdowns that explore every corner of the superhero universe."
- Geek Magazine

"In the taxonomy of nerdhood, comic geeks and math dorks are not mutually exclusive. To wit: The new, deftly illustrated Super Graphic will leave nerds of every stripe satisfied."
-Hemispheres Magazine

"In his new book, Super Graphic: A Visual Guide to the Comic Book Universe, the award-winning art director and designer, who founded and edited the Eisner Award-nominated magazine Comic Foundry...took his lifelong love of comic books and his passion for design and mashed them up into a series of eye-pleasing infographics that make sense of the medium's poorly catalogued history... the book demands that every self-respecting comic book head get their hands on a copy."
-Complex

"I could leaf through this book for hours. It's fun, it's smart, it's informative, and I'm saying that as a student of comic art, not as a fan geek. (Even though the author is horribly, tragically, staggeringly wrong in his analysis of which Flash is the best.)"
-Mark Waid, writer of The Flash,Kingdom Come,and former editor-in-chief of BOOM! Studios.

"Super Graphicis an absolute joy and a feast for the eyes. It's stuffed with enough information to keep you occupied for hours and fun enough to want to revisit again and again. If you're a comics fan or simply love data visualizations, you definitely need to check it out."
-GeekDad

"Super Graphic might be my favorite book ever. I am a complete statistics nerd. I am also a comic book/sci-fi nerd. Never before have I seen anything that combines these two separate worlds so brilliantly. I wouldn't describe the act of ingesting this book as 'reading' per se, more of an effortless flow of information into the readers mind."
-Neill Blomkamp, Oscar-nominated writer and director of District 9 and Elysium.

"...wonderful! If you even have a passing interest in the super hero world, but specifically if you have an interest in excellent, witty, incredibly attractive infographics- in data being conveyed in a really engaging, really striking way this is such a smart book, such a fun book...Get this book because turning the pages, and seeing something new and an incredibly different take on this approach.every single page is just an un-alloyed delight. It is great! I can't recommend it highly enough. This book made me very, very happy."
-Glen Weldon, NPR

"Tim Leong's self-described 'love letter to the medium,' an absorbing, wonderfully unnecessary pairing of inventive, beautiful designs with nerd-friendly comic-book statistics and insights...Leong is honoring the single-minded genius of generations of cartoonists with single-minded genius. In a perfect world, his book would quantify the amount of time that you spend with it, but no one would want to see that number."
-Chicago Tribune

One of the "Great Illustrated Books of 2013"
-Chicago Tribune

Holiday Gift Guide Pick. "Whether he's a Superman or Batman fan, he's sure to get lost in this comprehensive collection of comic book info. This book has every factoid he could ever want."
-Glamour

Holiday Gift Guide Pick - Paste Magazine

Best Books of 2013 selection
-Mother Jones

A Junior Library Guild Selection

"strikes exactly the right balance between meticulous representation and witty self-awareness which makes Super Graphic my book of 2013 (so far)."
-It's Nice That

"Using real research into all aspects of comics and the behavior of their fans, designer Tim Leong's Super Graphic serves up a series of delightfully clever infographics about the comic book universe."
- Publisher's Weekly

"Tim Leong's smart and charming new book offers a 'visual guide to the comic book universe' through clever charts and graphs."
- Pop Candy, USA Today