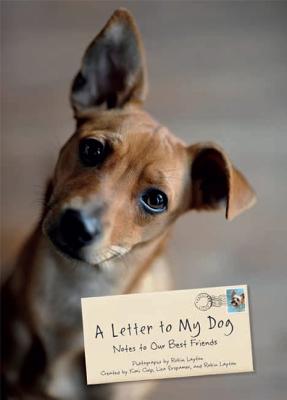 A Letter to My Dog
Notes to Our Best Friends
Hardcover

* Individual store prices may vary.
Description
Dogs know how to talk to us they do it all the time. A pair of raised ears or a wagging tail can speak volumes to those in the know. In this heartfelt ode to the furriest of family members, dog lovers get the chance to say something back, sharing personal letters penned to their beloved companions. With gorgeous accompanying photographs by Robin Layton, this collection of letters and portraits features a wide range of dogs and their owners, including everyday people with remarkable stories as well as celebrities like Hilary Duff, Tony Bennett, and Oprah Winfrey alongside their pooches. Throughout, these tales of perseverance, love, and loyalty celebrate the deep and devoted friendships that humans share with their pups.
Praise For A Letter to My Dog: Notes to Our Best Friends…
" a CRAZZZY good read! We know what's going to be on our Christmas list! "
-TeddyHilton

"A Letter to My Dog: Notes to Our Best Friends features letters written by everyone from Oprah Winfrey to Tony Bennett to Willow Smith. Their stories celebrate belly rubs, endless games of fetch, fuzzy ears and waggy tails, and most of all-unconditional love. Complete with stunning photography by Robin Layton, A Letter to My Dog is the perfect book for anyone who considers their dog a part of their family. So cuddle up on the couch with your pooch, grab a cup of hot cocoa, and dive in to this unique and beautiful book."
Tails Magazine

"This is a real must-have for your dog-lover friends"
Columnist Liz Smith

"Sweet, poignant, heartfelt--the love songs to the dogs are perfectly complemented by Layton's tender photographs."
-Shelf Awareness
Chronicle Books, 9781452114422, 180pp.
Publication Date: November 21, 2012
About the Author
Robin Layton is an award-winning photojournalist and renowned photographic artist. At the age of twenty-four, LIFE magazine named her one of the eight most talented photographers in America. Nikon calls her one of the best photographers in the world. Her exquisite work has been nominated for a Pulitzer prize and featured in the Smithsonian. This in-demand photographer's impressive client list includes President Obama, Oprah Winfrey, Sarah Jessica Parker, Jennifer Aniston, Sidney Poitier, and more. Robin lives in Seattle with her partner Shakti and their four very-loved adopted dogs.

Kimi Culp's unique specialty is generating original ideas and concepts and bringing them to life across multiple media platforms. Her experience includes work as a producer and story developer for NBC Nightly News with Tom Brokaw, ABC's Good Morning America, 20/20, and The Oprah Winfrey Show. She is a partner at Long Story Short Media, a production and creative consulting company. Based in Los Angeles, she loves spending time with her husband and two children, hiking, and playing at the beach.

Lisa Erspamer, a dog lover since birth, most recently served as Chief Creative Officer and Executive Vice President of Programming and Development for OWN: The Oprah Winfrey Network. Prior to OWN, Lisa served as Co-Executive Producer of The Oprah Winfrey Show, where she produced hundreds of shows and oversaw such memorable episodes as the biggest Flash Mob in history, the legendary car giveaway, Oprah's After Oscar Specials, Whitney Houston's final interview, and many others. Currently, Lisa lives in Los Angeles with her precious Yorkie, Lily. Lisa dedicates this book to her beloved boy, Louis, who sadly passed away this year.