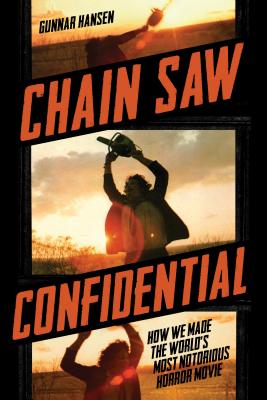 Chain Saw Confidential
How We Made the World's Most Notorious Horror Movie
Hardcover

* Individual store prices may vary.
Other Editions of This Title:
MP3 CD (6/28/2016)
Paperback (9/23/2014)
Description
When The Texas Chain Saw Massacre first hit movie screens in 1974 it was both reviled and championed. To critics, it was either "a degrading, senseless misuse of film and time" or "an intelligent, absorbing and deeply disturbing horror film." However it was an immediate hit with audiences. Banned and celebrated, showcased at the Cannes film festival and included in the New York MoMA's collection, it has now come to be recognized widely as one of the greatest horror movies of all time.

A six-foot-four poet fresh out of grad school with limited acting experience, Gunnar Hansen played the masked, chain-saw-wielding Leatherface. His terrifying portrayal and the inventive work of the cast and crew would give the film the authentic power of nightmare, even while the gritty, grueling, and often dangerous independent production would test everyone involved, and lay the foundations for myths surrounding the film that endure even today.

Critically-acclaimed author Hansen here tells the real story of the making of the film, its release, and reception, offering unknown behind-the-scenes details, a harrowingly entertaining account of the adventures of low-budget filmmaking, illuminating insights on the film's enduring and influential place in the horror genre and our culture, and a thoughtful meditation on why we love to be scared in the first place.
Praise For Chain Saw Confidential: How We Made the World's Most Notorious Horror Movie…
"As the masked man-child Leatherface in the original Texas Chainsaw Massacre, Gunnar Hansen let his homicidal character's infamous power tool do all the talking. But the Iceland-born, Austin, Tx.-bred actor and writer proves an engaging raconteur in
Chain Saw Confidential
.
-
Entertainment Weekly
—
-
"From the scripting through production-chronicled in terms of the movie's chronology, not the order of shooting-to Texas Chainsaw's reception and reputation, every bloody nook and cranny is explored here, revealing many details that will likely surprise even fans who think they've heard it all."
-
Fangoria
—
-
"Gunnar Hansen gives us a detailed look at not only the making of, but also the impact of, what is now universally acknowledged as an American classic, Tobe Hooper's
The Texas Chain Saw Massacre
. I am just grateful this excellent read is not titled "Leatherface Speaks!" "
- John Landis, director of
An American Werewolf in London
—
-
"I wish every notable movie had a diarist or observer as clear-eyed and thorough as Gunnar Hansen. He leads us through the amazing adventure of making The Texas Chain Saw Massacre with a steady hand-and a delicious sense of humor."
-Leonard Maltin, movie critic and historian, author of
Leonard Maltin's Annual Movie Guide
—
-
"If you've ever wondered what it was like to work on
TCM
--and I know I have--this may be as close as you'll get. Gunnar leads you through the making of the film so intimately and vividly that you really a feel a part of it. The innocence and ignorance, the dedication and commitment, with more than a dash of downright madness, through the extraordinary aftermath (the missing millions, the whirlwind of opprobrium dumped on the movie by dumb critics) to the film's triumphant rise to its rightful place as the most influential horror film of the last forty years. It's all here, presented with wonderful style and wit by the Man with the Mask and the Saw himself. Whether you love the movie or hate it, whether you're a fan of horror or despise the genre, this is a must-read."
-Doug Bradley, actor,
Hellraiser
—
-
"Straight from the cracked lips of Leatherface himself comes this behind-the-scenes story of the film that changed the face of horror for all time. A terrific page-turning read, that like
The Texas Chain Saw Massacre
itself, doesn't skimp on the blood, sweat, or tears-beautifully told by the great Gunnar Hansen, who lived to tell the tale."
-Stuart Gordon, director of
Re-Animator
—
-
"Who knew Leatherface could wield a pen as wonderfully as he swings a chainsaw? In his addictive
Chain Saw Confidential
, Gunnar Hansen writes a smart, funny and wildly entertaining account of making one of the greatest triumphs in cinematic history. Packed full of surprising insights and candid backstage anecdotes, it's an essential read for genre fans and a true delight for anyone who loves a great Texas yarn."."
-Jason Zinoman, author of
Shock Value
—
-
"Witty, well written, and just... amazing.
Chain Saw Confidential
is a refreshing look at a horror classic which has now entered the public lexicon."
-Dread Central—
-
Holiday Gift Guide Pick- Ain't It Cool News
—
-
"10 out of 10. A film that has managed to creep that deeply under the skin of the audience's consciousness MUST have had a truly warped and strange gestation and creation, and finally the truth can be told, by someone who was actually there at the time. Not a friend's cousin, not a second-hand account from a third party, but an honest to goodness eye witness. The actor behind the role of Leatherface, Gunnar Hansen, a sensitive and gentle writer of poetry, has penned a complete account of the filming of The Texas Chain Saw Massacre, and believe us it is a riveting and stunningly well written book...
can't recommend this highly enough. Chain Saw Confidential is an absolute MUST read for any horror or independent film fan.
"
-Starburst Magazine—
-
"A poet who has written several books on history, travel and poetry, Hansen has a crisp, engaging and informative style, and this is a must-read for horror film buffs."
-Asbury Park Press—
-
Chronicle Books, 9781452114491, 240pp.
Publication Date: September 24, 2013
About the Author
Gunnar Hansen is the author of several books of history, travel, and poetry. He lives on the coast of Maine.