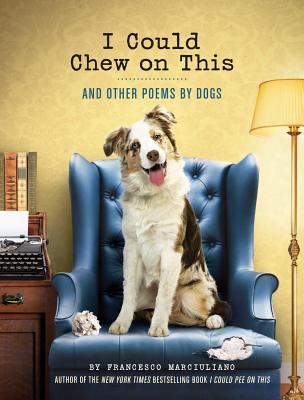 I Could Chew on This
And Other Poems by Dogs (Animal Lovers book, Gift book, Humor poetry)
Hardcover

* Individual store prices may vary.
Other Editions of This Title:
Calendar (8/1/2017)
Calendar (8/4/2015)
Description
A New York Times bestseller? Oh, you know the dogs weren't going to let the cats get away with that! This canine companion to I Could Pee on This, the beloved volume of poems by cats, I Could Chew on This will have dog lovers laughing out loud. Doggie laureates not only chew on quite a lot of things, they also reveal their creativity, their hidden motives, and their eternal (and sometimes misguided) effervescence through such musings as "I Dropped a Ball," "I Lose My Mind When You Leave the House," and "Can You Smell That?" Accompanied throughout by portraits of the canine poets in all their magnificence, I Could Chew on This is a work of unbridled enthusiasm, insatiable appetite, and, yes, creative genius.
Praise For I Could Chew on This: And Other Poems by Dogs (Animal Lovers book, Gift book, Humor poetry)…
"You rolled your eyes every week that silly I Could Pee on This: And Other Poems by Cats book turned up on the best-seller lists yet again. 'Crazy cat people,' you said, with a barely audible touch of smugness. 'Francesco Marciuliano just doesn't have enough to do writing comic strip Sally Forth.' Well, now the Velcro bootie is on the other paw, isn't it? I Could Chew On This: And Other Poems By Dogs, by the same author, is out and you're just going to go belly up and do tricks for it, aren't you? This, after all, is real poetry."
-The Denver Post

"This satirical take on a dog's easy, breezy existence makes for a fun-filled book that will make dog lovers smile from ear to ear."
-TrendHunter
Chronicle Books, 9781452119038, 112pp.
Publication Date: July 30, 2013
About the Author
Francesco Marciuliano is the author of the New York Times bestseller I Could Pee on This, and Sally Forth, an internationally syndicated family comic strip (created by Greg Howard) that appears in nearly 800 newspapers around the world. He was also the head writer for the highly praised PBS children's series SeeMore's Playhouse. He lives in New York City.