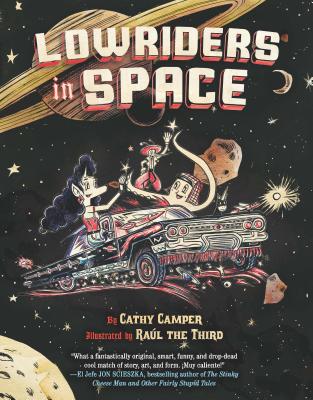 Lowriders in Space
Hardcover

* Individual store prices may vary.
Description
Lupe Impala, El Chavo Flapjack, and Elirio Malaria love working with cars. You name it, they can fix it. But the team's favorite cars of all are lowriders—cars that hip and hop, dip and drop, go low and slow, bajito y suavecito. The stars align when a contest for the best car around offers a prize of a trunkful of cash—just what the team needs to open their own shop! ¡Ay chihuahua! What will it take to transform a junker into the best car in the universe? Striking, unparalleled art from debut illustrator Raul the Third recalls ballpoint-pen-and-Sharpie desk-drawn doodles, while the story is sketched with Spanish, inked with science facts, and colored with true friendship. With a glossary at the back to provide definitions for Spanish and science terms, this delightful book will educate and entertain in equal measure.
Praise For Lowriders in Space…
"A fun and educational (don't tell the kids!) text for young readers."--Sense and Sensibility and Storeies
—
-
"A fanciful story wonderfully illustrated by Raúl the Third."--The New York Times
—
-
"A fantastic voyage for the ages. Your graphic novel section needs this."--Travis Jonker, 100ScopeNotes
—
-
"A highly entertaining and culturally authentic romp."--Kirkus Reviews, starred review
—
-
"A joyous, celebratory tale."--Latinos in Kid Lit
—
-
"A rollicking ride that's totally cosmic and caliente. In other words, this lowrider delivers!"--Good Reads with Ronna
—
-
"Brings together Hispanic lowrider culture with astronomy and aeronautics for one wild ride."--Publishers Weekly
—
-
"Celebrates the artistry and inventiveness that goes into modifying and customizing cars . in space!"--Geek Dad
—
-
"Check out these names: Lupe Impala. Flapjack Octopus. Elirio Malaria. Now imagine how awesome a story about characters with these names ought to be. Then double it. That's pretty much how awesome this graphic novel is."-- Gene Luen Yang, National Ambassador for Young People's Literature
—
-
"From the 'hood to the Hollywood Hills and the projects to the Poconos, Cathy Camper and Raúl the Third's thrilling interstellar adventure is sure to put a smile on the face of any kid and any parent. I love Lowriders in Space!" --Davy Rothbart, author of My Heart Is an Idiot, creator of FOUND magazine, and contributor to This American Life
—
-
"Incredibly fun ."--The Planetary Society
—
-
"Intricate ballpoint pen illustrations by Raul the Third could be pored over for hours."--St. Louis Post-Dispatch
—
-
"It's fun, it's silly, it's totally cool."--Amy Cheney, School Library Journal
—
-
"Lowriders in Space is FAR OUT, and the illustrations are OUT OF THIS WORLD. Love this graphic novel. ¡Muy buena!"--Amy Sedaris
—
-
"Lowriders in Space is a beautifully imagined graphic novel that will spark young readers' imaginations while broadening their understanding of language. The art is inspired, the story fantastic, and together they make a truly magical tale."--Mat Johnson, author of Incognegro and Pym
—
-
"One of the most delightful comics to come out this year."--Brigid Alverson, Good Comic For Kids, a School Library Journal blog
—
-
"Only from the inventive mind of writer Cathy Camper could come such genius: A book for kids that has it all-kooky characters, cool cars and . . . outer space, no less! Not to mention a high-interest graphic-novel form, full of hip and hop, sure to grab the wits of the most reluctant of readers." - Megan McDonald, bestselling author of the Judy Moody and Stink series
—
-
"Readers will rejoice in their triumph. As a celebration of Latino lowrider culture, too, it's estellar."--Publishers Weekly, starred review
—
-
"Roars with high-octane energy, in both the artwork and the prose."--Common Sense Media
—
-
"Thanks to writer Cathy Camper's passion for science, and Raul inventive drawings, this kid's graphic novel about creatures (Lume Impala, El Chavo Flapjack and Elirio Malaria) who pimp their rides will make adults steal the book from children."--Entertainment Weekly, The Must List
—
-
"This book was created to celebrate the creativity and ingenuity of the lowrider culture."--Library Media Connection
—
-
"This buoyant graphic novel highlights lowrider culture with all the flair the subject deserves."--Bulletin of the Center for Children's Books, starred review
—
-
"We need Low Riders in Space out there now. It's cool and funny and original. AND it fills a huge need for books about Latino culture."--Jon Scieszka, bestselling author of The Stinky Cheese Man
—
-
Chronicle Books, 9781452121550, 112pp.
Publication Date: November 4, 2014
About the Author
Cathy Camper is a librarian focusing on outreach to schools and children in grades K-12. She lives in Portland, Oregon.

Raul the Third teaches classes on drawing and comics for kids at the Museum of Fine Arts and the Institute of Contemporary Art. He lives in Boston, Massachusetts.