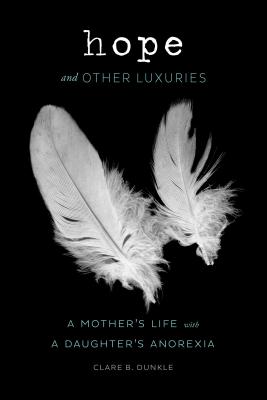 Hope and Other Luxuries
A Mother's Life with a Daughter's Anorexia
Hardcover

* Individual store prices may vary.
Description
As heard on NPR's Diane Rehm Show!
Clare Dunkle seemed to have an ideal life—two beautiful, high-achieving teenage daughters, a loving husband, and a satisfying and successful career as a children's book novelist. But it's when you let down your guard that the ax falls. Just after one daughter successfully conquered her depression, another daughter developed a life-threatening eating disorder. Co-published with Elena Vanishing, the memoir of her daughter, this is the story—told in brave, beautifully written, and unflinchingly honest prose—of one family's fight against a deadly disease, from an often ignored but important perspective: the mother of the anorexic.
Chronicle Books, 9781452121567, 464pp.
Publication Date: May 19, 2015
About the Author
Clare B. Dunkle is an award-winning author of seven acclaimed fantasy and science fiction novels, including The Hollow Kingdom Trilogy, the first book of which was a winner of the 2004 Mythopoeic Fantasy Award for Children's Literature. A Texan (and former Texas librarian), Clare now lives in Germany, but travels often to the United States to see her family, especially her two daughters, Valerie and Elena, and her grandchildren. Find out more about Clare at www.claredunkle.com.
The prologue of Hope and Other Luxuries features a mysterious scene that eventually becomes Clare's memory of bringing her cat to the vet to be euthanized. How does this particular memory frame the rest of her memoir for you as the reader?
At the beginning of Hope and Other Luxuries, Clare describes how Elena inherited her imagination. What other qualities do you see shared between mother and daughter? How do you think this contributed to both their closeness and their conflicts with one another? Do you share qualities with your mother or daughter? How have these qualities affected your relationship?
In Hope and Other Luxuries, Clare travels back to memories of her childhood in order to reflect on her own experience as a mother. How did Clare try to apply her own experiences with her mother in her own parenting of Valerie and Elena? Do you think your own experiences with your parents have informed or will inform your parenting style?
Consider the title Hope and Other Luxuries. In light of her experience, why does Clare call hope a luxury? What would you say are other luxuries in this memoir? Is there anything that Elena would classify as a luxury in her own memoir? Do you agree that hope is a luxury of sorts?
or
Not Currently Available for Direct Purchase