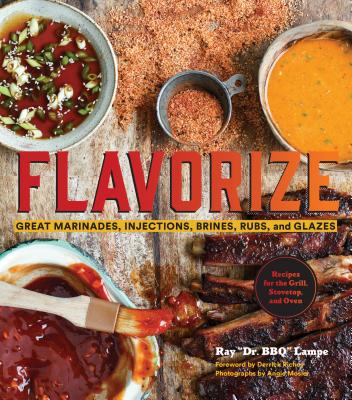 Flavorize (Hardcover)
Great Marinades, Injections, Brines, Rubs, and Glazes
Chronicle Books, 9781452125305, 192pp.
Publication Date: April 21, 2015
* Individual store prices may vary.
Description
In his latest lip-smackin' cookbook, Dr. BBQ shows how to dress up meat, vegetables, and fruits with 120 brand-new recipes for tantalizing marinades, mouthwatering injections, savory brines, flavorful rubs, delectable glazes, and full recipes for what to make with them. Whether folks want to test their talents at the grill or whip up a stove-top dinner, these flavor-enhancing recipes will take every meal to the next level. Bathe pork chops in Pineapple Teriyaki Marinade, inject a deep-fried turkey with Scottie's Whiskey-Butter Injection, slather tuna with Sesame Seed Rub—the deliciousness never ends in this must-have manual for those looking to spice things up.
About the Author
Ray "Dr. BBQ" Lampe has been grilling professionally for over 20 years. A multiple cook-off champion, he's also been a chef, cooking teacher, and author of the column "Ask Dr. BBQ" for Fiery Foods & BBQ magazine. He lives in Florida.